Easter is less than two weeks away, so if you're looking for some fun and festive toys to give your favorite feline, then you have to check out our favorite items you can use to fill your kitty's basket! We've found lots of cute kitty toys, including a tunnel, a crinkle sack, and plenty of catnip bunnies, chicks, eggs, and carrots, all designed to keep your cat entertained this Easter.
Cosmic 100-Percent Catnip Filled Carrot, 24 Karat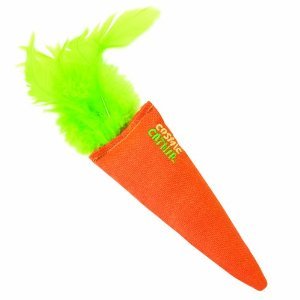 This carrot is filled with 100% catnip, making it the perfect Easter present for your kitty.
Catnip Cat Toy – Bunny & Carrot – Organic Catnip/Wool Felt/Set of 2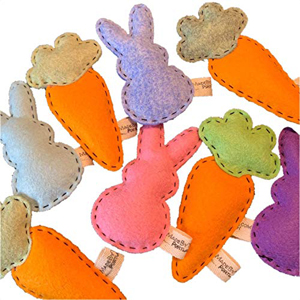 This set of Easter cat toys features a cute bunny and a fun carrot, and they're handmade from wool felt and filled with catnip.
Pawbreakers Catpurry Egg | All Natural Catnip Toy
This cute toy is shaped like an Easter egg, and it's made from all natural catnip.
Peeps Jingle Ball Catnip Toys – Set of 2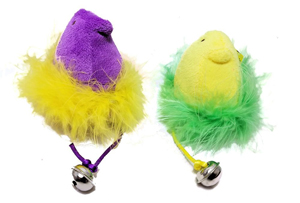 This set of Easter catnip toys features two adorable chicks with feather and bell accents your kitty will love.
Petmate Fat CAT Classic Fluff Bunnies Catnip Cat Toy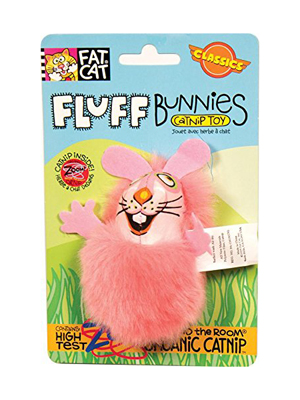 This fluffy pink bunny is filled with organic catnip, making it a fun toy to put in your cat's Easter basket.
Tatuo 3 Pieces Pet Dog Puppy Cat Chewing Rope Cotton Knot Clean Teeth Chew Toy for Easter Pet Favors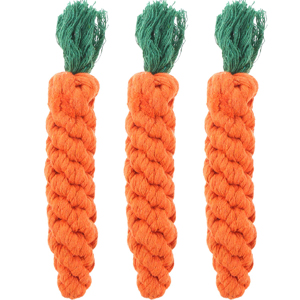 These carrots are made from knotted cotton rope, making them a durable and fun Easter toy your cat will enjoy chewing on.
BALLMIE Cat Toys Ball Catnip Eggs, Handmade Felt Wool Toys Fleece Toys Ball, Bell, Catnip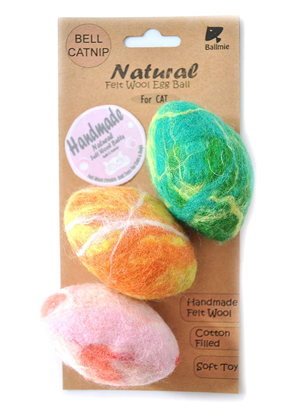 This set of three toys looks like colorful Easter eggs, they're made from natural wool felt, and they're filled with cotton, catnip, and a jingle bell.
Peeps Bunny Interactive Toys for Cats | Cat and Kitten Tunnel Toy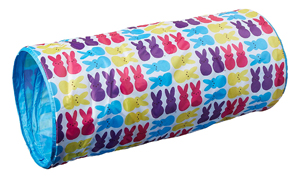 This tunnel featured a colorful Easter bunny design, and it collapses, making it the perfect cat toy to travel with this holiday.
BALLMIE Felt Wool Cat Toys Ball with Catnip and Bell, Natural Handmade cat Toys Ferret Toys cat Gift Basket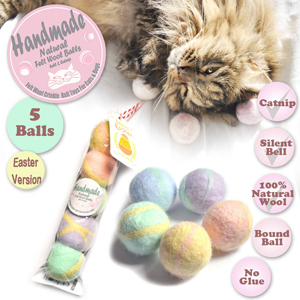 This set of five wool balls comes in beautiful pastel colors that are ideal for Easter, and they're filled with a silent bell and a teaspoon of catnip.
Cat n' Around Easter Jelly Bean Catnip Toys, Set of 3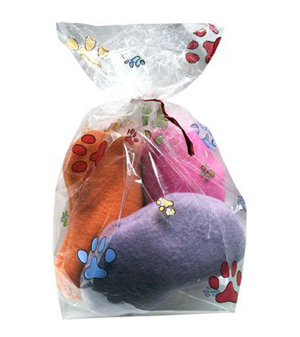 This set includes three Easter cat toys that are shaped like jelly beans, and they're made from fleece.
Decorated Easter Egg Natural Wool Cat Toys, 3 Pack (Assorted Colors)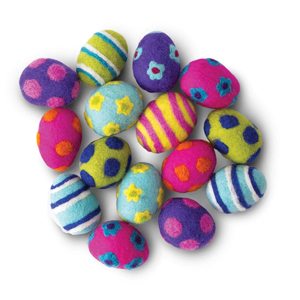 This set of cat toys includes three colorful Easter eggs made by hand in Nepal from Himalayan and New Zealand wool.
Ethical Pets Fleece Rabbit squeak Dog and Cat Toy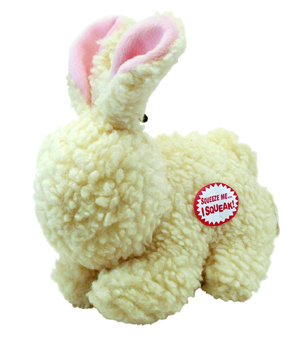 This cat toy looks like a pink and white Easter bunny, and it squeaks, making it a present your kitty will love playing with.
Amosfun 3pcs Carrot Shaped Knot Ropes Chew Cat Toy Safe Easter Gift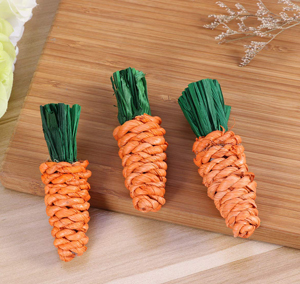 This set comes with three green carrot toys made from durable rattan material your cat will enjoy chewing on for hours.
Peeps Bunny Interactive Toys for Cats | Crinkle Sack Toy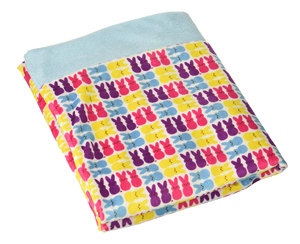 This crinkle sack features a colorful bunny pattern, and it will make the perfect addition to your cat's Easter basket.