When Tara Kawczynski, a vet tech and the president of The Odd Cat Sanctuary, an animal rescue in Salem, Massachusetts, was contacted in April 2015 about a kitten who was desperately in need of medical attention, she was eager to help. The 6-week-old kitten had been seriously injured in her foster home when a pet carrier fell on her head, leaving the tiny grey cat comatose.
Tara, who has dedicated her life to helping special needs cats, agreed to take on the young kitten. "I had the means and ability to try to nurse her back to health and give her the best shot at recovering," says Tara.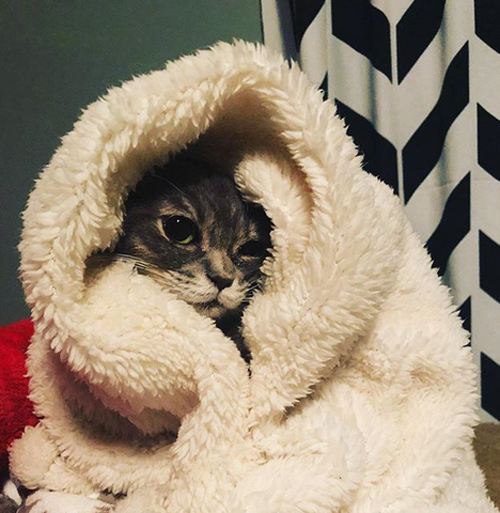 The day after Tara brought the little kitten home, she decided her new charge needed a name, so she began called her S'mores. "She was this tiny gray helpless baby," remembers Tara. "I didn't know if she was even going to make it."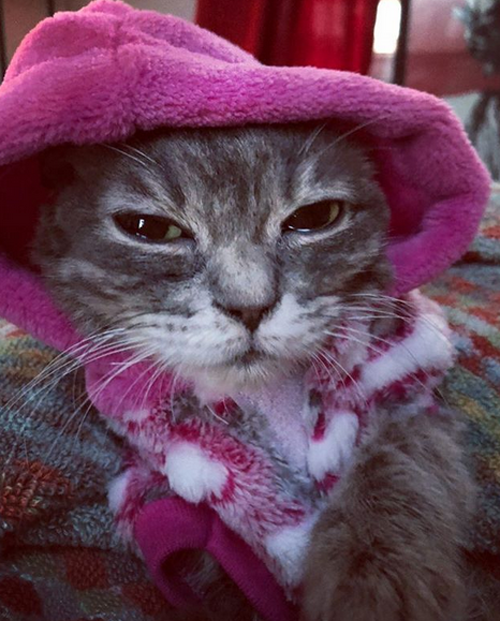 Thankfully, S'mores was in excellent hands, and Tara gave her the love and care she needed to recover from her injuries. However, as a result of the accident, S'mores suffered permanent brain damage that has stunted her growth and causes her to sometimes walk in circles.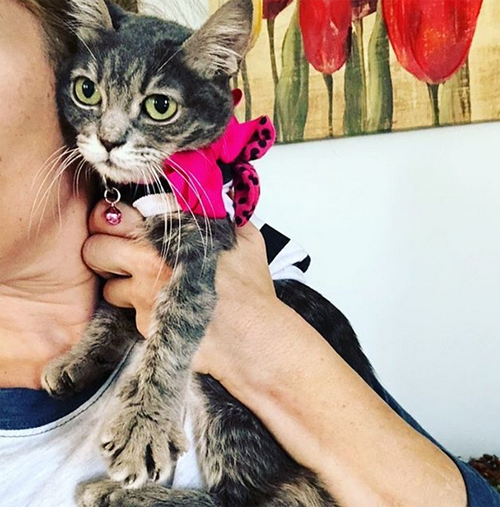 S'mores, who will turn three on February 14, 2018, weighs just two pounds, making her a quarter of the size of an average feline. However, aside from her diminutive stature, this adorable forever kitten isn't all that different from other cats, although she does have difficulty regulating her body temperature.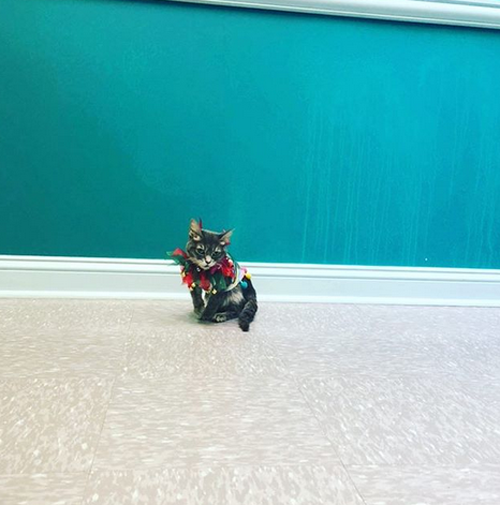 "She is frequently cold," Tara says. "Her favorite spot is the heating vent." To help keep S'mores warm, Tara dresses this tiny cat in sweaters and hats, a practical solution that leaves her looking unbelievably cute.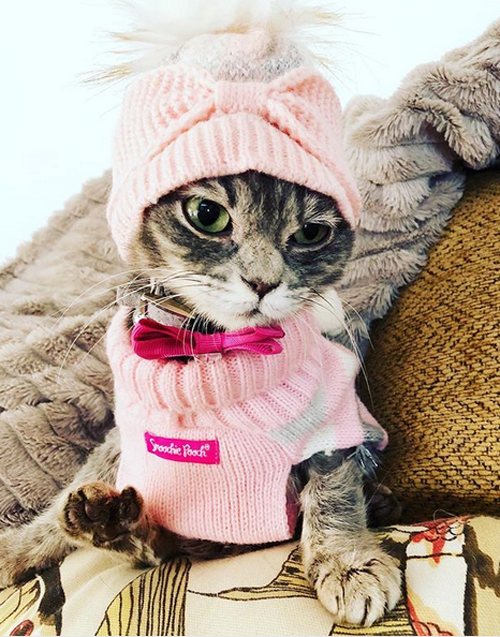 In addition to hanging out by the heating vent, this tiny grey cat also enjoys cuddling and playing with catnip, just like average-sized kitties. "She can climb smaller cat trees, too," says Tara, a remarkable feat for a kitty who many thought wouldn't make it. "For the first year of her life it was touch and go with how injured she was," explains Tara.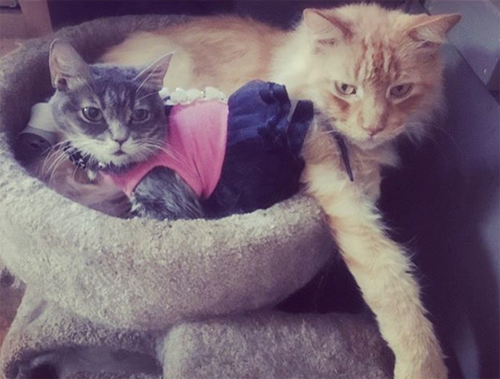 While she hasn't officially adopted S'mores, this unique perma-kitten has lived with Tara for most of her young life, and the two share a very special bond. "She's a special, fierce fighter, " says Tara. "She always has been."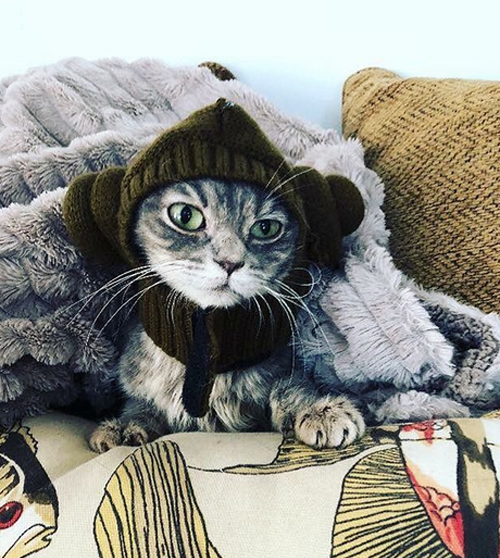 Tara, who has met many special needs cats through her work as a vet tech and president of The Odd Cat Sanctuary, believes S'mores is truly exceptional. "Even though S'mores is unique and a perma-kitten," Tara says, "she is fierce and bold." In fact, Tara is confident this tiny cat has a big purpose in life: "She was meant to survive that accident and teach people that special needs cats aren't so scary."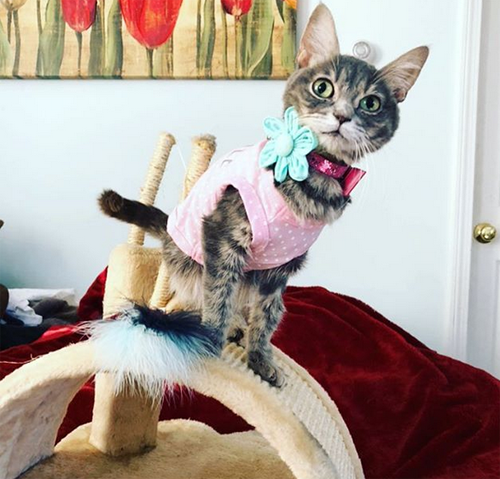 Not only is S'mores — who's gone from helpless to powerful — an excellent advocate for special needs cats, she's a wonderful inspiration to all of the people who have been fortunate enough to meet her online and in person, including her foster mom Tara. "I love her very much," says Tara. "How can you not?"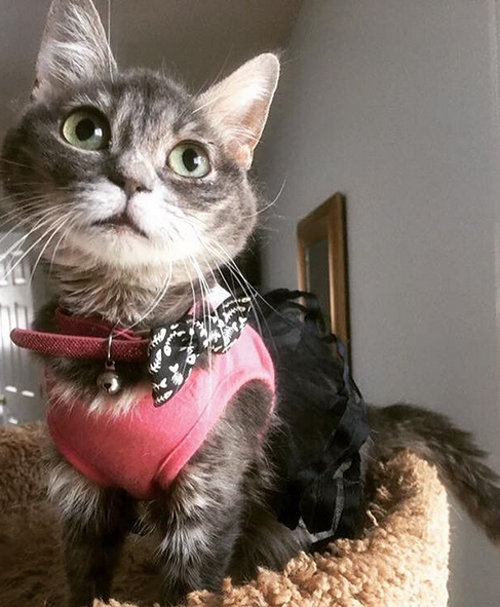 To learn more about this adorable cat, you can follow S'mores on Instagram.
To learn more about Tara and her amazing work, you can follow The Odd Cat Sanctuary on Instagram.