When Hector and his girlfriend, Karlene, decided to foster two kittens, Pancakes and Danger, in August 2016, they were uncertain if they would ever be able to provide a permanent home to a cat: Karlene was allergic to cats, preventing the Chicago couple from having a feline friend of their own.
However, that summer, Karlene had started taking a new medication designed to help with cat allergies, so the pair made the decision to foster the kitten brothers as a way of testing its effectiveness. "We reached out to PAWS," says Hector, "and the first fosters we ended up with were Pancakes and Danger."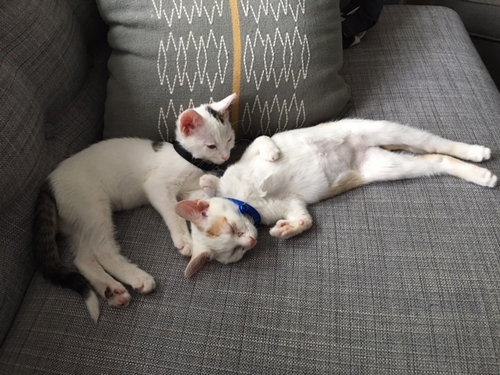 PAWS thought Hector and Karlene's pet-free home would be perfect for the pair because Pancakes and Danger had been diagnosed with feline immunodeficiency virus (FIV), which can be transmitted to other cats. In addition to having FIV, the couple learned Pancakes, who is ginger and white, was born with radial hypoplasia (RH), a congenital condition that causes cats to have unusually short and twisted forelegs.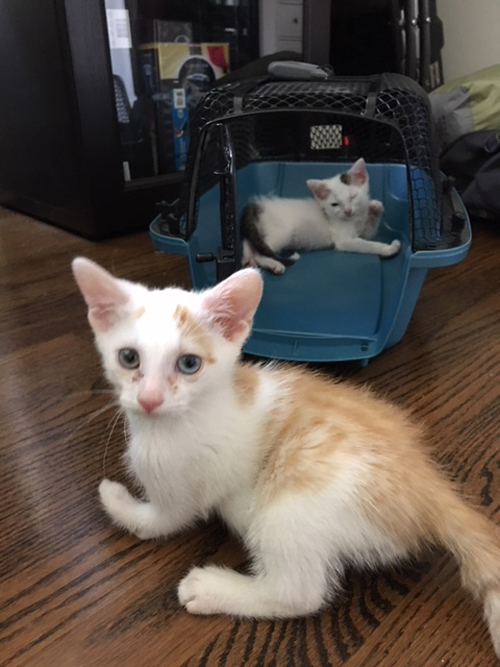 On August 4, 2016, Pancakes and Danger arrived at the couple's Chicago home, and almost immediately, the pair showed Hector and Karlene their unique personalities. "Pancakes is very loving, patient, and has the most calm disposition," says Hector. "Danger is a bit more independent but loves to roughhouse all the time." It didn't take long for these adorable kitten siblings to win their foster parents' hearts. "I ended up falling in love with them," explains Hector, "and convinced my girlfriend to adopt them."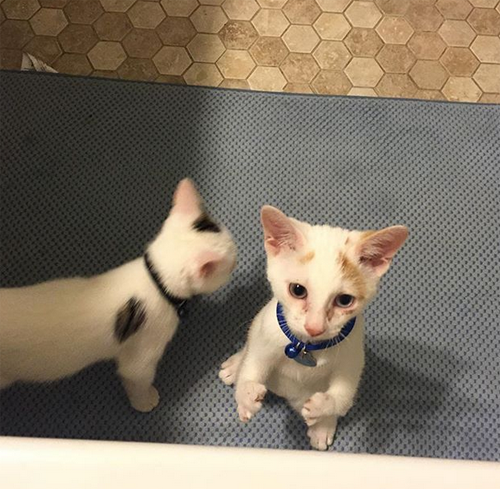 While some people are frightened by the idea of adopting a cat with FIV, Hector says dealing with the virus hasn't been that much an issue. "I think a lot of people think that FIV+ cats only live for a few years, so they can't bear the thought of caring for a pet that will only provide companionship for just a few years," says Hector.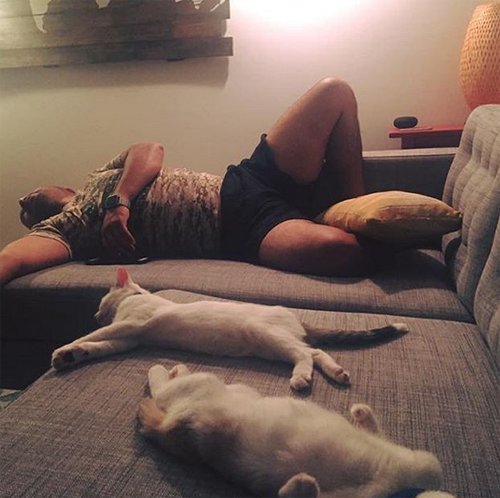 However, according to Hector, cats with FIV can live relatively normal lives, and many of them may never show signs of the virus, especially if they receive good nutrition, regular medical care, and live indoors in a stress-free home. "If they do get sick," Hector says, "it's important to take the kitty to the vet in order to prevent something small from becoming a big issue."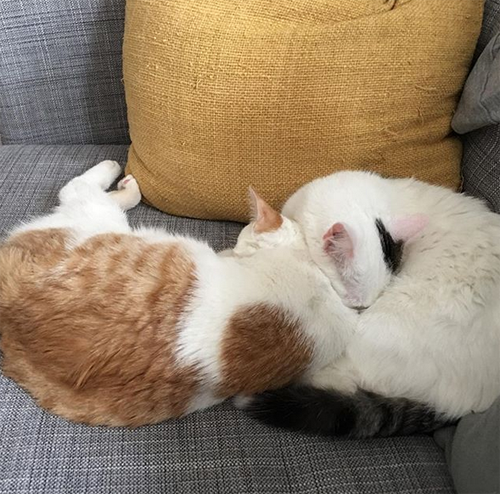 Also, some people don't realize that FIV is only transmissible to cats, so human beings and other animals aren't at risk of contracting the virus, and most felines contract it via intercourse or fighting that results in bloodshed. "As long as all cats are spayed and neutered and they are not aggressive and are properly introduced," explains Hector, "FIV+ and FIV- cats can live in the same household without being infected."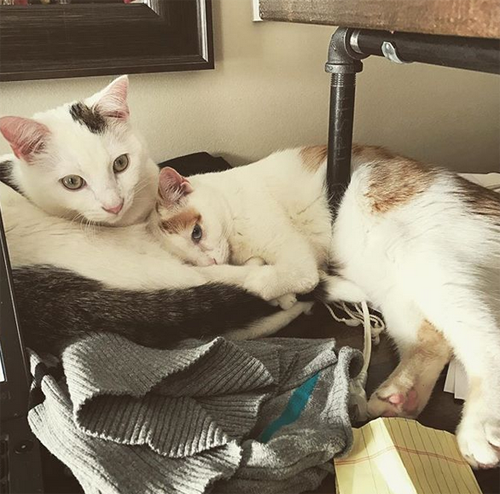 While neither of Hector and Karlene's cats currently have any issues as a result of FIV, Pancakes does have some challenges related to radial hypolplasia, such as difficulty getting down from high places and grooming himself. "We have small pillows for Pancakes to jump on when he gets off the couch and our bed," says Hector. "We have to clean his eyes with warm water and a towel since he cannot clean himself all that great, and sometimes we have to wash his rear paws and legs." In addition to radial hypoplasia and FIV, Pancakes has a malformed tail — which can sometimes cause him some discomfort — as well as a noticeable overbite.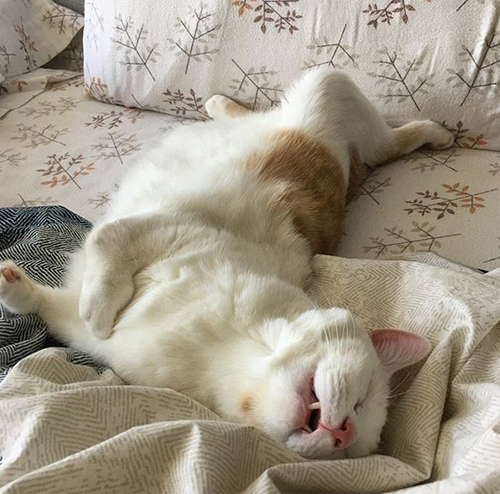 Despite having some health challenges, Pancakes is a typical cat who loves chasing after shoelaces and fishing pole string when he's not napping the day away. "I cannot believe how much sleep he gets in general," says Hector. "He loves to sleep under a blanket. He will seek out his favorite blankets and spots to sleep." However, Pancakes' unusually short front legs do prevent him from using a scratching post like a typical kitty, making it one of this adorable ginger and white cat's few limitations.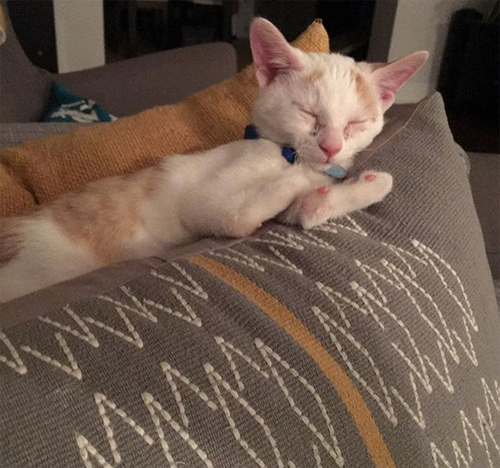 It's been more than a year since Hector and Karlene welcomed Pancake and Danger into their home, and during that time, the couple has learned so much about FIV and radial hypoplasia. However, Hector believes caring for special needs cats isn't all that different from looking after a typical kitty. "They might need some special concessions to make their lifestyle more fitting and comfortable," says Hector, "but they are just like any other cat."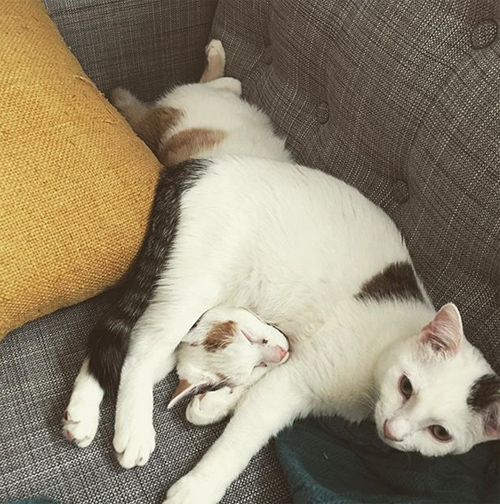 Still, Pancakes, who got his name because he flops around when he eats or gets petted, and Danger, who received his moniker for his adventurous ways, are very special to Hector and Karlene. "Both Pancakes and Danger mean the world to me," says Hector. "I love them so very, very much."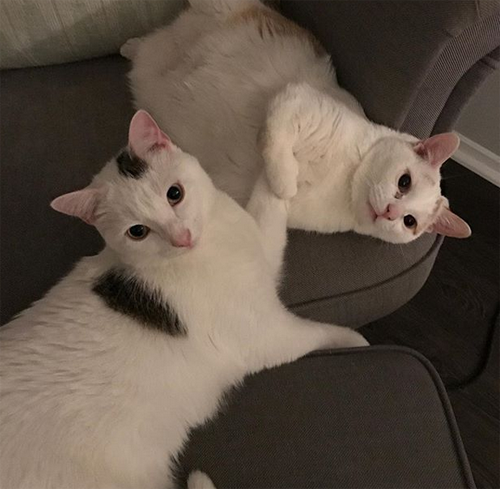 To learn more about these adorable cats, you can follow Pancakes and Danger on Instagram.