Sensitive Content
This post includes photos some people may find upsetting.
When Ready For Rescue in New York City got a call from a woman on March 5, 2022, about a cat who had been hit by a car in the Bronx, Brooke, the organization's lead cat coordinator, knew she had to help the injured feline. "It was a very cold day and the cat was just laying there on the sidewalk, exposed to the elements as well as to the risk of abusive kids in the neighborhood," remembers Brooke.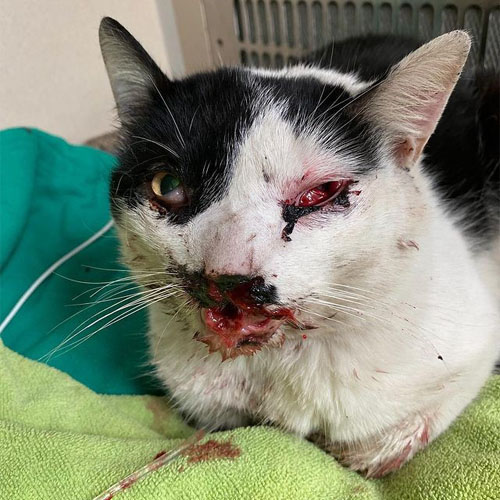 Thankfully, the woman placed the young black and white cat in a box and brought him with her to her job at a bakery. Not long after receiving the call, Brooke arrived at the bakery, only to be told the battered feline may have already passed away. "I first saw him laid out in a box covered in blankets and a sweatshirt," says Brooke. "He was in horrible shape. However, he was still breathing."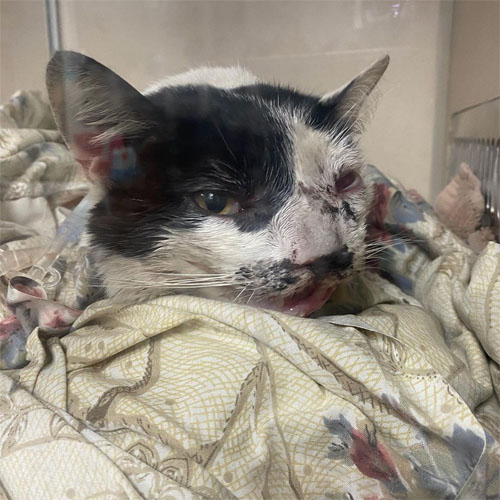 Brooke knew the cat needed medical attention right away, so she rushed him to a 24-hour emergency vet. During the drive, Brooke wasn't sure if the injured feline would survive, but that didn't stop her from giving him words of encouragement. "I kept telling him over and over, 'You can do it buddy, just hang in there. You are a strong boy,' " remembers Brooke.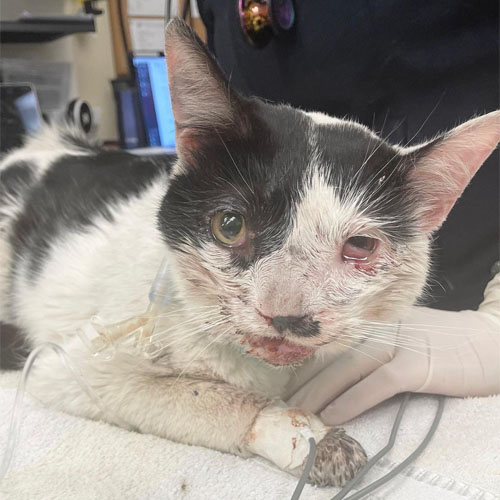 Fortunately, the black and white cat — who Brooke named Howard — was still alive when he arrived at the animal hospital, but an examination revealed he had sustained severe head trauma. "His skull was fractured in multiple places, especially his jaw and the area around his eyes," explains Brooke. "His jaw alone was fractured in several places, including both his soft and hard palate and several teeth."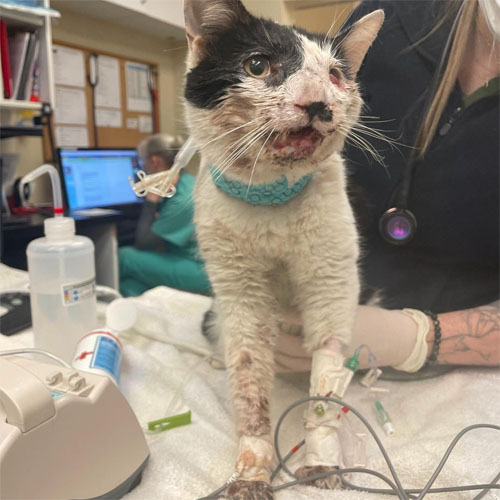 Howard had also sustained serious injuries to both of his eyes, and while he was ultimately able to keep his right eye, the left one had ruptured and had to be removed.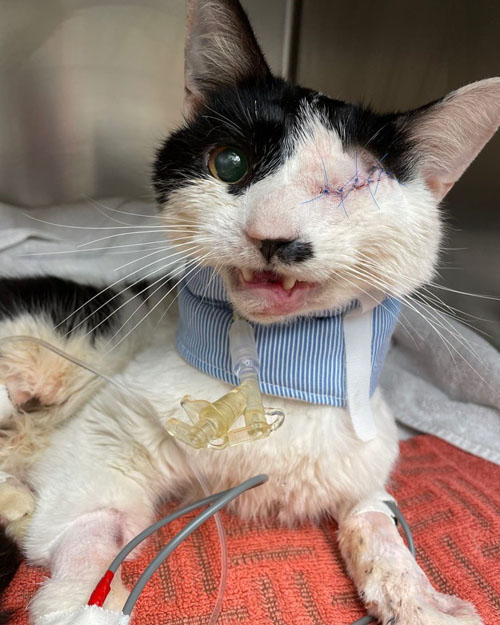 Over the next few weeks, Howard went on to have several more surgeries, including a jaw reconstruction surgery that lasted more than six hours and another procedure to place a feeding tube. "Amazingly, Howard's body below his head was untouched," says Brooke.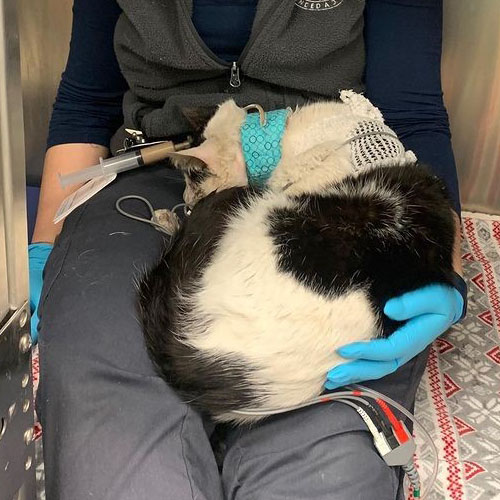 More than six weeks after he was discovered motionless on a sidewalk in the Bronx, Ready For Rescue recently found Howard the perfect foster home where he will continue to recuperate until the right forever family comes along. "His ideal adopter is someone who is willing to go at Howard's pace and understand that, while he can do most of what any other cat can do, he will need a very consistent and quiet home," explains Brooke.
After all, Howard is currently blind, although he may regain some of his vision as he continues to heal, and he is still have a little trouble using the litter box, possibly due to a combination of his inability to see and his weakened sense of smell. Despite these challenges, Brooke is confident Howard will make a wonderful addition to the right family. "Cats heal amazingly well," says Brooke, "and even if they end up having special needs, they can live full lives."
View this post on Instagram
Unfortunately, not everyone agrees with this sentiment, and Brooke has encountered people who have suggested euthanizing animals with injuries that were far less severe than Howard's. "Some people want to put an animal out of his or her suffering because it makes them uncomfortable to see a bloody face or a broken leg or whatever the issue is," explains Brooke. "As long as there is a chance of survival, a quality of life in the future, and the rescue is able to appropriately treat the cat, then why not try?"
While Brooke believes some veterinarians can recommend euthanasia too quickly, not a single one of the medical professionals who has treated Howard has suggested putting him to sleep. "I think because they were all shocked at what fight he had, even when he was in terrible shape," says Brooke. "He has the most incredible critical care vets and surgeons at Cornell in Stamford, Connecticut."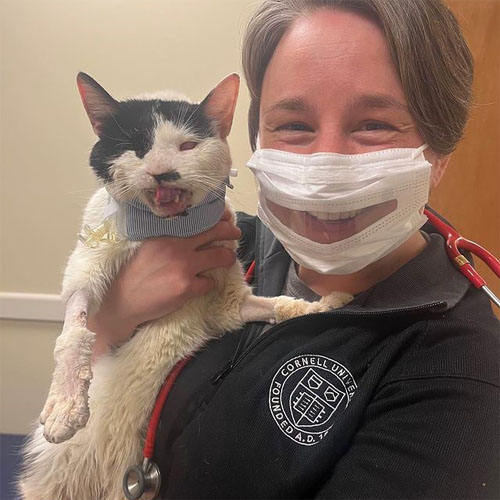 Thanks to lots of medical professionals, as well as his rescuer, foster family, and everyone at Ready For Rescue, Howard is doing incredibly well. In fact, even after everything this young feline — who is believed to be around four years old — has been through in his short life, he's still incredibly sweet and playful. "Howard loves to sit on laps and also chase his homemade crinkle balls made by the hospital staff," says Brooke.
View this post on Instagram
By sharing Howard's story, not only does Brooke hope it will help him find his forever home, she also wants to show people just how resilient living creatures can be. "Howard is love, life, strength, resilience, and a positive example to anyone considering giving up either on their cat's life or on their own lives," says Brooke. "He has also brought so many people together who care about and love him and who have generously donated for his care."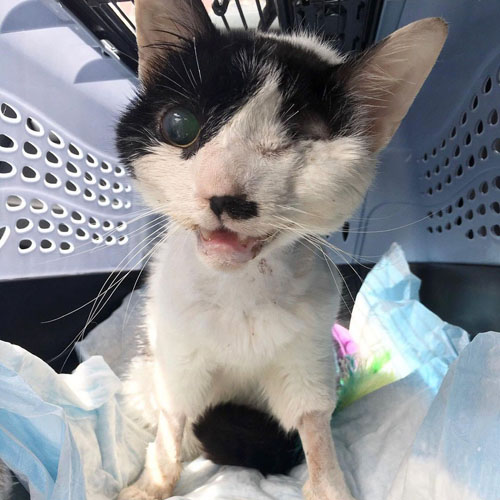 To learn more about this handsome cat, you can follow Howard on Instagram.
If you're interested adopting Howard, you can complete an application.
View this post on Instagram