When Darion Hester and her family were visiting a farm on Father's Day 2013, they learned that a stray cat who lived on the property had recently given birth to a litter of kittens. The kittens — who were approximately two to three weeks old at the time — were living in a food shed, and when the Hesters opened the door, several little cats came running out, except for one, a tiny grey and white kitten.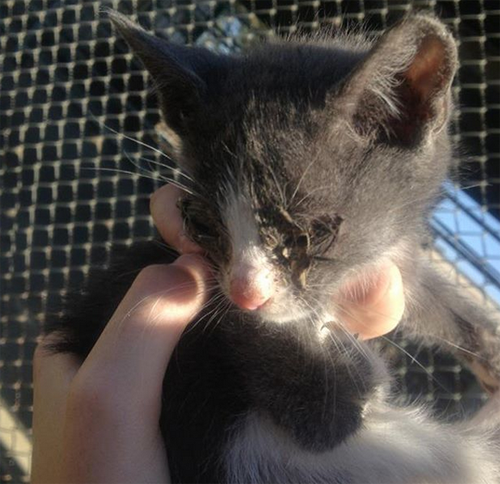 Immediately, the family realized something wasn't right with the motionless kitten. "When we first saw him," remembers Darion, "we thought he had a broken leg as his front right leg was bent at an angle." The Hesters desperately wanted to help the little kitten, but they already had four cats at their home — two hours away in California's Central Valley — and they were reluctant to add another kitty to their family. "My mom said she'd think about it and we'd go from there," explains Darion.
It didn't take long for Mrs. Hester to make up her mind, and the following morning, the family piled back into the car and made the two hour journey to pick up the little kitten. When they opened the food shed, the tiny cat hadn't moved in the hours since they'd last seen him, and he was obviously malnourished. "He was so tiny and thin," says Darion. "He fit in the palm of my hand."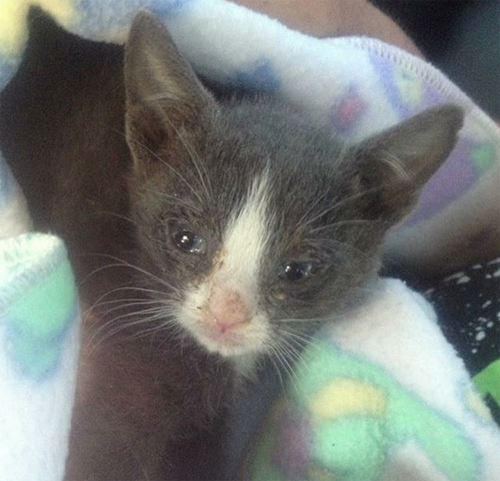 Once the family got back into their vehicle, they carefully examined the little kitten, and they quickly discovered he was in much worse shape than they had initially thought. "His eyes were sealed shut with pus," explains Darion, "and his leg was at a 45 degree angle." On the drive home, Darion's mother cleaned the pus from the tiny cat's eyes, and when he opened them for the first time, the family discovered the little grey and white kitten had two different colored eyes, one green and the other blue.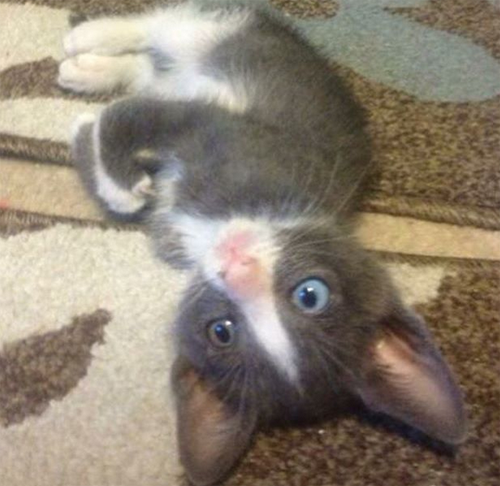 Shortly after the Hesters brought the cat home with them, they learned that the kitten's leg — which they thought resembled a pirate's hook — was a product of radial hypoplasia (RH), a congenital condition that causes cats to have short and twisted forelegs. "If you raise his hook," says Darion, "it looks as if he is saluting," prompting the family to name the grey and white kitten Sargent.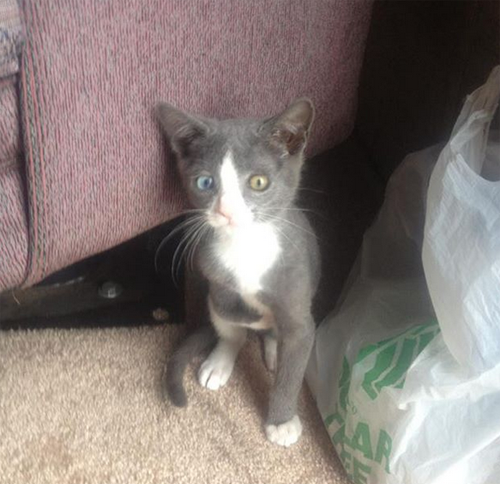 They also noticed that Sargent wobbled when he walked and shook his head a lot, and they quickly discovered that in addition to RH, he had been born with cerebellar hypoplasia (CH), a non-progressive neurological condition that impacts balance and coordination. "Sargent is a rare case where he has both cerebellar hypoplasia as well as radial hypoplasia," explains Darion. "No one is exactly sure why both of them occurred."
While no one can say for certain why Sargent developed both conditions, CH usually occurs in utero when a pregnant cat contracts the panleukopenia virus and passes it along to her unborn kittens, while RH is thought to be caused by a genetic mutation.
Once the Hester family realized Sargent had radial hypoplasia, not a broken leg, and moderate cerebellar hypoplasia, they worked to help the malnourished kitten grow into a happy and healthy cat, learning his unique needs along the way. While a lot of cats with RH and CH are fairly independent, Sargent requires a bit of assistance from his family. "A typical Sargent routine is waking up to him digging his hook into the bed at 5 or 6 a.m. so he can be taken downstairs to eat, drink, and go potty," explains Darion.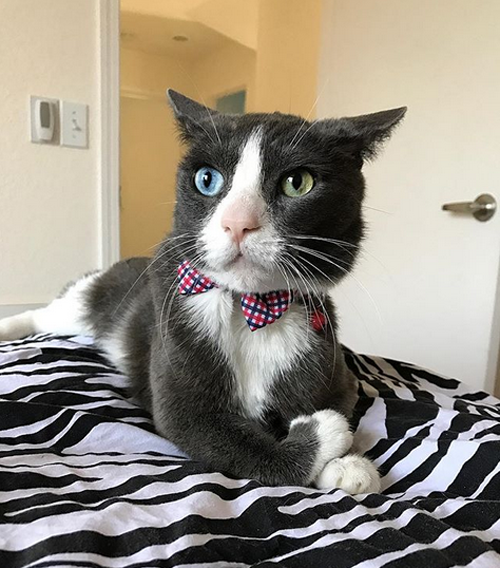 For nearly five years, the Hester family has helped this handsome grey and white cat through each stage of his morning routine, and Sargent has even learned to meow or stare at his humans to communicate when he's done with one step and ready for the next.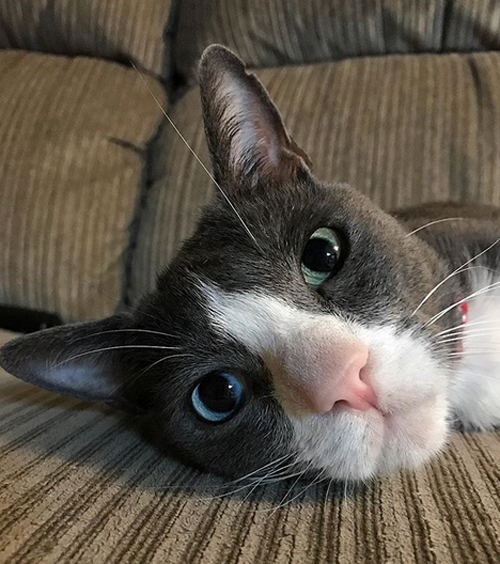 While some people might find taking care of a cat like Sargent to be too challenging, Darion and her family are more than happy to help him. "So many cats that have these disabilities are often put down in shelters because of it," says Darion, adding, "They are not broken, they are amazing creatures who bring so much joy and love." Undeniably, Sargent needs a bit more help than a typical cat, but like his fellow felines, he likes to play with his toys and cuddle up with Darion to watch pet videos.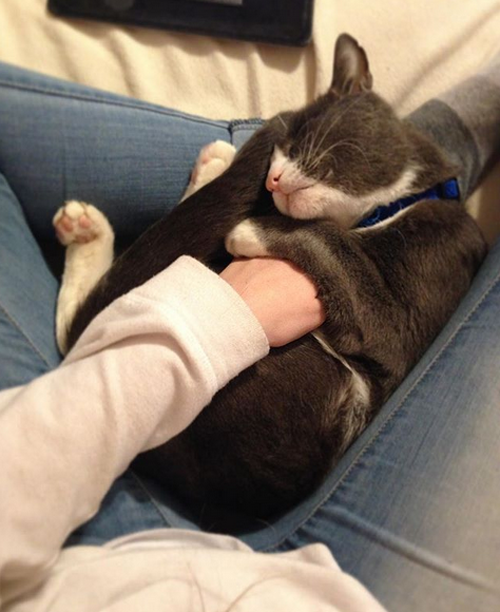 He also loves to sleep, and he can't resist curling up for a nap underneath a heated blanket, but Sargent is at his happiest when Darion — who considers herself to be his mom — arrives home from school. Undoubtedly, their daily reunions are the highlight of Darion's day, too: "He's my best friend and son all wrapped up in one."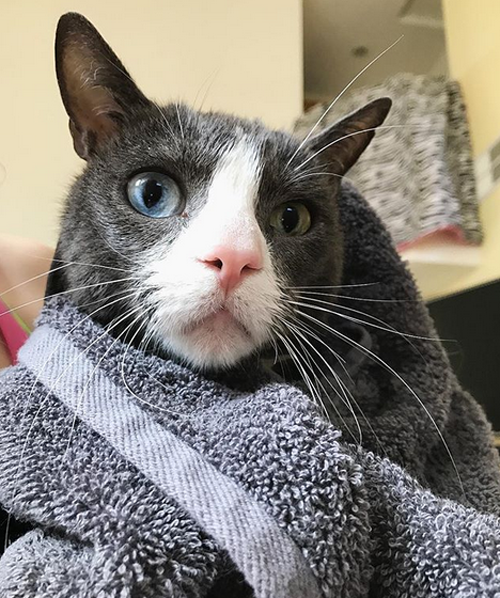 Not surprisingly, caring for a special needs cat, particularly one who needs the level of attention Sargent requires, has allowed Darion to develop a unique relationship with this handsome grey and white cat. "I think we carry a special bond," says Darion, "and we sort of understand each other even though he can't speak."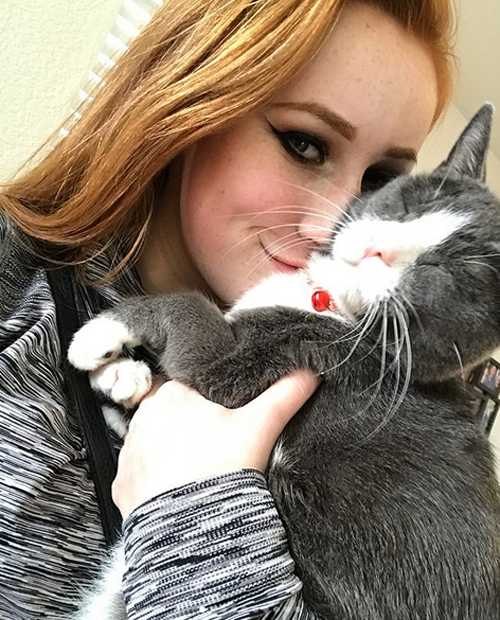 Sargent has also inspired Darion not only to learn more about special needs animals, but to share her knowledge with others in hopes of raising awareness about conditions like cerebellar hypoplasia and radial hypoplasia. "Whether it be through adoption or just as simple as giving a speech about special needs animals in one of my college classes," explains Darion, "he makes me want to change the way people see these animals."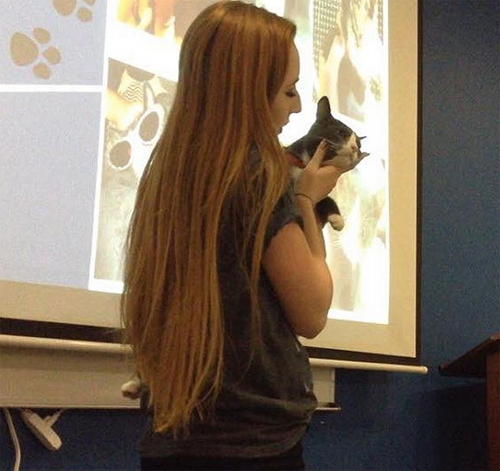 Sargent, who will turn five this spring, has given the Hesters a newfound appreciation for cats with special needs, particularly Darion. "These cats are so loving," says Darion. "All they want to do is love and be loved." Thankfully, Sargent, whose eyes were sealed shut with pus when he was found on Father's Day 2013, ended up in the perfect home where he gets showered with affection and doted on by every member of the Hester family.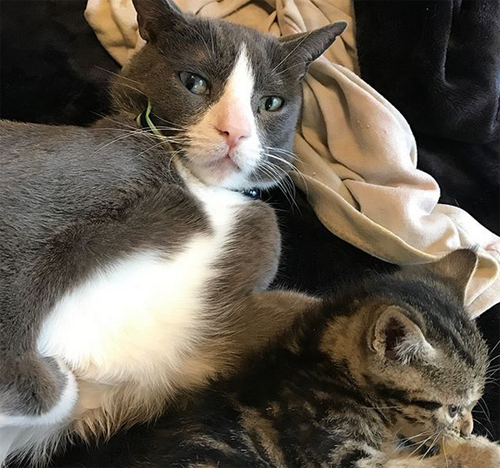 However, it's hard to deny that he's particularly special to Darion: "He makes me so unbelievably happy. Just seeing his fuzzy face can turn my bad day into a good one." Obviously, not only is Sargent special, his mom is as well, and the pair find great comfort in one another, the beautiful relationship they've developed, and the memories they'll make in the future. "From the time we rescued him, we've been inseparable," says Darion. "I'm his safe place as he is mine."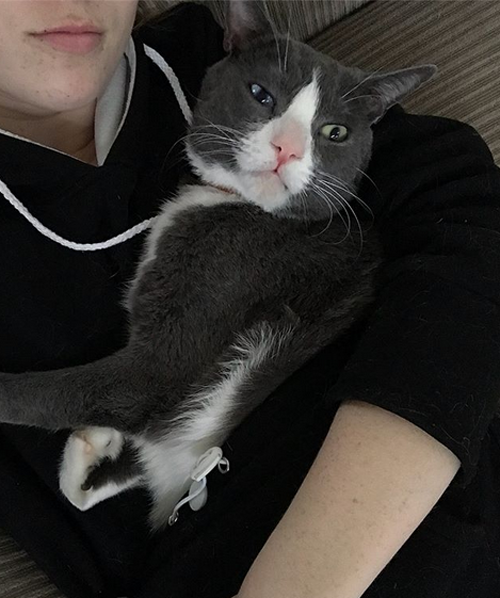 To learn more about this one of a kind cat, you can follow Sargent on Instagram.