When Gina Reis decided she wanted to adopt a cat, she began searching on Petfinder and checking animal shelters near her home in Minneapolis, hoping to find the perfect feline friend. "Many of my friends had cats and I saw the companionship and love they received from their felines and I thought it'd be great to have that myself!" explains Gina.
After looking for a few weeks, Gina still hadn't found the right cat for her when her friend showed her a picture of Chompers, a unique kitty who had been rescued by Animal Humane Society. "Animal Humane Society posted a photo of Chompers in the end of January, which I saw because my friend shared it with me," remembers Gina. "He was so cute and I loved his little teeth!"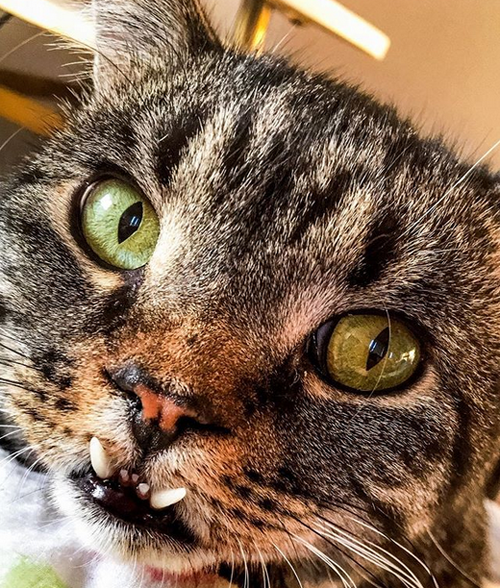 Smitten with the adorable tabby and his distinctive smile, Gina decided to visit the organization's location in Golden Valley after work that day to meet Chompers in person. However, before she was even able to leave the office, Gina was disappointed to discover Chompers had already been adopted.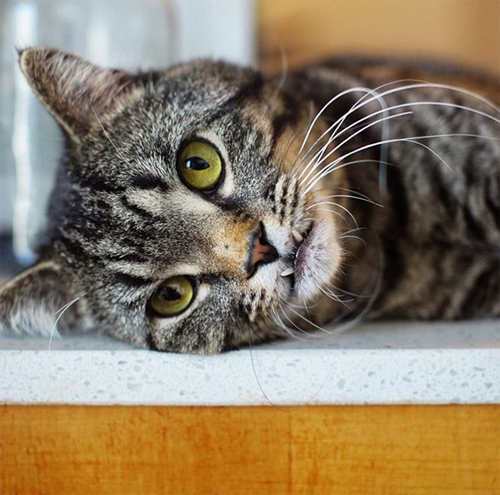 "I was devastated," says Gina,but she was determined to find a cat who was in need of a home. "I continued my search on Petfinder, and only two days later, his face popped up again, this time at the Coon Rapids location."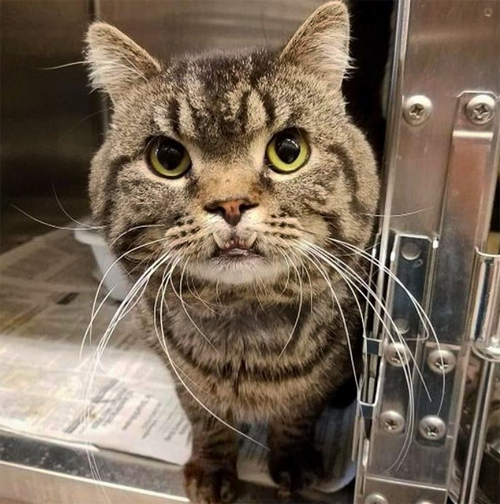 Knowing Chompers was in demand, she contacted the rescue right away. "I called the next morning to find out the family had returned him due to allergies," explains Gina. Realizing she had been given a second chance to adopt Chompers, she left work early — with her boss's encouragement — and headed straight to the shelter on February 1, 2018. Meeting Chompers face to face, Gina was smitten with the 6-year-old cat, so she adopted him that day, even after she learned that he had been diagnosed with scoliosis, a curvature of the spine, in addition to a prominent underbite.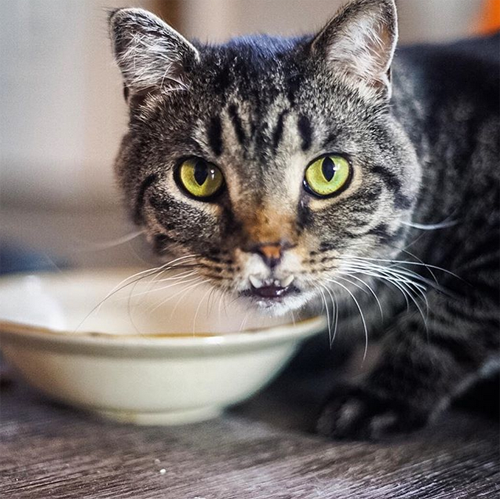 According to the staff at Animal Humane Society, Chompers had lived in an abusive household before he ended up at the shelter, so Gina was prepared to give him lots of time to settle into his new home. Fortunately, Chompers proved to be extremely resilient, developing a bond with Gina right away, and several months later, this handsome boy is thriving. "Based on his energy and love he exerts now, I'm guessing the situation he was in for the first six years of his life was one of neglect," says Gina.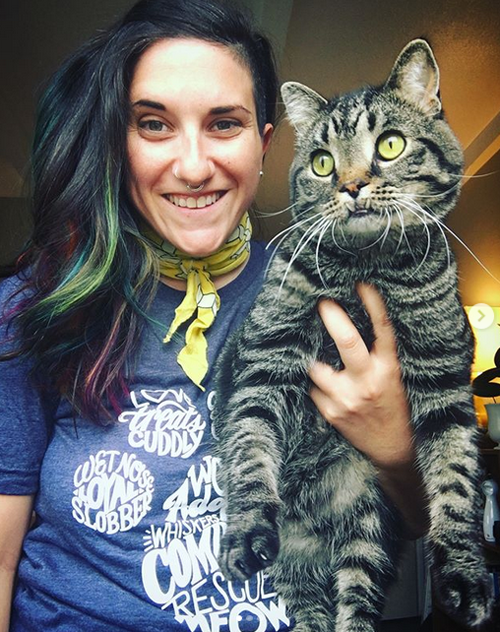 While Chompers may not have received the care and attention he deserved in his old home, he gets plenty of love and affection from Gina. "He loves to be held like a little baby, and often will surprise attack me and climb up my body when I'm not ready," says Gina.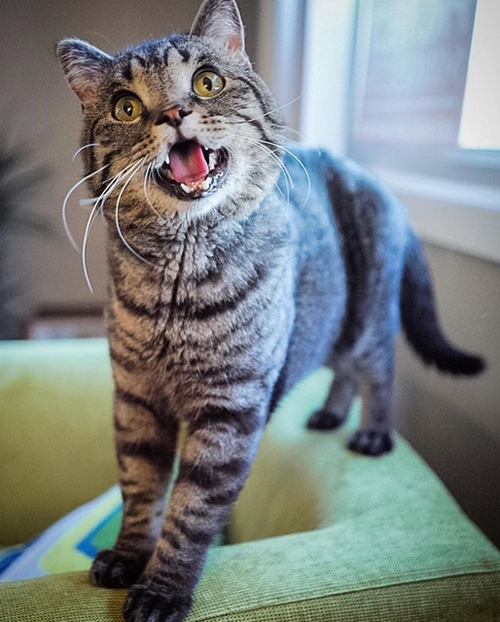 In addition to cuddling and surprising his mom, Chompers enjoys bird watching, playing fetch, and chasing after flies. "He is six years old but acts like a kitten!" says Gina. It's important for Chompers to remain active because it helps prevent him from becoming overweight, a concern for cats with scoliosis.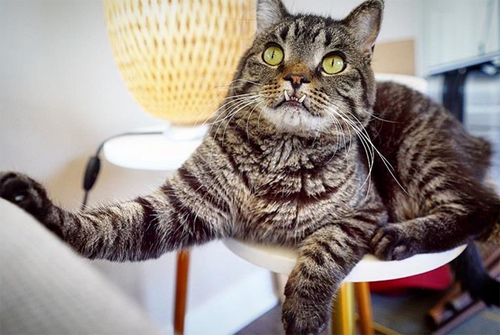 "I do have to keep his weight in check," explains Gina. "The vet did mention that he may experience back issues if he gains a lot of weight." Fortunately, Chompers is in great shape, and neither his scoliosis or underbite has proven to be an issue since Gina adopted him.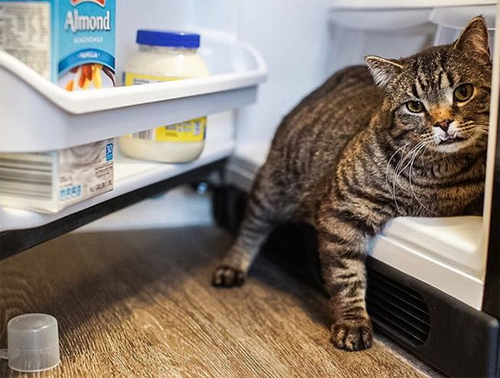 Though Chompers looks a bit different from the average cat, Gina has found that while people are often fascinated by his underbite, they haven't been mean or rude. "Most people are shocked to see his teeth, but the reactions are always of admiration and love," says Gina. "Many people just react and ask questions out of curiosity — like if it affects his health or how he eats — but everyone adores Chompers's looks!"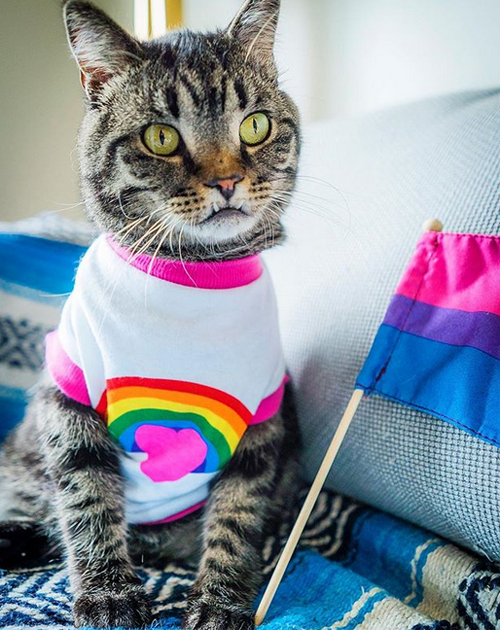 While Gina didn't set out to adopt a cat with special needs when she began her search for the perfect pet earlier this year, thanks to Chompers, she is now an advocate for animals who are often overlooked. "I encourage people looking for pets to be open-minded, and even seek out ones with special needs," says Gina. "They are in dire need of homes and love."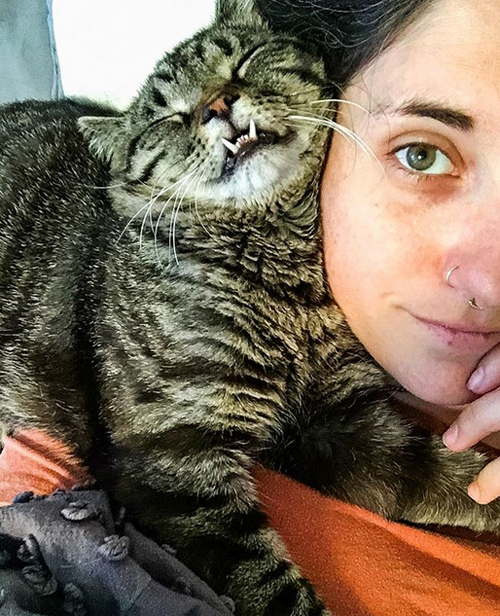 Fortunately for Chompers, he now has a wonderful forever home where he gets to indulge in his favorite activities, which include racing around the apartment, watching the toilet flush, and climbing into the fridge whenever he gets the chance. However, there's nothing this special boy enjoys more than cuddling with Gina, the person who loves him exactly as he is.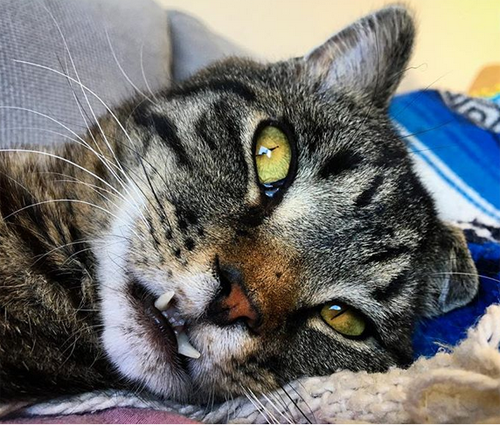 "He is definitely my unofficial emotional support animal," says Gina. "I haven't had a pet since childhood, and having Chompy for these past few months has reminded me of the joys of caring for a creature, and how much that creature cares for you back. He is my companion and friend."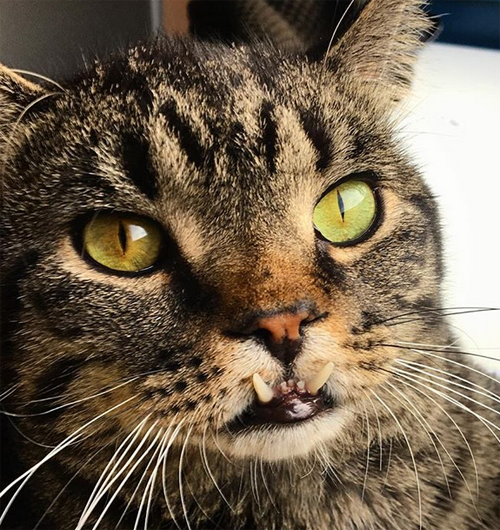 To learn more about this handsome cat, you can follow Chompers on Instagram.