Shae and her family were walking to a restaurant in St. Clair Shores, Michigan, in August 2017, having docked their boat nearby, when a young grey and white cat suddenly appeared before them. "This small little kitten came running at us and meowing so loudly," remembers Shae. Because the cat was so friendly, Shae was certain he belonged to someone, so she and her family continued on to dinner, confident the kitten would find his way back home.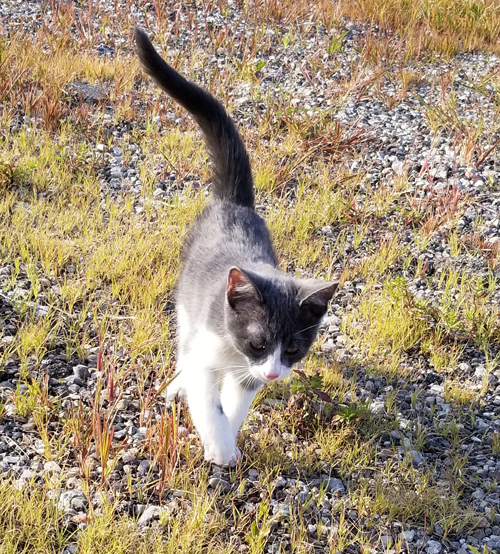 However, as Shae, her husband Nick, their son Cole, and her in-laws, were heading back to the boat after finishing their meal, they discovered the grey and white cat still hadn't left the area. "He came bounding out to see us again," says Sarah. "It was getting dark, and we didn't want to leave him alone at night near a busy road."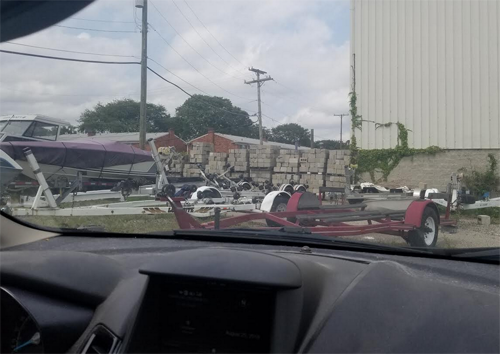 Determined to help the kitten, Shae got back on the boat with her mother and father-in-law, leaving Nick behind to try to find the cat's family. "My father-in-law would not allow the cat on his boat to the trip back to our car," explains Shae, "so my husband said he would stay with the cat and see if he could find his owner and if not, we would take him home to be safe."
During the two hours it took Shae to return, Nick tried — unsuccessfully — to find the kitten's owner before getting him dinner, a gesture the little grey and white kitten greatly appreciated. "He ended up carrying him down to the local gas station and buying him a tin of cat food and protecting him," says Shae. "I am pretty sure that their bond was cemented in that time frame."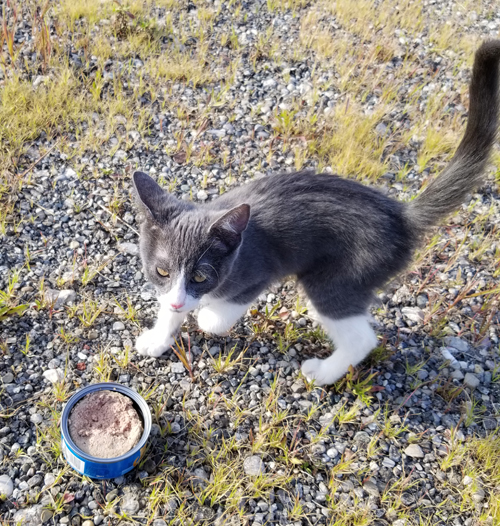 Back at their home in Hazel Park, Michigan, the couple decided the kitten would need a name, and because Nick had already developed such a special relationship with the young cat, Shae let her husband do the honors. "My husband named him because I am always the name giver," explains Shae. "Cloud is named after a character from Final Fantasy, which is one of my husband's favorite games."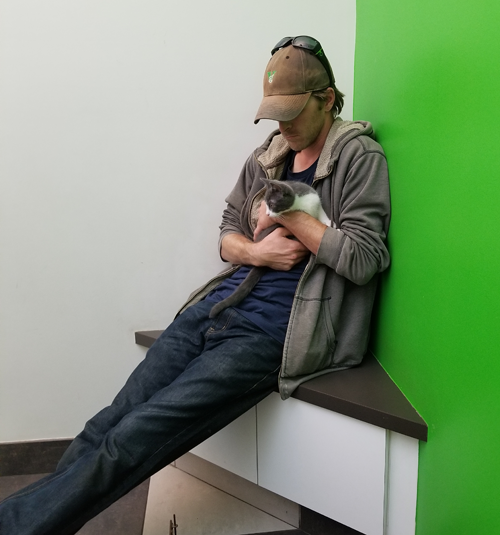 The following day, the couple took Cloud to their vet for a thorough examination. When Shae and Nick learned that he didn't have a microchip, they decided to adopt the little grey and white cat. "We got him his shots and medications to get him safe to be around the other cats and dogs," says Shae, allowing Cloud to share their home with their four cats, Remy, Tzazzie, Lorelei, and Rorschach, and two dogs, Koda and Aine. "We had no intention of adopting any more cats or dogs, so Cloud was a gift out of blue."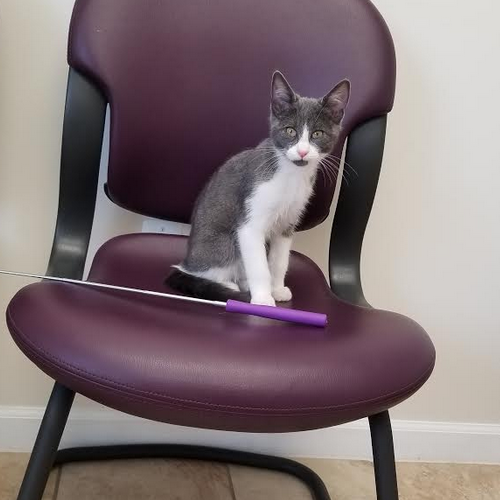 The vet determined that Cloud was approximately 11 weeks old, and appeared to be in good health, but just a few days later, he began having constant, severe diarrhea. Shae and Nick rushed Cloud to an emergency vet, and the couple discovered that their new kitten had two very serious health issues, a heart murmur and colitis, an inflammation of the inner lining of the colon.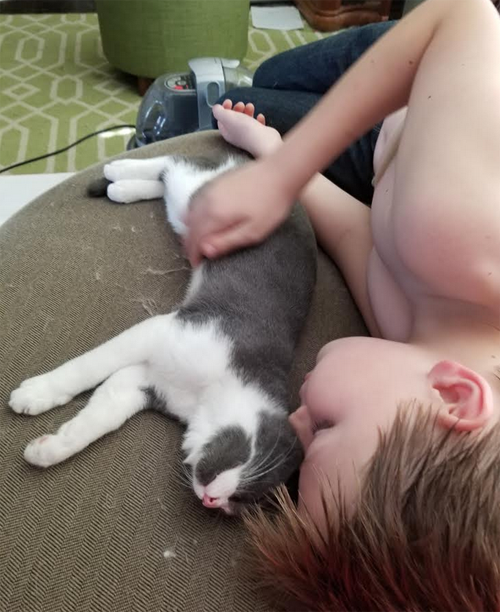 "They said his heart murmur was most likely genetic and on a scale of 1-10 it was an 8 which was not good," remembers Shae. "The vet said he might not live to be one." Needless to say, Shae and Nick were both shocked by Cloud's prognosis, but they refused to give up on him, hopeful that the heart murmur might lessen over time and that they would be able to treat his colitis.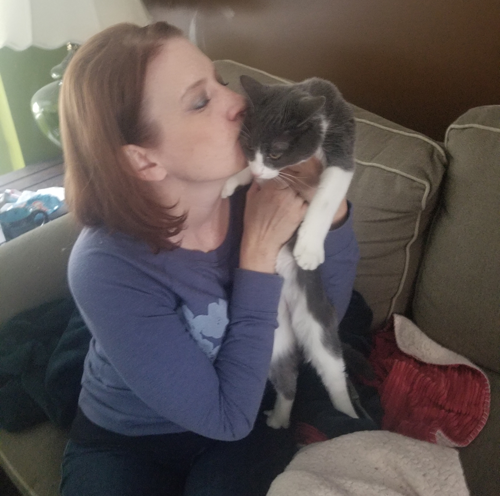 However, having both colitis and a heart murmur, Cloud had fewer options available to him than other cats. "It is usually more treatable with steroids, but due to his heart murmur and extremely sensitive digestive tract, he has very bad reactions to the steroids and cannot have them," explains Shae.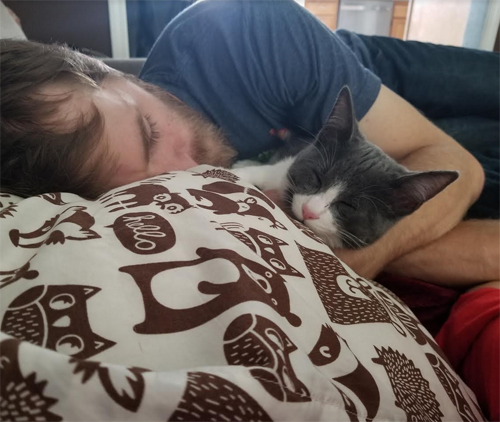 Consequently, the couple began looking into alternatives, and they eventually found that a combination of a strict diet, homeopathic methods, and more gentle medications was the best treatment option for Cloud. Nearly a year later, this adorable grey and white cat's colitis is somewhat under control, but it still remains something of a struggle.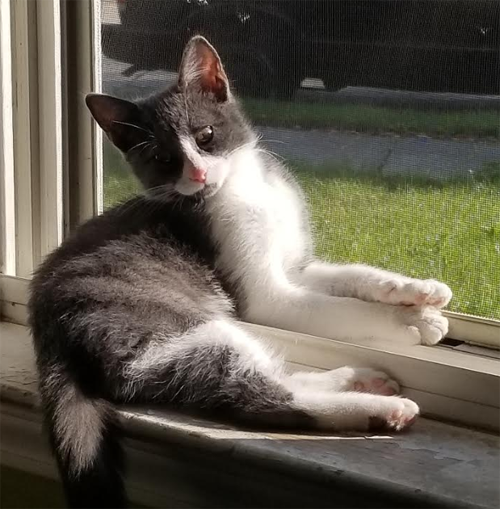 "His colitis flares up at least monthly," says Shae. "This means he will have to go to the bathroom and strain and cry to go and not be able to but then bam, his diarrhea will just come on and he will not always be able to make it to his potty."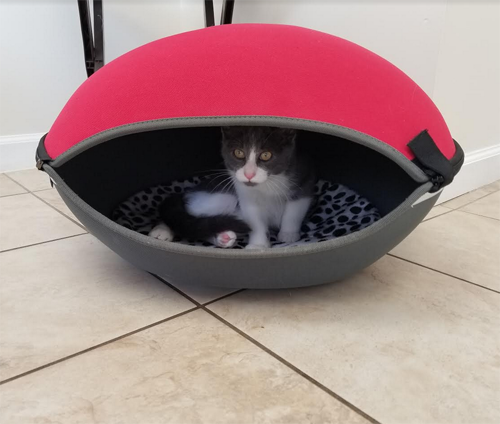 While these monthly flare ups are messy, Shae and Nick agree that cleaning up after Cloud's bouts of diarrhea is easy compared to hearing his cries of pain. "The worst is the sad howls he lets out when he strains to go to the bathroom," says Shae. "He has a diet of prescription food with multiple medications mixed in, as well as hemp treats to help ease his pain when he poos."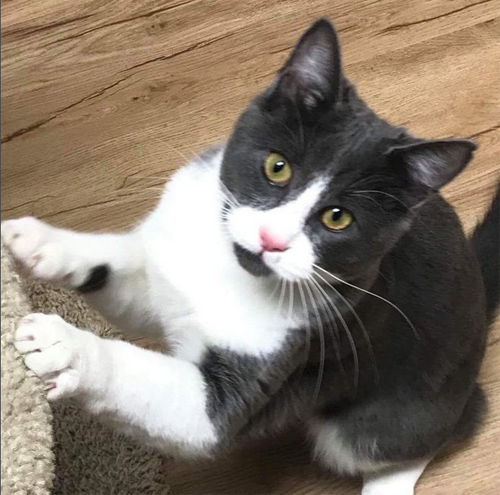 Even though Cloud's colitis remains an issue, his heart murmur is no longer a major concern, and this young cat who doctors didn't think would make it past his first birthday is now approximately 15 months old. "He is at a 3 out of 10 range, and that issue isn't critical anymore, although it is monitored still by our vet to be safe," explains Shae.
Cloud is obviously in very good hands, and he's extremely fortunate to have ended up with Shae and Nick, people who were willing and able to give him the chance he needed. "We did have many people tell us that we should drop him off at a shelter or put him to sleep, but that was never an option for us!" says Shae. "We have always believed that our pets are our family and we would never abandon family!"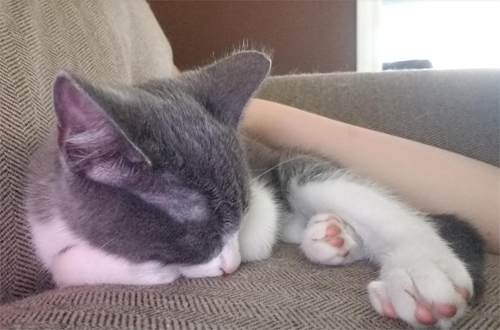 Still, Shae and Nick weren't looking to adopt another pet when Cloud appeared before them at a boatyard last summer, and they certainly weren't intending to open their home to a special needs cat. While caring for Cloud has resulted in a lot of unexpected expenses, this couple is certain this adorable grey and white is worth every penny they've spent. "We incurred vets bills in the thousands for our little dock kitty but we never gave up hope," says Shae. "And even though we are not wealthy by any means, we all tighten our belts to get him healthy."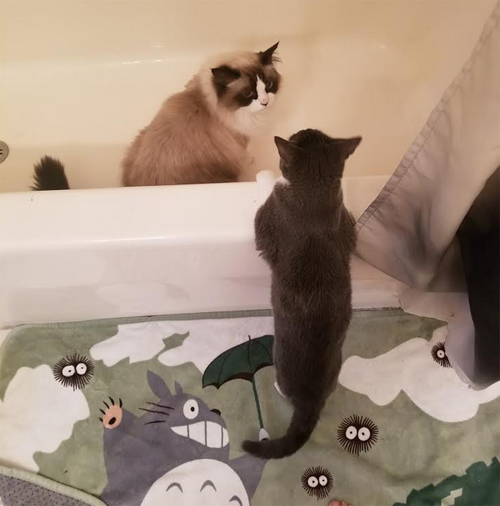 Today, Cloud is doing very well, and while he has had more than his fair share of health challenges, he is full of joy and enthusiasm. Not only does this cute grey and white cat like playing with his toys and chasing after butterflies and fireflies during his supervised time outside, he enjoys just spending time with his family . "He loves to chase his siblings around," says Shae, "Especially his brother Rorschach whom he follows everywhere and adores."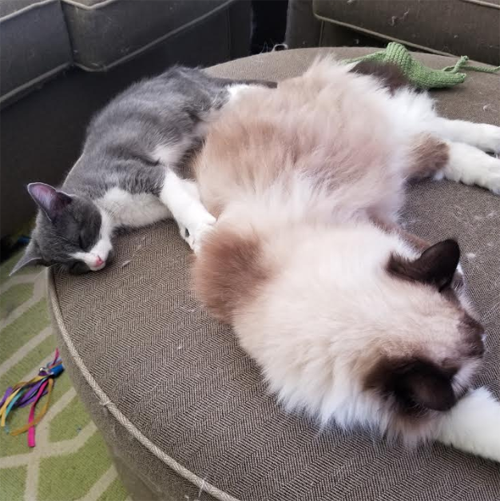 Cloud, who was all alone on the streets when Shae and Nick rescued him, is an exceptionally social cat, and the unique connection he shares with his dad has only gotten stronger over time. "He hates to be alone and if you leave the room he will tag along behind you!" says Shae. "He loves everyone, but he loves his dad the most. They bonded on day one, and I know in his heart he remembers that."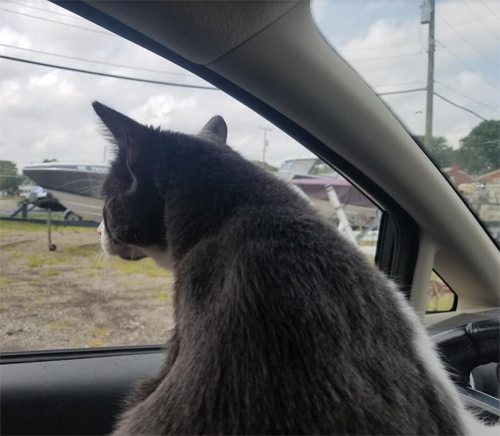 By sharing Cloud's story, Shae hopes that not only will people consider adopting special needs cats, they'll also think twice before euthanizing a pet due to a chronic health issue. "If a pet has a condition that will always be there, it's not a death sentence or the worst thing either," says Shae. "Sometimes you change your life for the ones you love, and you grow and become better doing it!"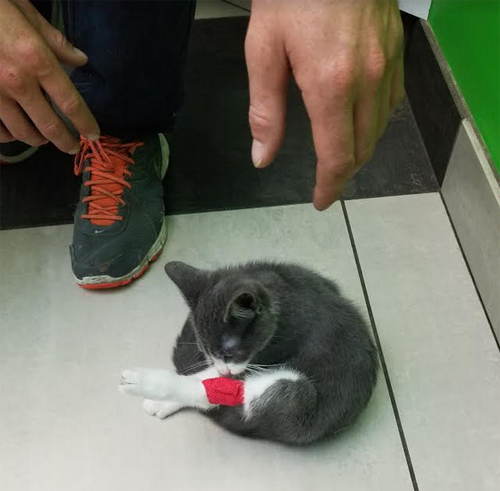 Without a doubt, Cloud is a very special cat and he chose the perfect forever home when he ran up to Shae and Nick, a homeless kitten who was in desperate need of a family to love and care for him. While the past year has had many ups and downs, Cloud is alive and doing better than ever, all thanks to his parents, the people who have never given up on him. "When I look in my little boy's eyes, all I see is one amazing kid that I love and cherish!" says Shae. "He taught us that some of the best things in life are imperfect and that only makes them better. I can't imagine him not in our life; he makes us better!"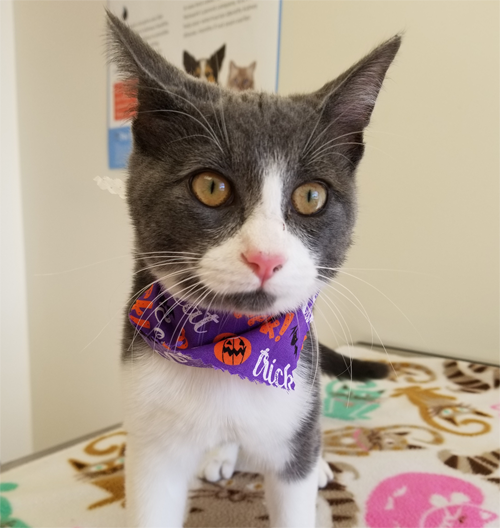 To learn more about this adorable cat, you can follow Cloud on Instagram.