When Frances Case saw a Facebook post from Seattle Area Feline (SAFe) Rescue about Courage, a black cat who had been subjected to horrific abuse, she was eager to follow the resilient feline's progress. "Courage used to live outdoors in a rural area in Eastern Washington," explains Shelley Lawson, Development and Communications Director for Seattle Area Feline Rescue. "A kind elderly gentleman there did the best he could to take look after the cats that showed up on his property.
For years, Courage visited the man's home for regular feedings until one day in 2015 when she stopped coming by for meals. When Courage — who was approximately four years old at the time — finally reappeared, it was obvious she had been the victim of unfathomable cruelty. "She eventually managed to make her way back home from wherever she had been taken, but she was injured and bleeding," explains Shelley. "Someone had cut off her ears and tail."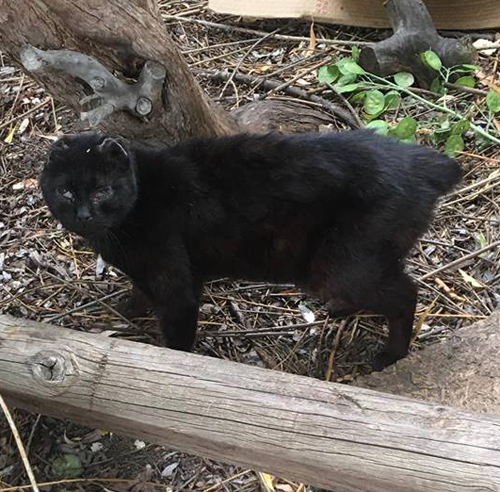 Courage's caretaker cleaned her wounds and administered first aid, and this remarkable girl eventually recovered from her injuries. Three years after the attack, the man who had been looking after Courage — and a number of other cats — realized he was no longer able to care for her, and good Samaritans reached out to Seattle Area Feline Rescue for help. "We expected that she would be traumatized and fearful after all she had been through," says Shelley, "but Courage had other ideas — she turned out to be a resilient little kitty with a huge purr motor."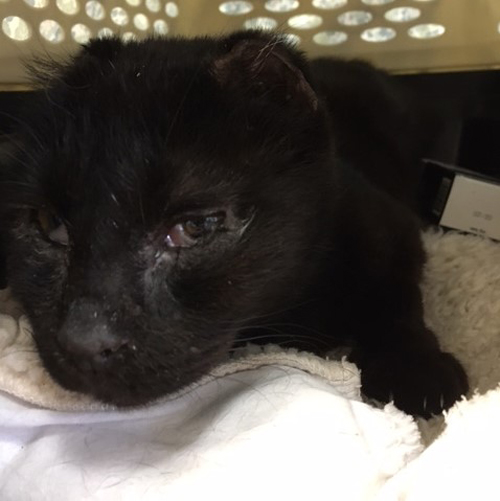 Shortly after Courage arrived at the rescue on June 25, 2018, a thorough medical examination revealed her ears were infected because she didn't have flaps to protect them, and she had several other health issues caused by a difficult life on the streets.
"Fortunately, a compassionate community of animal lovers rallied around Courage, sending her good wishes and contributing to SAFe Rescue's Medical Fund to help bring her all the care she needed," explains Shelley. "During her time at SAFe Rescue, Courage received treatment for infections, was spayed, recovered from a tummy bug, and had two dental surgeries and two eye surgeries."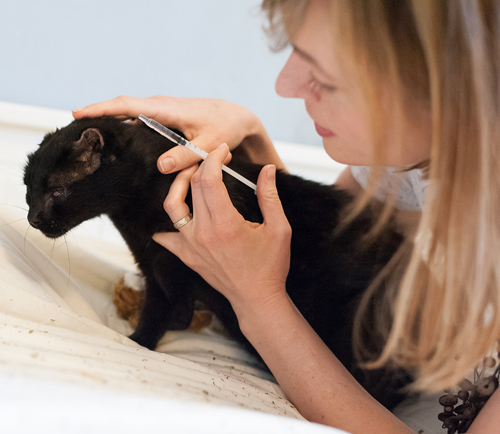 While Courage had to undergo a number of medical procedures and treatments, she remained a happy and loving cat the entire time, bonding with Shelley who offered to foster her for the rescue until she was ready to be adopted. Even though Courage had suffered horrific abuse, she proved to be a typical feline who just wanted to play, eat, and snuggle.
"When an animal has suffered as much as Courage, it's easy to assume that they will be broken and mistrustful for the rest of their lives," says Shelley. "But Courage has showed all of us what it means to be resilient. She is a loving, joyful little cat who greets every day with a giant purr."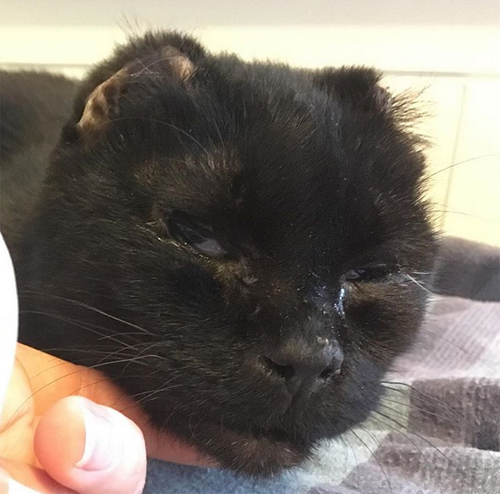 When Courage was finally ready to find a forever home, Frances — who lives in Seattle — reached out to Seattle Area Feline Rescue to arrange a meet and greet with this stunning girl. "I thought long and hard about putting in a request to adopt as I knew she deserved a very special home and it wasn't a decision to head into lightly," says Frances. The following Sunday, Frances visited Shelley's home and she spent approximately 45 minutes playing and interacting with Courage.
View this post on Instagram
"It was very special," remembers Frances. "To really be meeting this darling cat I had only seen pictures of was such a gift." Not surprisingly, Frances fell in love with Courage and her incredible personality, and she decided to adopt this very special cat. Shelley, who had taken care of Courage for several months, gave Frances several toys to help this beautiful black cat settle into her new home.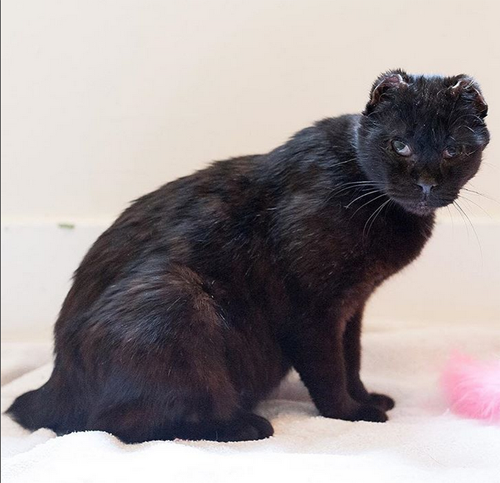 It's been a little over a month since Courage was adopted, and she is doing incredibly well! "I still find it hard to believe that she's 7 years old," says Frances. "She plays like a kitten!" Courage, who was homeless for most of her life, now has a safe and happy forever home where she can watch birds and squirrels, curl up in her favorite tunnel, and of course, eat. However, due to Courage's life before she was rescued, it took a little while for her and Frances's other cats to adapt to eating meals together.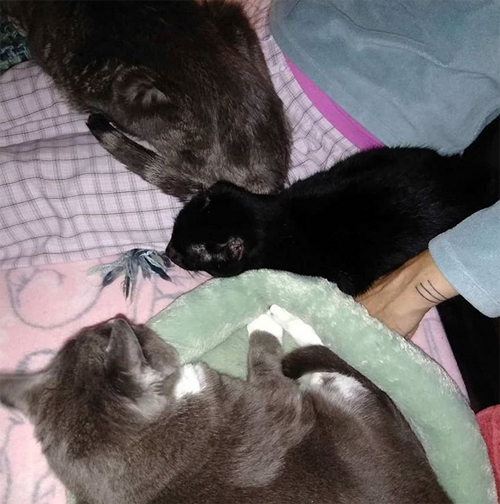 "I think because she has had to defend herself and her food — maybe even kittens — she can be a bit intimidating to the other cats," explains Frances. "She is fearless and will charge at them, so it has been challenging to help them all understand we are not enemies but family." Also, because of the abuse she experienced, Courage has to have her ears cleaned on a regular basis, something she doesn't particularly enjoy, but she's an otherwise cheerful cat who is loving the comforts of her new home.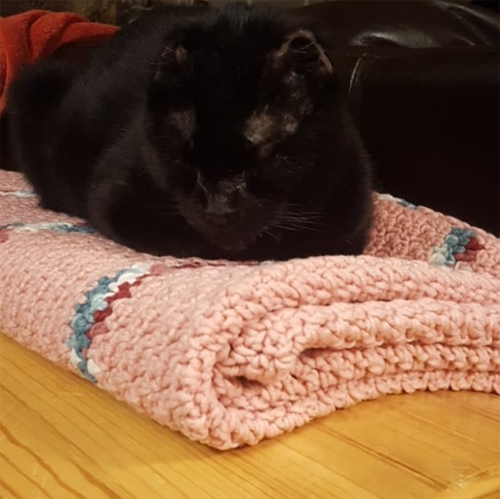 "I think people would be very surprised at her strong spirit and outgoing personality, " says Frances. "Considering what she has endured people might think she would not want to be around humans, but she does!" Shelley, who chose Courage's name, is happy to know this remarkable cat continues to live up to her moniker, having adapted so well to her new life with Frances.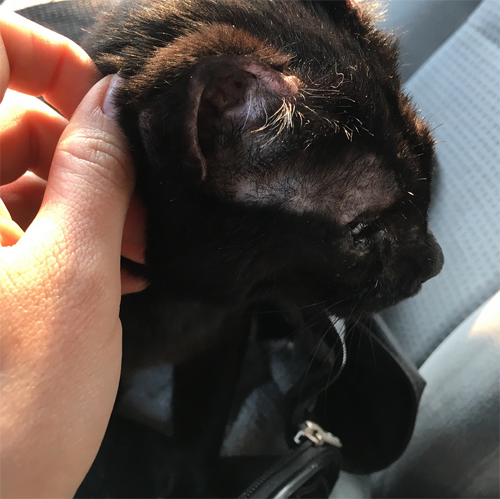 "Courage is a delightful companion in every way," says Shelley. "She reminded me to look on the bright side of every day, and she cheered me up at least as many times as I comforted her." For Frances, Courage has been a wonderful addition to her family, and she's grateful she gets to be one of the many people who has helped this special girl recover from the cruelty she suffered three years ago when she was a homeless cat.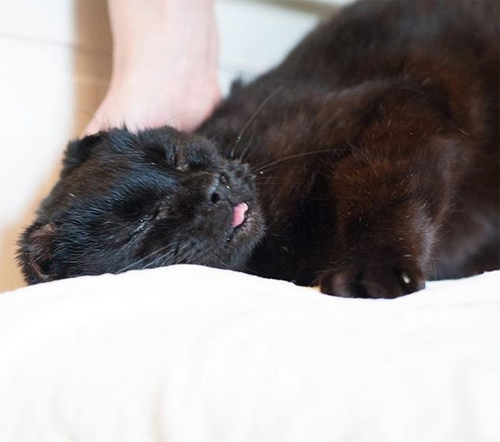 Both Frances and Shelley agree that cats can be incredibly resilient, allowing them to recover from the most horrific experiences, which is why people shouldn't overlook kitties like Courage who may be different from their counterparts. "If you're thinking of adopting, please take a moment to give a second glance to the shy kitties, the scruffy kitties, the kitties who look a little different," says Shelley. "One of them might turn out to be your best friend!"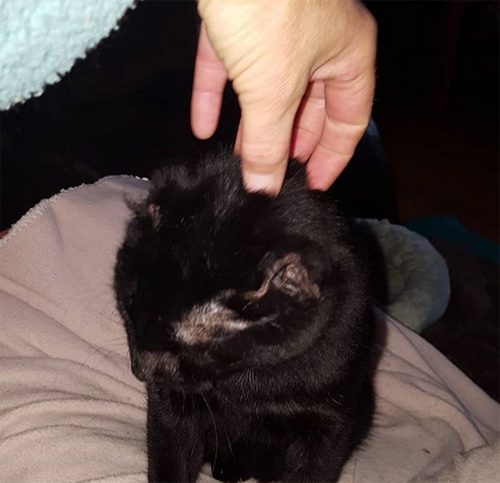 Fortunately for Frances, she wasn't deterred by Courage's tragic past or her unique appearance, enabling her to open her home and her heart to someone who is truly special and life-changing. "To be part of a process with the wonderful people who have done so much for her makes me feel I'm a part of something bigger than myself," says Frances. "I really can't explain how happy she makes me. She means so much to me."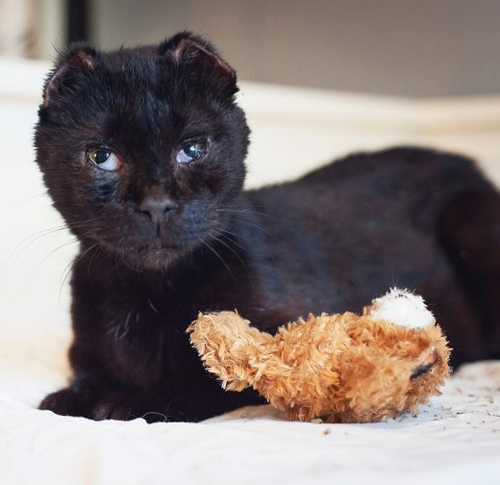 To learn more about this remarkable cat, you can follow Courage on Instagram.