Sensitive Content
This post includes photos some people may find disturbing.
When Cory MacEachern saw a Facebook post from Let's Adopt! Global — an organization dedicated to helping dogs and cats all over the world — about Rania — a tabby and white kitten who was desperately in need of surgery to remove both of her eyes — she felt an instant connection with the young feline. "Being an animal lover, I clicked on the link, read her story, started crying, and immediately emailed the rescue group to see if she needed a home after she was strong enough," remembers Cory.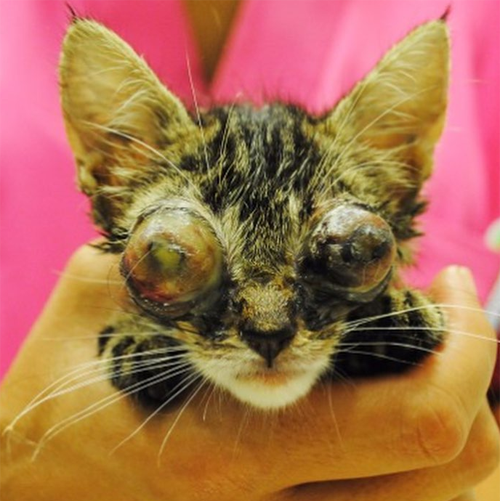 As Cory exchanged messages with the team from Let's Adopt! Global, she learned Rania was actually in Spain, over 3,000 miles away from the home she shared with her husband Matthew in Concord, New Hampshire. Cory also discovered more about the tragic circumstances surrounding Rania's rescue, which occurred in early September 2014 when she was just a few weeks old. "Rania was found in a dumpster," explains Cory. "Someone heard muffled cries coming from the trash and dug through and found her. Her eyes were so infected that they were coming out of their sockets."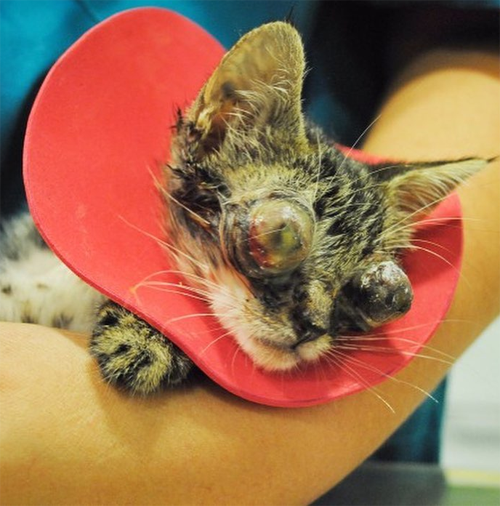 Rania, who was less than a month old at the time, was desperately in need of medical attention, so the person who found her took her to a local rescue. "The rescue group thought she had been born inside somewhere and that someone probably threw her out because they didn't want to have to deal with it," says Cory.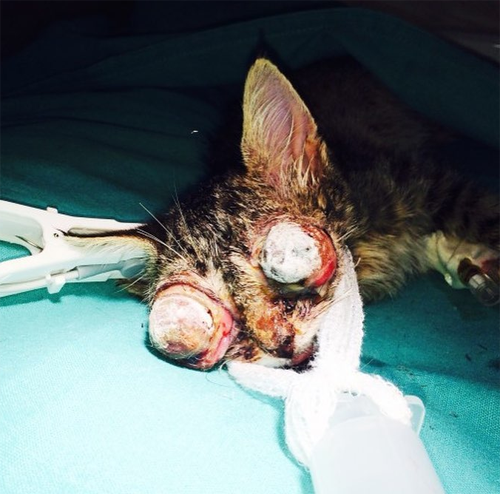 Not long after Rania was brought into the rescue in Spain, Let's Adopt! Global got involved, agreeing to give the tiny, blind kitten the best care possible. Rania's eyes were on the verge of erupting, and she desperately needed surgery to remove them, but given her young age and poor health, she definitely wasn't an ideal candidate for the serious procedure. "I guess they couldn't even draw blood or put an IV in because she was so dehydrated," says Cory.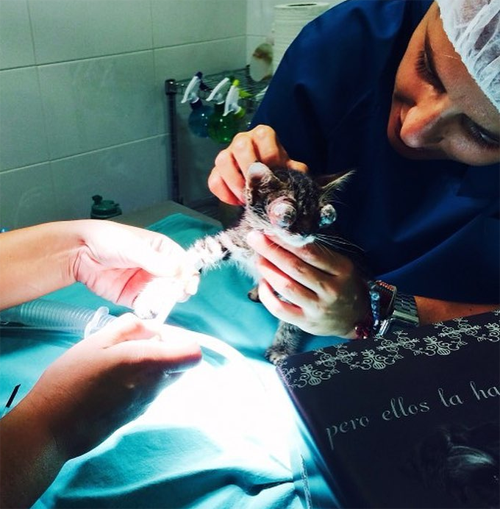 However, Let's Adopt! Global had no choice but to go forward with the procedure, knowing that if Rania's eyes actually erupted, she would be at even greater risk. Incredibly, the surgery was a success, and over the course of the next few weeks, Let's Adopt! Global helped Rania recover from the operation, giving her the love and care she needed to grow into a happy, healthy, and strong young cat.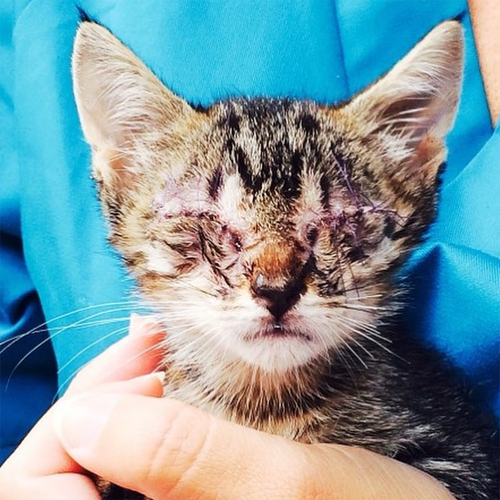 In November 2014, Rania was ready for adoption, and while she would have to travel thousands of miles to be with Cory and her husband Matthew, Let's Adopt! Global concluded the couple would be able to give her a wonderful life. "They said they look for homes not locations," remembers Cory.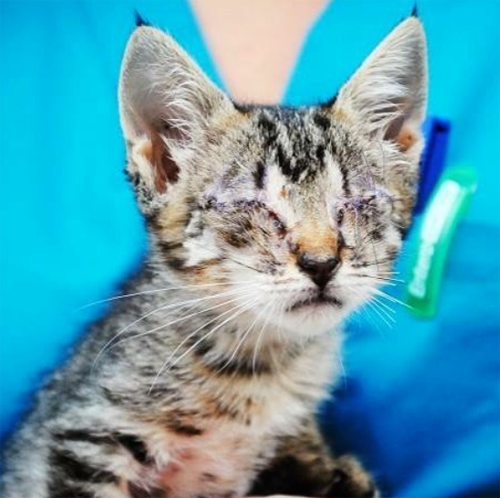 The first time Rania met her new mom in person, it was at the Massachusetts home of a member of Let's Adopt! Global's team, a day Cory vividly remembers. "Seeing Rania for the first time was so unreal," says Cory. "She was so curious and small. She climbed all over everything and wouldn't sit still." Rania, who was just four months old at the time, cried throughout the entire three hour car ride to New Hampshire, but once she was let out of her carrier to explore her forever home, she immediately relaxed.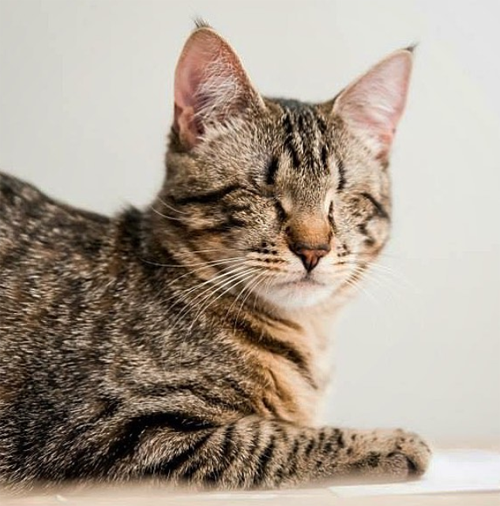 While Rania — who is named after the Queen of Jordan — was at ease, ready to survey her new kingdom, Cory was nervous, concerned her rescue cats Dorian and Poe wouldn't be very accepting of their little sister. Also, Cory didn't have any firsthand experience with blind cats at the time, so she was anxious that Rania, being unable to see, might injure herself.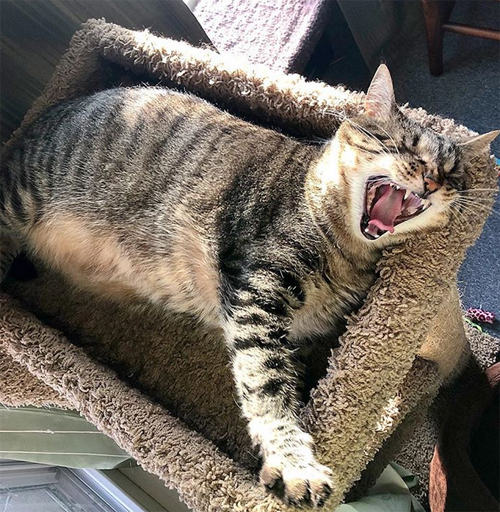 However, this adorable blind tabby didn't waste any time showing her new mom that she didn't need to be so concerned. "Everything went so smoothly," remembers Cory. "She had no trouble exploring the house, and within a week or two she was free roaming with the other cats with no trouble."
View this post on Instagram
Four years later, Rania — who has lived almost her entire life without eyes — navigates her home like a pro, so much so that her parents often forget she's blind. "She acts just like our other two cats that see perfectly fine," says Cory. "I mean, yeah, sometimes she'll be chasing a toy mouse and get really excited and bump into something, but most cats do that every once in a while, right?"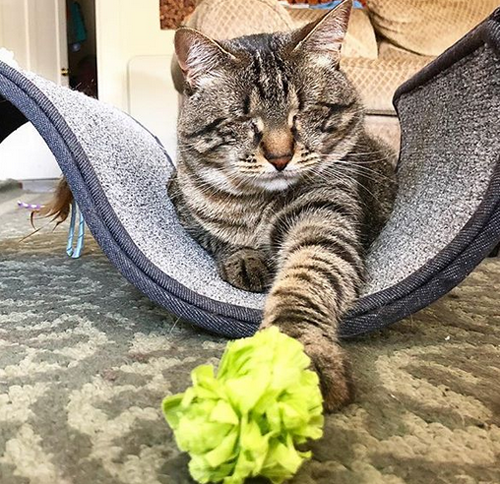 Like a typical feline, Rania loves playing with balls of paper, napping, waking her mom up in the morning by tapping her face, cuddling with fluffy blankets, chasing after her siblings, and sleeping on Cory's laptop when she's trying to work. Just as she did as a kitten, Rania still loves to explore, and despite being unable to see, this beautiful four-year-old cat isn't the least bit afraid of heights.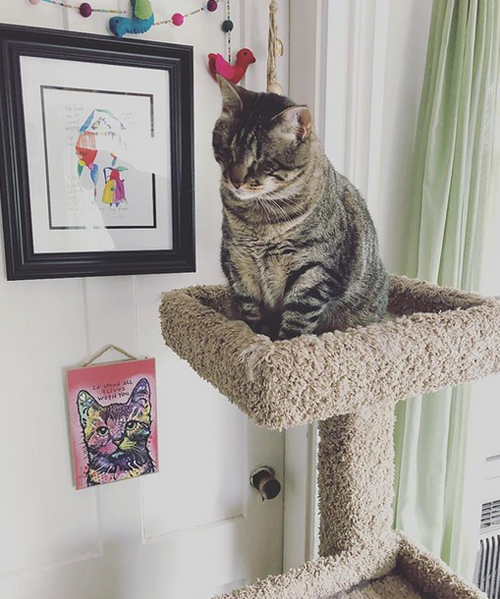 "Rania is a climber," explains Cory. "If there is something she can climb, she'll climb it. We have a cat tower that is over five feet tall and she loves sleeping on the top perch. She climbs up and down like it's no big deal." While Rania has lived with Cory and Matthew since 2014, this special girl continues to surprise her parents and their friends, making her a wonderful example of just how capable special needs cats can be.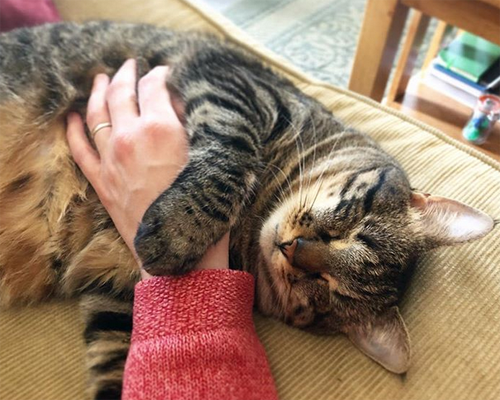 When Cory saw Rania's face for the first time, she felt an instant connection with her, one that has only gotten stronger over the course of the past four years. In fact, this pair has developed such a special bond, it's nearly impossible for Cory to imagine her home and her family without Rania. "She's honestly amazing and I love just watching her play and run around," says Cory. "I can't picture our lives without her, and we're so thankful to have her."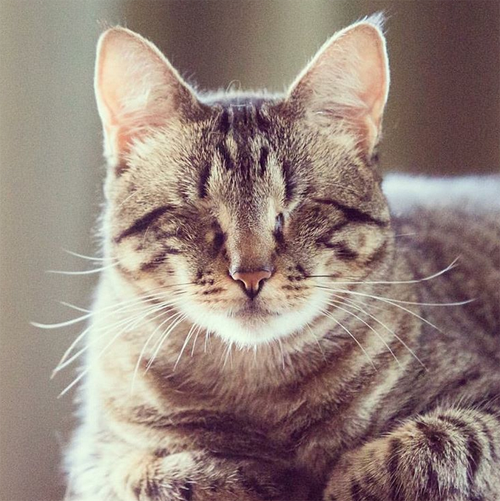 To learn more about this amazing cat, you can follow Rania on Instagram.