When Aubrey Loglisci saw an Instagram post about Cleo, formerly Xena, who Brea of b.lou_fosters on Instagram began fostering when she was just nine days old, she immediately fell in love with the adorable kitten with the cleft lip. "She was the cutest thing I had ever seen," says Aubrey.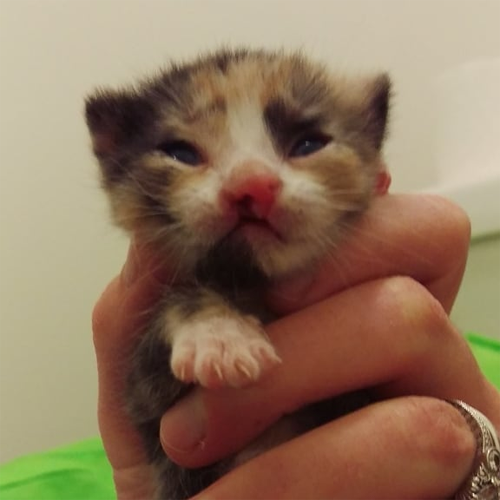 Born on January 13, 2018, Cleo was less than two weeks old and struggling to survive when she was surrendered to New Life Animal Rescue in New Jersey. The rescue's president immediately contacted Brea, one of the organization's experienced foster moms, to find out if she would be willing to give Cleo the intensive care she needed. "I told her I would do my best, but it sounded like the kitten might not make it," remembers Brea. "We agreed we had to give her a chance."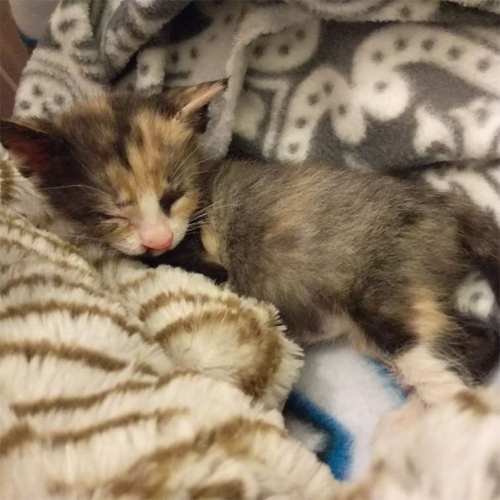 When Brea started fostering her Cleo,  not only did the tiny kitten have a cleft lip that made it difficult it for her to eat, she was dehydrated, malnourished, and battling pneumonia. "She was in and out of vet offices because she had to be tube fed and struggled to put on weigh," explains Aubrey. "Week after week I watched her grow and get stronger and fell more and more in love with her, all on Instagram."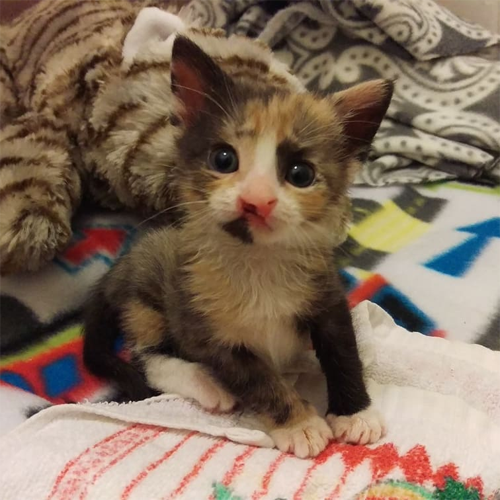 While Aubrey was smitten with Cleo, the little special needs kitten still wasn't healthy enough to go to her forever home, so she and her fiancé began searching online for cats who were available for adoption near their home in Pennsylvania. However, after months of searching for the right feline to complete their little family, the couple was unable to find their perfect pet, leaving Aubrey very discouraged. "When you're looking for a pet, you're really looking for a feeling," says Aubrey, "like you know when you see them that this is the one."
Aubrey had all but given up her quest for a cat companion, when she decided to check in on Cleo, the little calico with the cleft lip who had stolen her heart. "The kitten I had already loved so much was up for adoption and nearby," says Aubrey. "Without hesitation I filled out the application as fast as I could."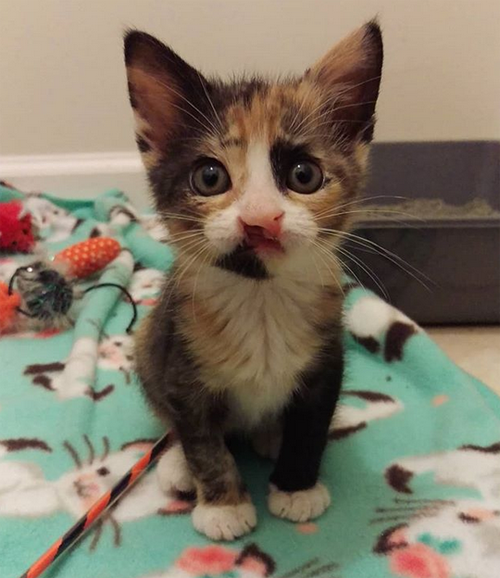 People from all over the world had applied to adopt Cleo, so Aubrey and her fiancé were excited when they got the calling telling them they were being considered. With Brea's help, Cleo had grown from a sickly kitten who was failing to thrive, into a happy and healthy young cat who enjoyed lavishing her foster mom with affection. "My favorite thing about her was how she would snuggle in my neck and give me little bites on my nose," says Brea. "It was like her way of giving me a kiss."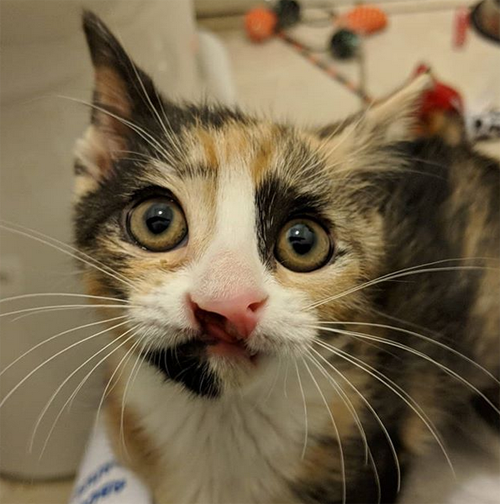 While Cleo was doing better than ever, New Life Animal Rescue wanted to make sure Aubrey and her fiancé would be willing to help her with any challenges she might face in the coming years. The couple was informed that due to Cleo's cleft lip, she would probably need some sort of special accommodations or medical treatments later on in life, such as having one of her teeth pulled. "I had honestly not thought about that before," says Aubrey, "but I knew we already loved her and whatever her future held, we'd be there to see she is happy and healthy."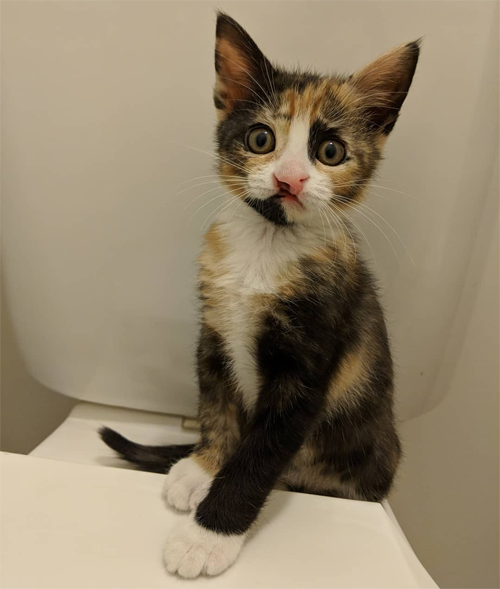 Aubrey and her fiancé's application was approved, and on April 8, 2018, Cleo — who was just three months old at the time — officially joined their family. While it was difficult for Brea to say goodbye to the special needs kitten she had cared for since she was nine days, she was incredibly happy for Cleo and her new parents.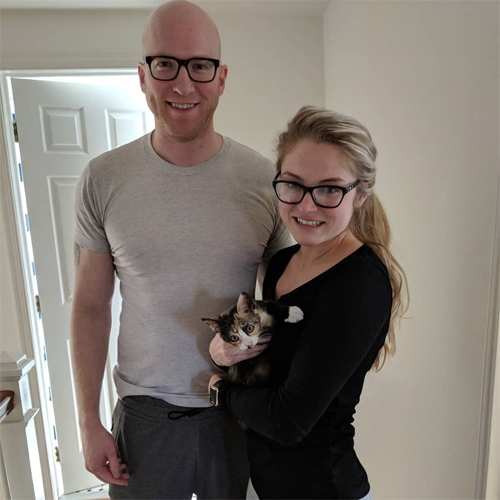 "She grew into one of the best cats I've ever fostered," says Brea. "Cleo was the most perfect mix of sassy and sweet. She is so lucky to have found a perfect family who loves her as much as I do!"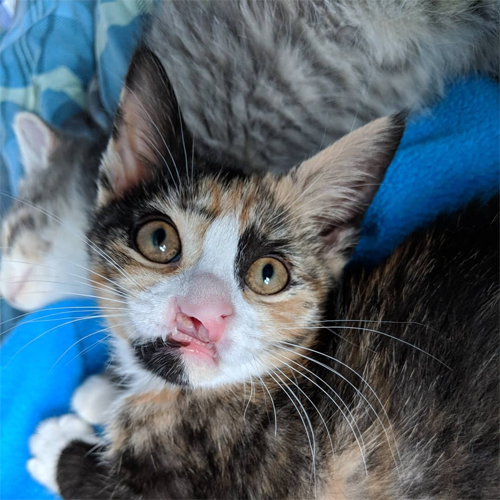 While they both adored the little kitten with the unique face, Aubrey and her fiancé quickly discovered that Cleo was a very messy eater, causing her to get wet food lodged in her nose. "Since she only has one working nostril, after she ate we would have to check for food and then if there was any, we would have to pull it out," remembers Aubrey. "This wasn't fun for anyone."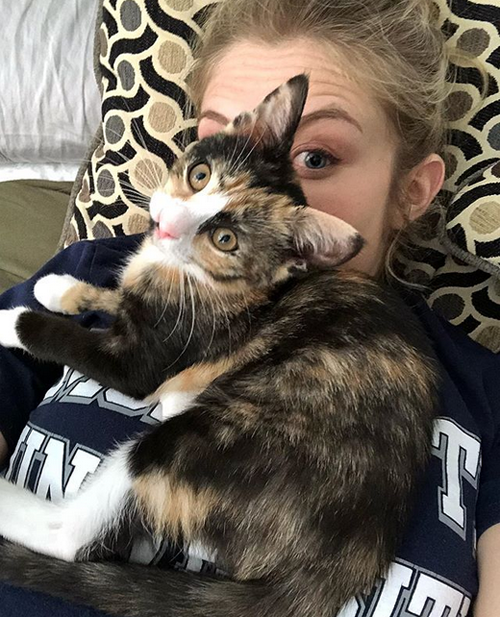 Fortunately, as Cleo continued to grow, her nostril widened, making it less likely for food to get trapped in it. Today, if anything happens to got lodged in her nose, this 11-month-old girl is able to blow it out on her own, a development both Cleo and her parents are thankful for. While this beautiful calico girl — whose full name is Cleocatra, an ode to the Egyptian queen — looks a bit different from the average cat, Cleo is as happy and active as any other kitten.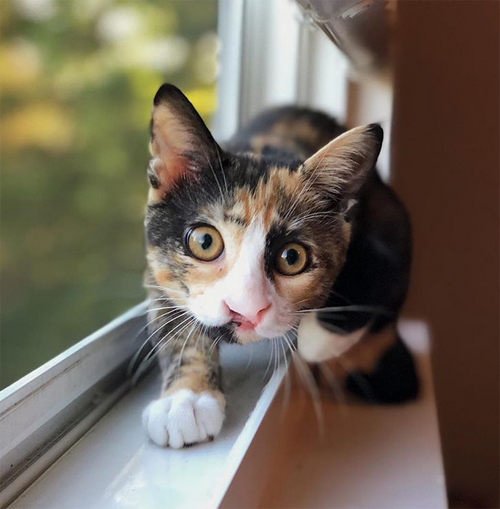 "Cleo enjoys playing fetch with catnip mice, roughhousing with mom and dad, and playing with a giant cell phone holder we call her 'kitten mitten,' " says Aubrey. "She also feels the need to check water that is not hers with her paws to make sure it's still wet."
View this post on Instagram
Even though it's obvious Cleo isn't any pain, people often ask Aubrey if this adorable calico cat is going to have surgery to repair her cleft lip. However, there is no medical reason for Cleo to have an operation at this time, and her mom is very much against subjecting this gorgeous girl to the risks of surgery simply for cosmetic reasons. "There is no need to fix it — she is perfectly happy and healthy," says Aubrey. "It's her cute snoot. Sometimes the thing that makes you different is the thing that makes you beautiful."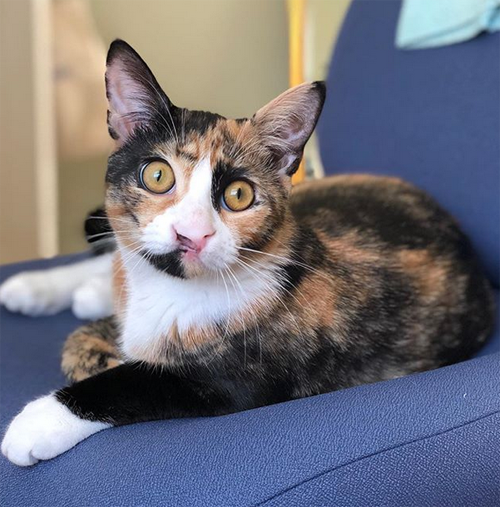 While others might shy away from adopting cats with cleft lips because they find them unattractive or are afraid they're going to need a lot of additional care, Aubrey and her fiancé are so glad they were chosen to be Cleo's parents.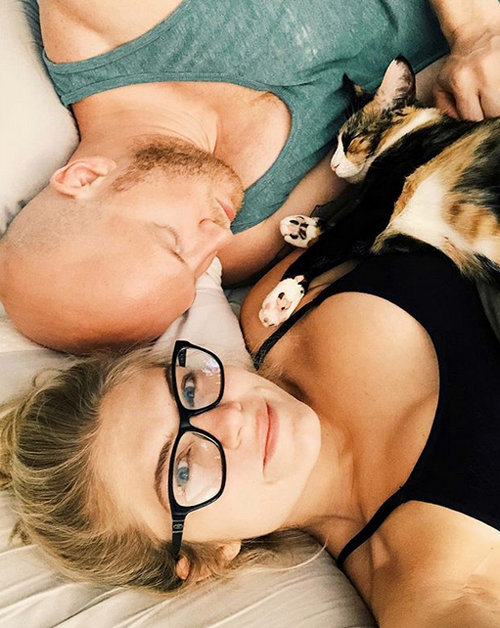 "Other than the obvious hole in her face, she is a healthy, loving, playful cat — just like any other," says Aubrey. "And as far as special needs cats looking different, that's exactly what makes them beautiful. They are unique and beautiful because of it."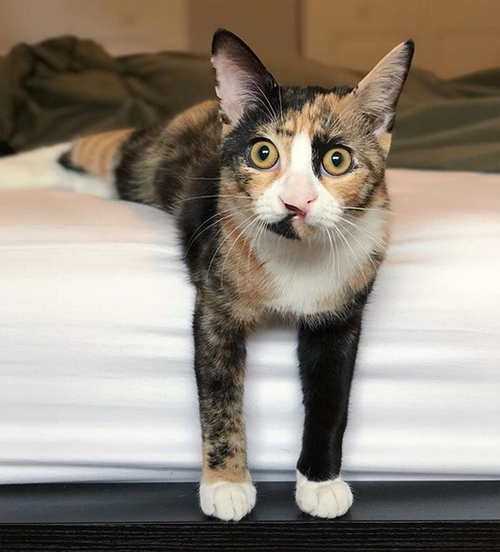 When Cleo first arrived at her foster home, she was just 11 days old and struggling to survive, but thanks to Brea, she was given the love and care she so desperately needed. Today, this extraordinary calico cat — who will celebrate her first birthday next month — is a strong, vibrant, and stunning girl, and her parents are so grateful they get to be her mom and dad. "She gave our quiet little home some life and gave us a little one to love and care for," says Aubrey. "Cleo, for us, is family."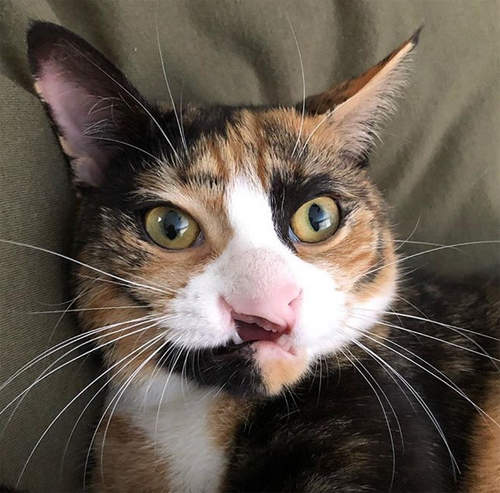 To learn more about this gorgeous girl, you can follow Cleo on Instagram.