As Stuart and his fiancé were returning home from the gym in July 2015, the couple spotted a Persian calico cat in the road who appeared to be disoriented.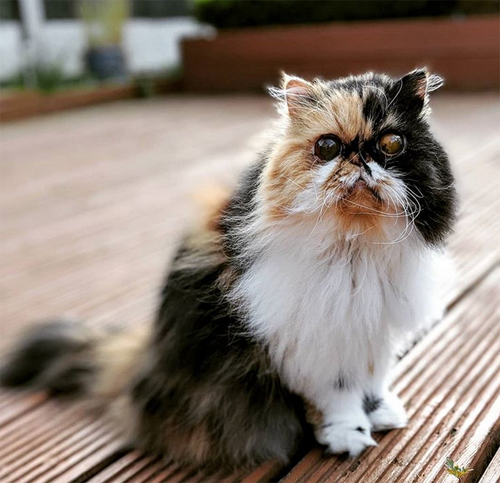 "She was wandering quite aimlessly and kept stepping into the street, narrowly missing passing cars," says Stuart. Concerned for her safety, Stuart and Rebecca rescued the cat from the road — visiting several houses in the area in a fruitless attempt to find her family — and took her back to their home in Preston, England.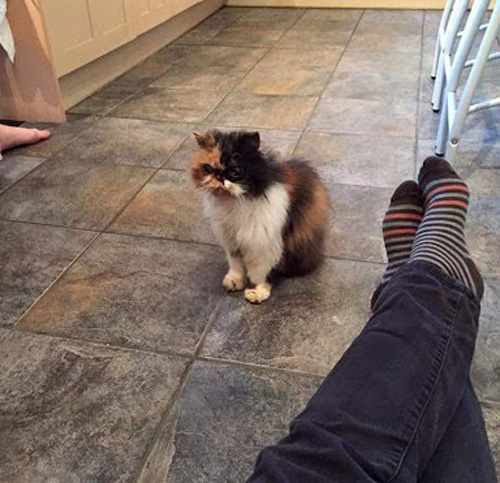 That evening, the couple brought the calico cat to their local emergency vet where the doctor determined that the fluffy feline was blind. The vet's office agreed to keep the special needs cat while Stuart and Rebecca turned to social media in an unsuccessful effort to locate her owner.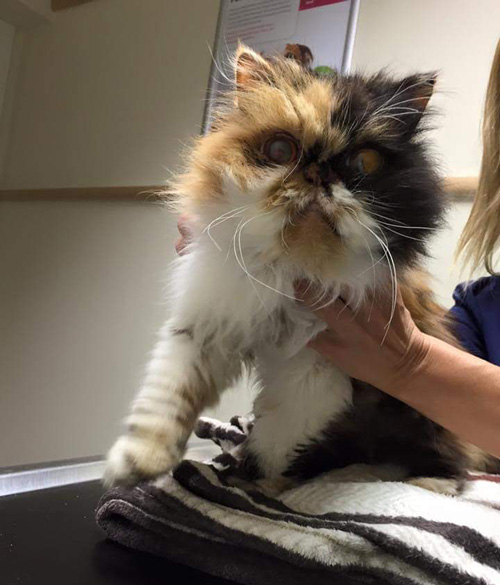 "After one week, the vet said they could no longer keep her and that the local shelters didn't have room for her, so she was to be euthanized," remembers Stuart. "They didn't think she'd be adopted due to her blindness."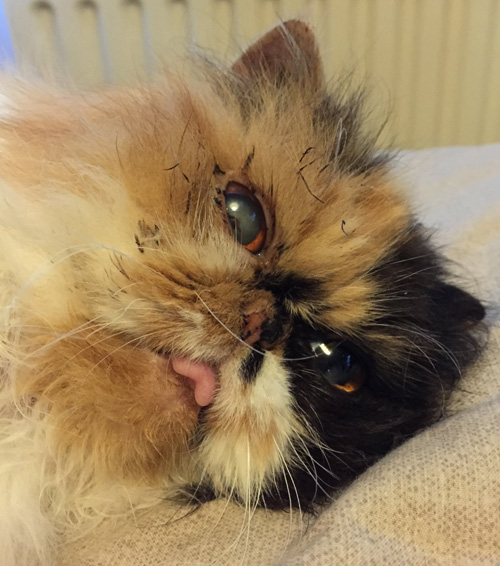 Having grown attached to the affectionate feline — who the vet determined was around 8 or 9 years old — Stuart and Rebecca couldn't bear the thought of allowing her to be put to sleep, so the couple adopted the blind calico on July 2, 2015, naming her Jessie.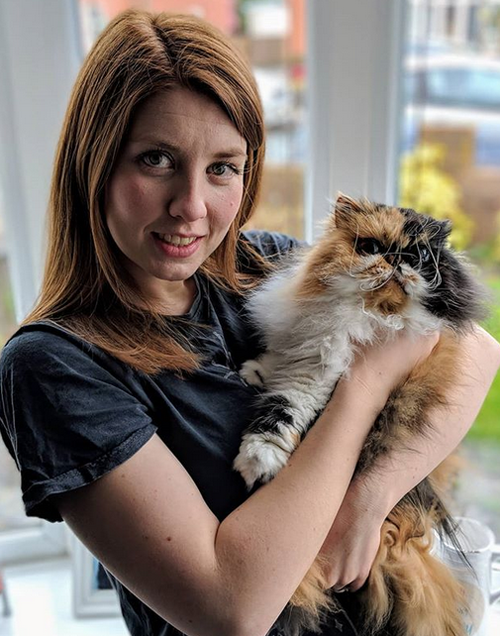 "We'd already fallen in love with her personality," explains Stuart. "We were in the process of buying our first home and would have planned to adopt a cat anyway, so we just did it a little early."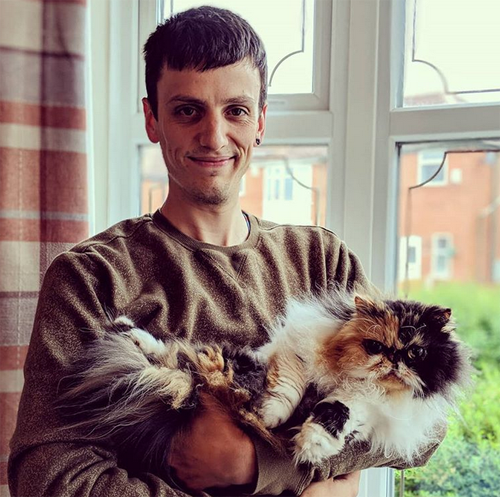 While Stuart and Rebecca weren't entirely sure what sort of special accommodations they would need to make for Jessie, they quickly discovered that blind cats need a lot less extra care than most people think. "Their other senses are so great, and they so quickly map out the place where they live to be able to get around," says Stuart. "She knows exactly where she is when she's in the house or gardens."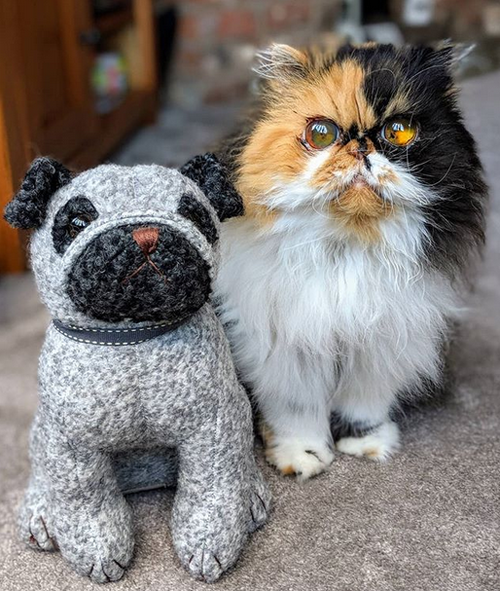 Nearly three years later, Jessie is doing great, although Stuart and Rebecca have to make sure not to rearrange their furniture too often. "She occasionally gets confused if we move anything in the house," says Stuart. "But because she's blind, she's much more responsive to things like sound and touch."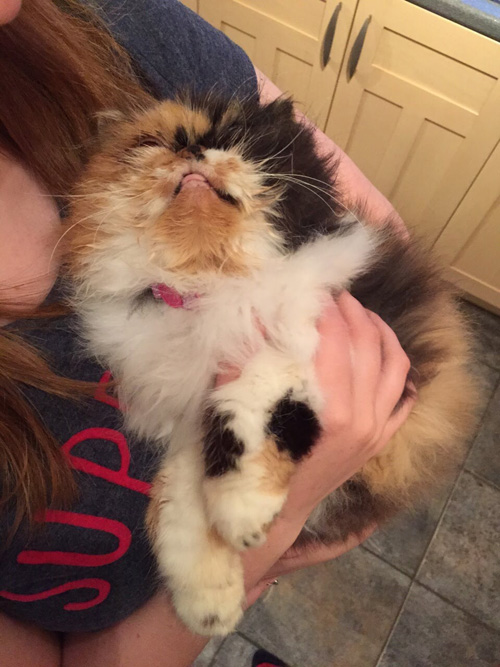 Jessie, who uses her whiskers to help her navigate her environment, is now around 11 years old, but her life before she was rescued from the streets of Preston remains a mystery, including the cause of her blindness.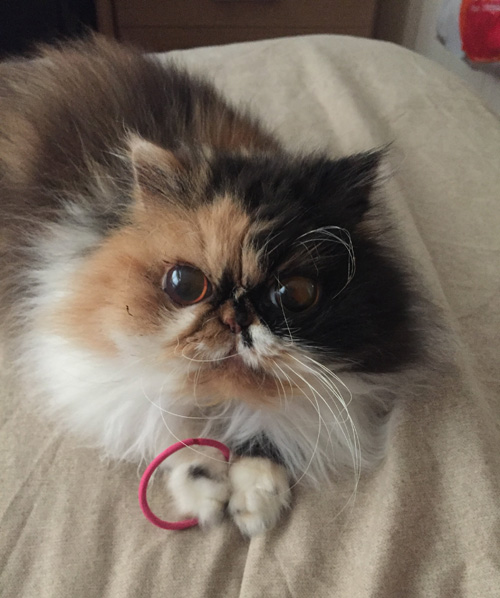 "It seems that she has different issues with each eye," says Stuart. "The vets think one is glaucoma, and that one might be from some sort of trauma, but it's just speculation really."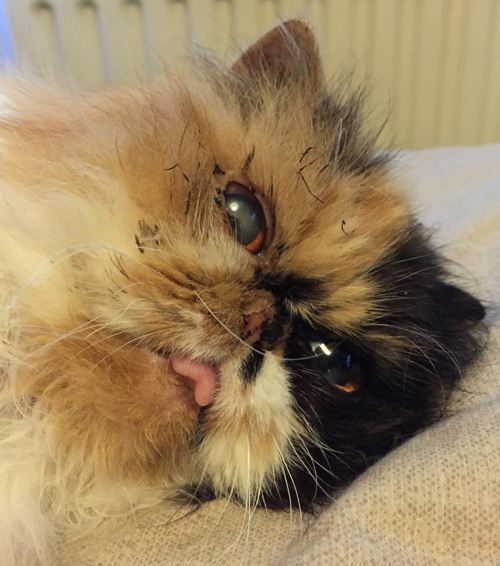 While no one knows much about this beautiful calico cat's history, fortunately for Jessie, she now has a loving and happy home where she gets to indulge in her favorite activities, which include sunbathing, eating treats, cuddling with her parents on the couch, sleeping, and spending supervised time outside.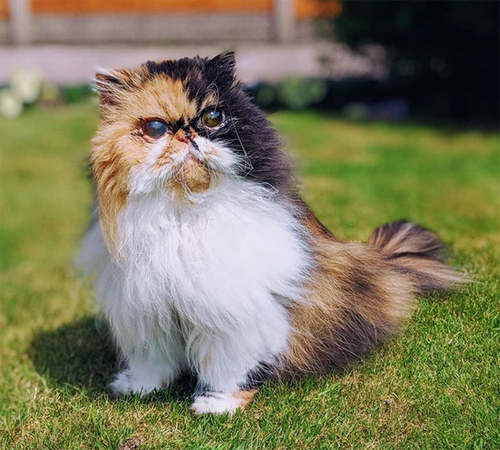 Not surprisingly, this senior feline — who might be not be alive today if Stuart and Rebecca hadn't stopped to help her — absolutely adores her mom and dad. "She follows us everywhere!" says Stuart. "She purrs instantly if you stroke her or talk to her."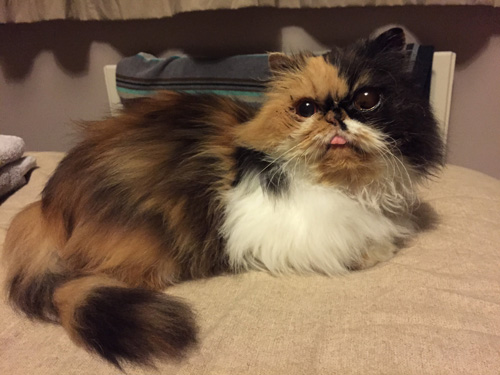 While Stuart and Rebecca weren't looking to adopt a cat — much less a kitty with special needs — when they saw Jessie for the first time, they're so thankful they had the opportunity to give this adorable girl a forever home.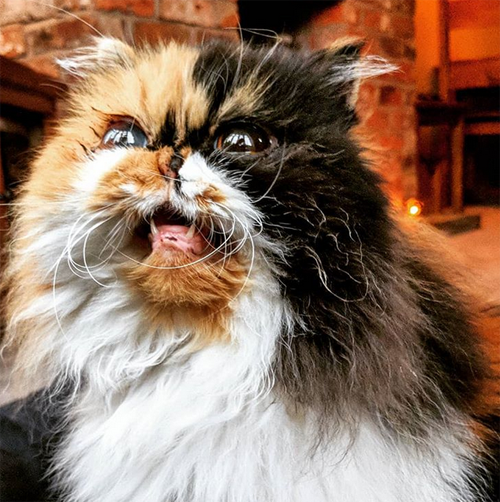 By sharing Jessie's story, Stuart and Rebecca hope other people will consider adopting blind cats like this cute calico, especially because they've found her to be much easier to take care of than either of them expected. "They're so adaptable and you can treat them like any other cat," says Stuart. "You shouldn't be afraid to adopt a cat just because they're blind."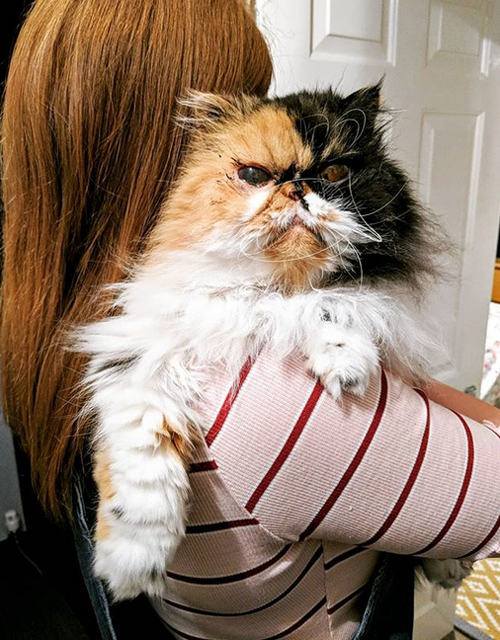 It's been almost  three years since Stuart and Rebecca saw Jessie for the first time, meandering in and out of traffic and desperately in need of someone to help her, and this couple is so grateful they crossed paths with this sweet and loving girl. "We honestly can't imagine not having her anymore, or not having rescued her in the first place," says Stuart. "She makes us laugh and smile every day."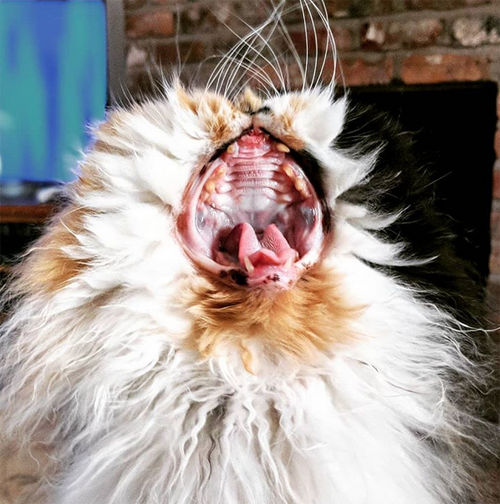 To learn more about this adorable cat, you can follow Jessie on Instagram.