UPDATE: Molly found the perfect forever home!
When an adorable black and white kitten started showing up outside of Nastasija Fustaino's house in Dubai, the German national was interested in adopting the young tuxedo cat. "She was like a little puppy in my garden greeting me every day when I would come home," remembers Nastasija. "She used to come running when she saw me."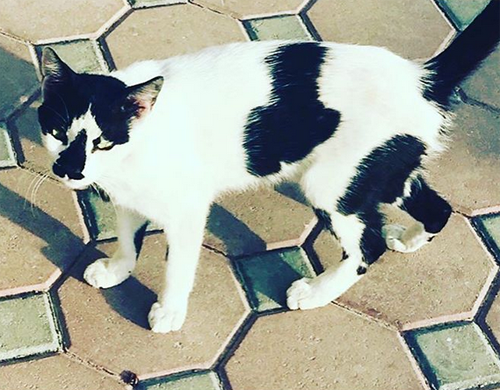 However, when Nastasija took the kitten — who she named Molly — to the vet, she discovered the friendly feline had both feline immunodeficiency virus (FIV) and feline leukemia (FeLV). Already having a cat with FIV, Nastasija wasn't concerned about Molly spreading the virus to her uninfected pets, as it's usually transmitted through sex or deep bite wounds, making it a non-issue in a home where animals are sterilized and get along well one another.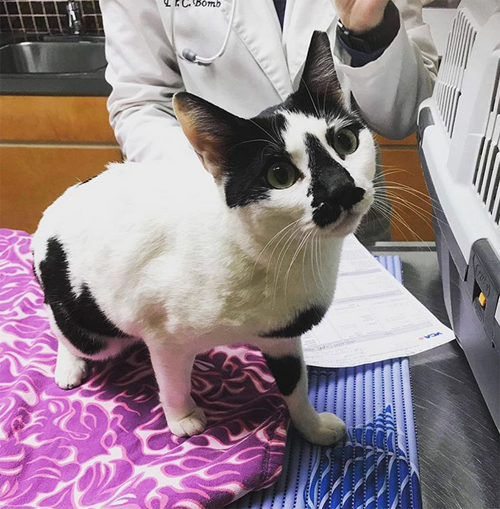 However, feline leukemia can be transmitted through saliva and blood — and even urine and feces — and it can weaken the immune system — and even cause blood disorders and cancers — so many experts recommend keeping FeLV-negative cats separated from cats with the virus. "We wanted to adopt her until we found out she has FeLV," explains Nastasija.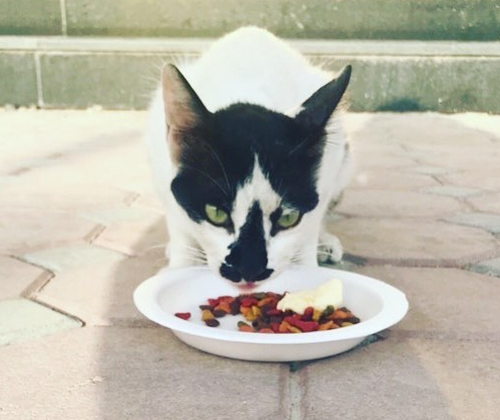 While Nastasija was unable to adopt Molly, she still did her best to care for the kitten — who was most likely born in January 2017. When Nastasija took Molly to the animal hospital to have her spayed, the vet found a bullet lodged in her stomach, indicating she had been accidentally or intentionally shot. Fortunately, the bullet didn't do any serious damage, and following the sterilization procedure, Molly recuperated in Nastasija's garage. "Due to her FeLV and FIV, she caught a horrible flu after being vaccinated," says Molly.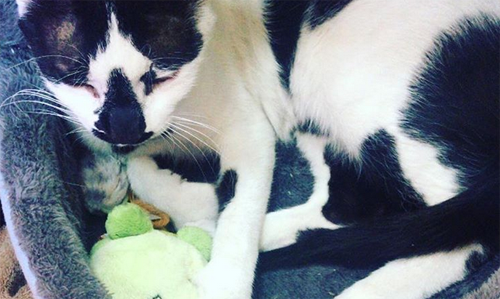 The veterinarian recommended putting Molly to sleep, convinced FIV and FeLV would make her unable to fight off the illness, but Nastasija refused. "Molly's recovery from the flu was very, very long and difficult," says Nastasija. "She needed to be hospitalized and she caught skin fungus because her immunity was low."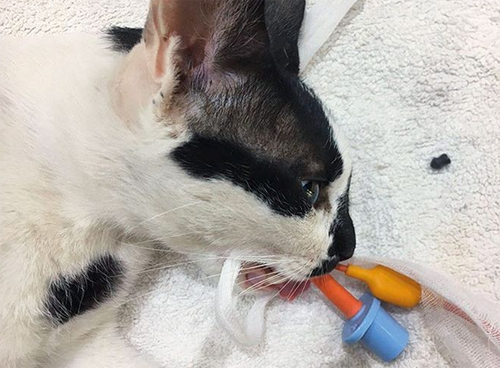 With Nastasija's help — as well as multiple doses of Vibragen Omega, an injection designed to treat certain viral infections and immune problems in cats — Molly made a full recovery, and she was healthy enough to live with a wonderful foster family that included two children. Molly thrived in her foster home, and she spent much of her time playing fetch, bird watching, eating, and following her family around. "She loves being with kids and adults," says Nastasija.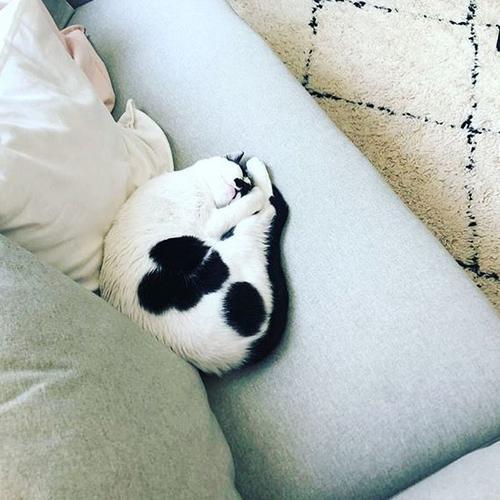 While Molly was doing well in her foster home, a woman in Canada learned about the special needs kitten through social media and offered to adopt her. In November 2018, Molly boarded an airplane and traveled 16 hours to her new home Toronto. Sadly, Molly was unable to get along with her new family's dog, and Nastasija learned the beautiful black and white cat was at risk of being euthanized if she was unable to find another home by Christmas 2018.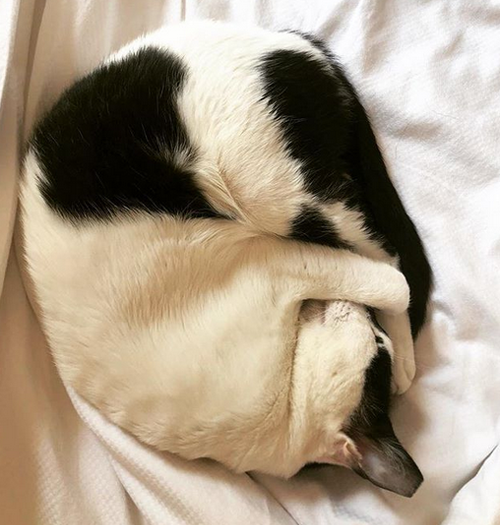 While Nastasija couldn't find another family to adopt Molly, an animal shelter agreed to take her, which is where this special needs girl has been for the past few months. Even though Nastasija is thousands of miles away from Molly, she remains determined to help her find a forever home where she is free to run and play. "She truly has such a strong personality — it breaks my heart that she's in a cage," says Nastasija.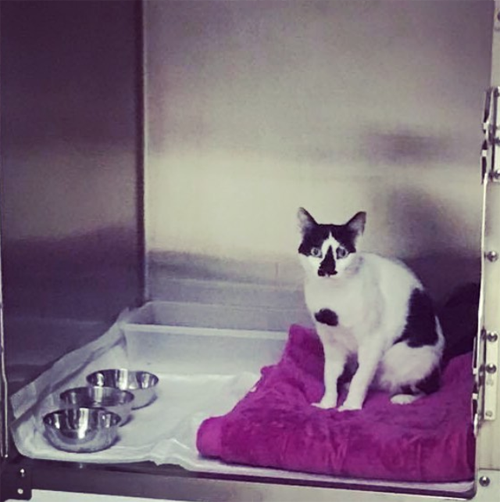 Due to having feline leukemia, Molly needs to have a home where she's either the only cat or lives with other kitties with the virus. Because FIV and FeLV can't be transmitted to other species of animals, Molly would be able to live with other types of pets, and given proper introductions, Nastasija is confident this gorgeous girl would be able to share a home with a dog.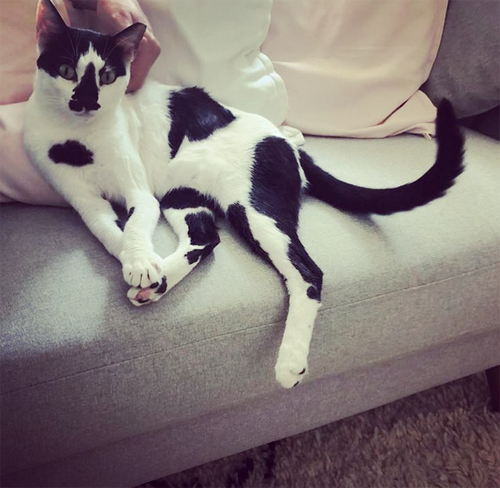 While it's impossible to say how long Molly will live, she needs a family who will provide her with the nutrition and medical care required to give her the happiest, healthiest, and longest possible life. "FIV and FeLV are not death sentences — they're just sicknesses," says Nastasija. "There is no time limit for their life spans! They can have long or short lives, same as a healthy cat."
View this post on Instagram
While Molly has had an incredibly difficult life — surviving illnesses, being shot in the stomach, and the heartbreak of losing her forever home after traveling thousands of miles — Nastasija, the woman who has known this pretty tuxedo cat since she was a kitten, is hopeful it won't be long until she leaves the shelter for a loving home. "It breaks my heart to see her like this," says Nastasija. "I am praying daily for her to finally get out of this cage, even if it's just to go to a foster home. She was a happy cat and now her spirit seems to be broken."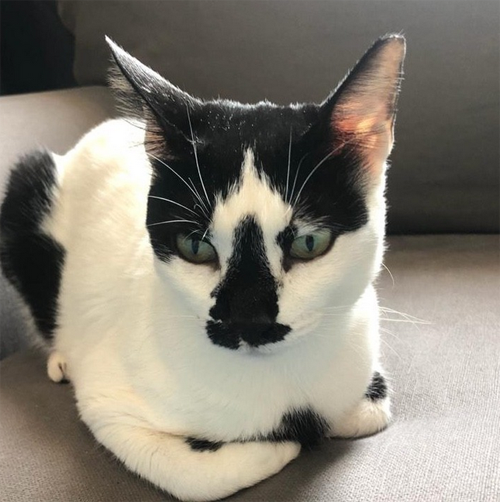 If you're interested in adopting Molly, please send Nastasija a message via Instagram.