When Kris learned about a litter of four kittens who were in need of a foster home, including Snapple, who was displaying symptoms of cerebellar hypoplasia (CH), she volunteered to care for the young felines. "They were taken in by The Bitty Kitty Brigade, who specializes in orphan kitten rescue, and then transferred to me at 4.5 weeks," explains Kris.
View this post on Instagram
While the kittens were only a little over a month old when they arrived at Kris's home in Minneapolis in May 2021, their young lives had already gotten off to difficult starts. Their mother, who was a kitten herself, gave birth to them on a farm in Wisconsin, and she struggled to provide her offspring with the care they needed to thrive. "Another mom took the kittens but she had six of her own and the kittens were not doing well," says Kris.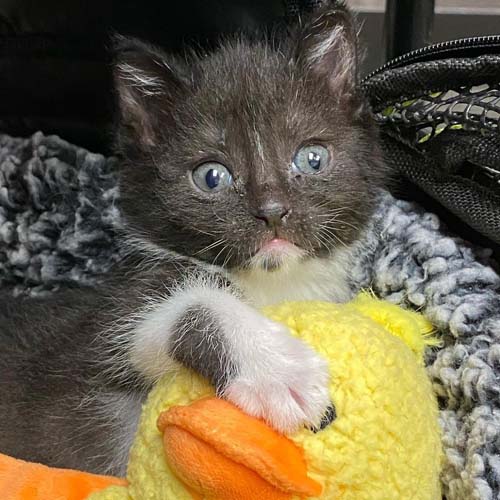 Fortunately, when Snapple started showing signs of cerebellar hypoplasia, a non-progressive neurological condition, Kris readily opened her home to him and his siblings. After all, not only did she have the time and space to help the cute tuxedo kitten and his litter mates, Kris also had experience caring for cats with neurological conditions. "My first special needs fosters were The Tippy Tuxies whom I adopted," explains Kris. "After adopting them I have focused on fostering special needs kittens, especially those with CH or other neurological disorders."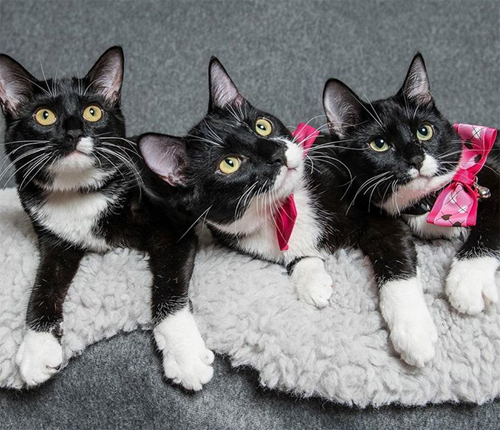 When Kris started fostering the four young felines, they were still being fed kitten formula from a bottle, so she began the process of weaning them and transitioning them to solid food. Also, while Snapple was the only one in the litter who had displayed any symptoms of cerebellar hypoplasia, Kris closely monitored his siblings for signs of CH, including head tremors and uncoordinated walking. "I got them weaned off a bottle and sure of being healthy and had the other three transferred so I could focus on Snapple's care when they were around eight weeks old," remembers Kris.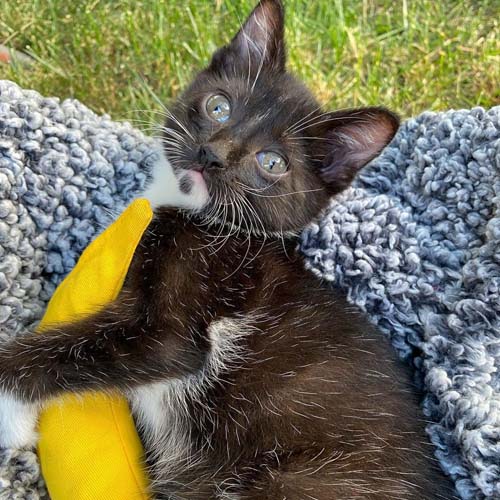 While Snapple originally appeared to have cerebellar hypoplasia, Kris noticed he had other symptoms that were uncharacteristic of the non-progressive neurological condition, which occurs in utero, often when a pregnant cat is exposed to a virus like feline panleukopenia. "His front legs were spastic, bent inward, and not overly functional," says Kris, and a veterinary neurologist diagnosed Snapple with brain and cervical spinal cord disease, not CH. "He is wobbly with symptoms similar to cerebellar hypoplasia but his front leg mobility is severely affected and his back legs don't always get accurate brain signals either."
View this post on Instagram
Unfortunately, the neurologist was not able to figure out the cause of Snapple's condition, nor were they able to determine if it was non-progressive like cerebellar hypoplasia. However, Kris was informed by multiple vets that because of his impaired mobility, Snapple would not be able to have a good quality of life. "His care team at the rescue supported that view and the plan was to let him go," remembers Kris, "but I wanted to take him home to spoil him for a few days."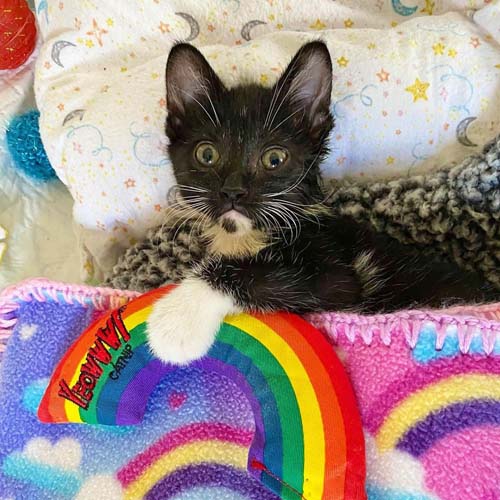 Determined to help make the most of Snapple's remaining time, Kris created a "bucket list" and began taking him on adventures. However, it quickly became apparent that while Snapple was different, he was also extremely happy, so in July 2021, Kris stopped thinking about euthanasia, opting instead to get the fun-loving tuxedo kitten a cart to help him become more mobile. "His back legs have gotten stronger since using the cart and he has learned to push himself around a bit with his back legs," says Kris.
View this post on Instagram
In addition to racing around his home — and even outside under close supervision — in his cart, Snapple likes watching flies and birds, playing with toys, checking out flowers and plants, and playing with Natalie, his foster sister who is blind and has cerebellar hypoplasia. "He loves attention and adventures, he just needs help to be sure he has a happy and properly stimulated life," says Kris. "He also loves being around people and going to social gatherings."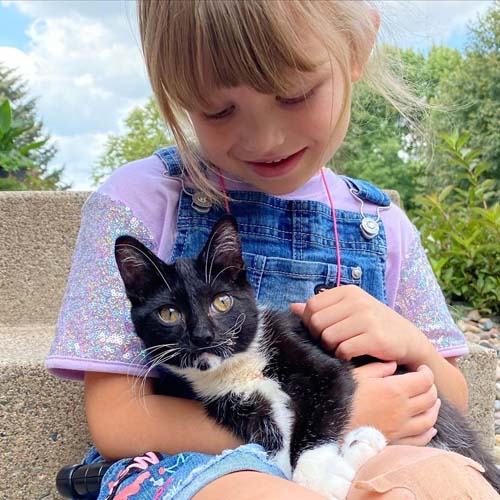 Because Snapple needs regular attention and stimulation, Kris hopes to find him a forever home with someone who is retired, works from home, or would be able to bring him to work with them. Also, Snapple uses washable pee pads instead of a litter box, so his adopter would have to be willing and able to do laundry regularly, but he doesn't require any assistance at meal times. "He eats independently from his feeding station," explains Kris, "and when he's done growing, he will need a custom cart that would be ergonomic, designed just for him and safer as well."
View this post on Instagram
It's also important for Snapple's adopter to be someone who will be an advocate for him, just as Kris has been since the moment she started fostering this very special cat. For Kris, Snapple's care hasn't been particularly difficult, but the emotional burden of making sure he has a good quality of life and isn't suffering has occasionally been challenging, especially because euthanasia has been suggested multiple times. "With all the recommendations to let him go, I'm pretty sure he wouldn't be around if he hadn't landed with me or someone else with experience with special needs animals," says Kris.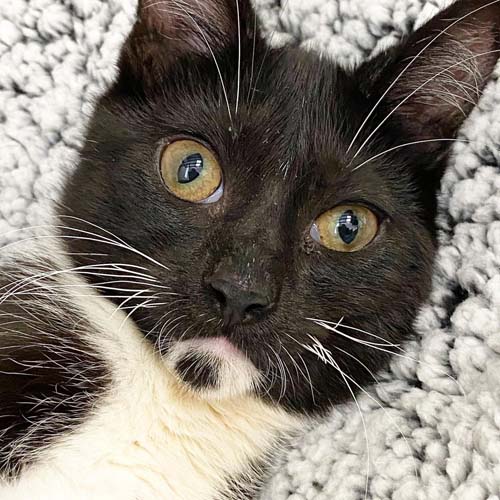 Fortunately, Snapple — who was rescued from a farm in Wisconsin when he was just a few weeks old — managed to make his way to Kris, and she is optimistic he will eventually find himself with a forever family who will focus on everything he can do, not everything he can't. Kris is also hopeful Snapple will be adopted by people who, like her, consider him an inspiration, which shouldn't be a problem, as she's received lots of messages via social media from people all around the world, including individuals with cerebral palsy and multiple sclerosis, who admire his resilience and determination.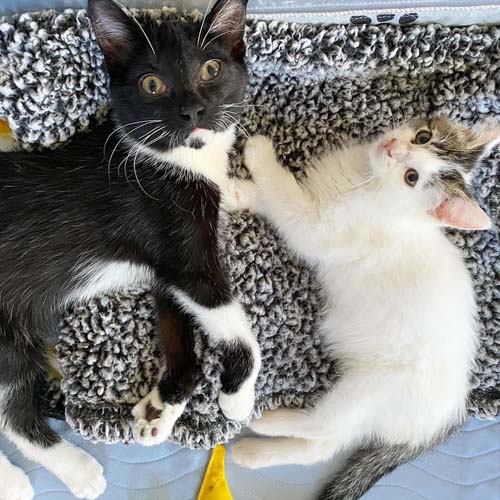 "I am so thankful he came to me so I could give him a chance to show myself and others his will to live and hopefully inspire others as well," says Kris. "Snapple doesn't live the typical life we expect and doesn't have a lot of independence, but he is happy and appreciates the attention and care he receives. He has plenty of love to give and curiosity about life, just like every other cat."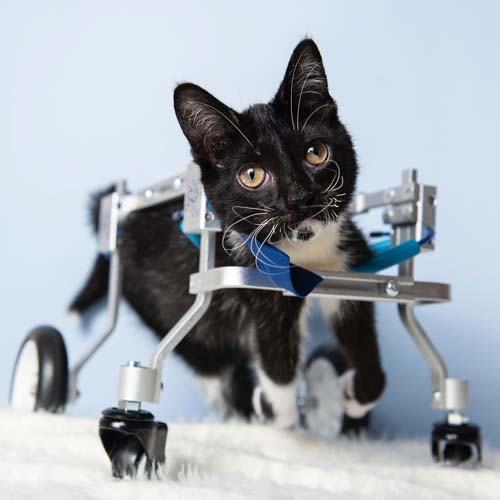 To learn more about this adorable kitten, you can follow him on Instagram.