When Suzi Langer's friend, who was working at a veterinary hospital near her home in Youngstown, Ohio, told her about Taloola and Bart, a pair of sick kittens who had recently arrived at the clinic, she and her husband Michael volunteered to foster them.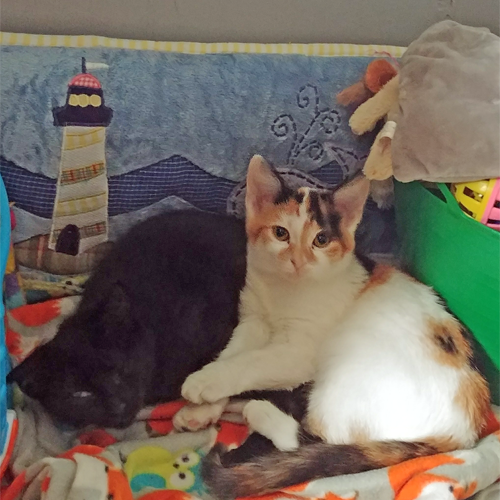 "A good Samaritan found these two kittens alone with severe upper respiratory infections — a female calico and a domestic short-haired black male, about 12 weeks old," remembers Suzi. Sadly, Bart's upper respiratory infection was so severe and had gone untreated for so long, his left eye had ruptured and his right eye had suffered severe corneal scarring, leaving him only able to see light and shapes.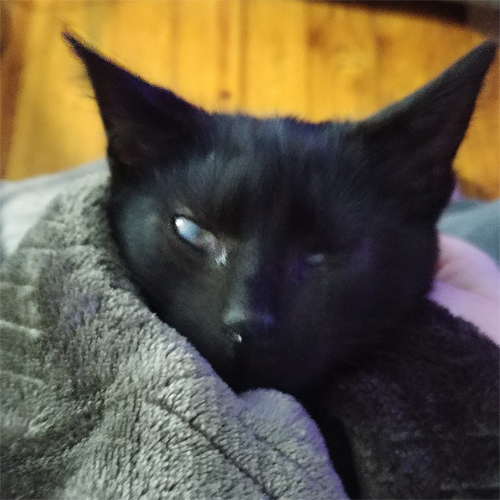 The black kitten also had a broken back leg, most likely due to being attacked by another animal before he was rescued, and he had a hernia that required treatment. While a lot of people might have been reluctant to foster a cat with so many different medical issues, Suzi and Michael had three special needs pets at the time — including a Rat Terrier with epilepsy, a deaf Pug with bladder cancer, and a cat with cerebellar hypoplasia — so they welcomed Bart and his sister Taloola into their home in July 2017.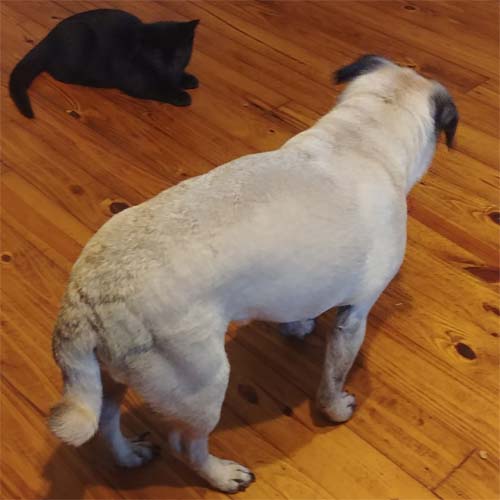 "Bart was — at best — leery of people," says Suzi, so after he was neutered and had his hernia repaired and his ruptured eye removed, she and her husband gave the skittish black cat plenty of time and space to adjust to his new environment. "For the first few months Bart was a ghost in our home — his presence lingered but you never saw him."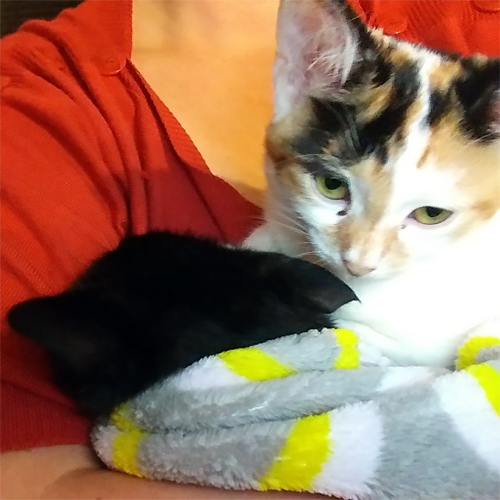 Over time, Bart eventually started to trust his foster parents, but in November 2017, Suzi learned the veterinary clinic would be rescinding their promise of providing him with free medical care. Initially, the vet's office had agreed to cover the costs if Suzi and her husband would foster the special needs cat until he got adopted, but just a few months later, they decided Bart was a financial risk. "I knew what that meant," says Suzi. "He was a not nice, not really cute, extremely shy black cat with vision issues. In their eyes he was the least desirable cat to anyone and thus not worthy of proper medical attention."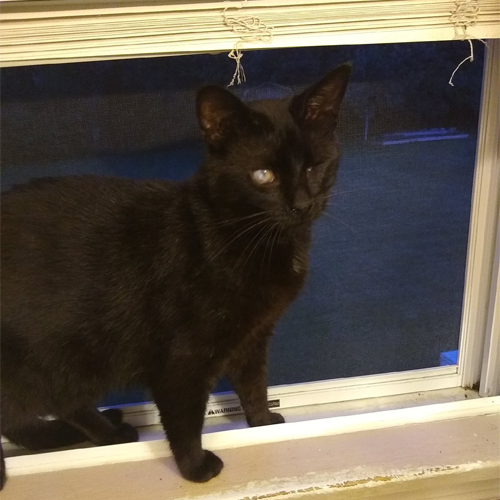 Suzi knew Bart needed an advocate who would make sure he received the care and treatment he deserved, so she and her husband adopted him! Shortly after adopting Bart, Suzi, who is veterinary technician, had her employer remove a piece of gauze that had been accidentally left behind by the previous vet when he had his left eye removed. "They reopened his eye to remove the offending material and flush it out," explains Suzi, "and ever since then Bart has not had any issues with sneezing or constant discharge."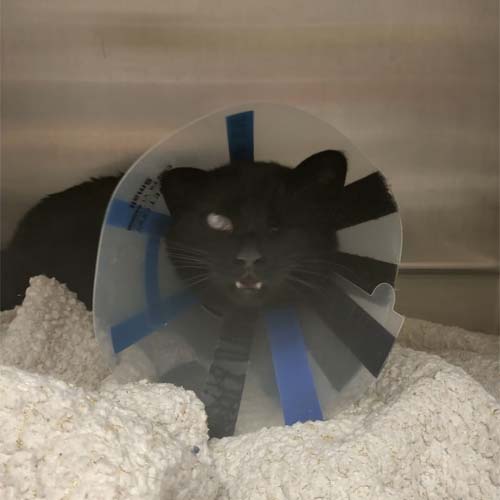 Nearly four years later, Bart is in good health, and while he's unable to see very well, he's an extremely active boy! In fact, this handsome one-eyed cat loves racing around his home, but because of his vision issues, Suzi and Michael try not to change the layout of their house. "Every so often when Bart is rushing about he will run into things," says Suzi, "and we make it a courteous point to not rearrange the furniture."
View this post on Instagram
While Bart is much healthier today than he was when he first arrived at Suzi and Michael's home, the biggest change has been in his personality. Initially, Bart, who had a difficult life on the streets before he was rescued, was easily frightened and incredibly shy, but over the past few years, he has blossomed in his forever home. "We gave Bart his space and slowly but surely he began to trust us," says Suzi, "and now he is the most cuddly, sweet, affectionate and ornery little boy — and we wouldn't have it any other way!"
View this post on Instagram
By sharing Bart's story, Suzi hopes other people will consider fostering and adopting cats who are often overlooked for a variety of factors, including age, appearance, temperament, and health issues. Even though they might take a little more time and energy, Suzi believes special cats like Bart are definitely worth the extra effort! "If we would have given up on Bart early on we would have never been introduced to his bubbly amazing personality that came later on with his confidence after finally feeling better," explains Suzi.
View this post on Instagram
When Suzi and her husband offered to foster Bart more than four years ago, they only planned to care for him until he was healthy enough to find a forever home. However, after just a matter of months, they knew Bart was meant to spend his life with them, and now Suzi and Michael can't imagine their family without this special boy. "Bart has evened our home out in such a beautiful and poetic way," says Suzi. "He is affectionate, adventurous, clown-like and never passes up the opportunity to 'give up the belly,' which is his way of showing his love and affection to us!"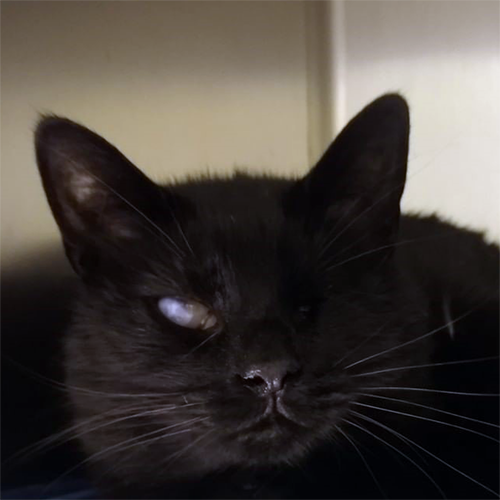 To learn more about this handsome cat, you can follow Bart and his family on Instagram and Facebook.
Suzi also makes carrier tags to help identify special needs cats during transportation and you can get one for free from her website.