When Cassandra learned Carmina and Jose Maria, her fellow rescuers and fosterers with The Paw Protector, had rescued a blind two-month-old kitten they found roaming the streets near their home in Granada, Spain, in November 2020, she offered to help the young feline who was desperately in need of specialized medical care.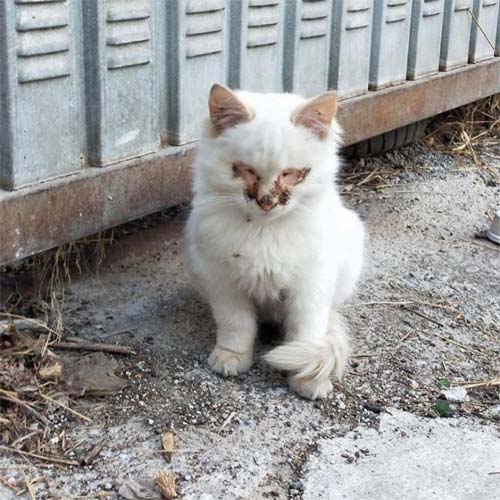 "Carmina and I decided that the best thing was to bring him to Barcelona with me, where he could recover and find a specialist and a permanent family," explains Cassandra, who has been fostering kittens since 2016, and recently began concentrating on caring for cats with visual impairments. "Kittens with disabilities are the ones that nobody wants to adopt, so I decided to put more effort into them."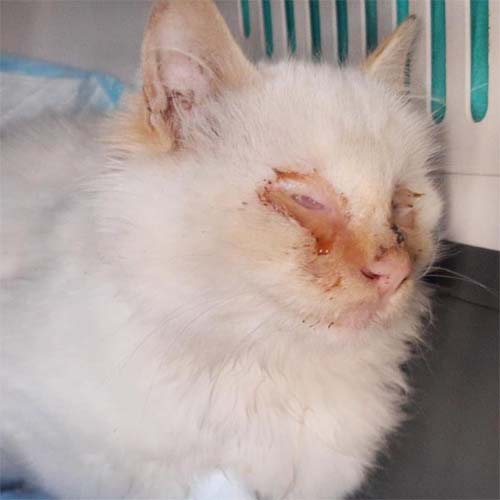 However, shortly after the blind flame point Siamese kitten was rescued, he began to display symptoms of panleukopenia, a highly contagious virus with a low survival rate for young cats. As a result, Carmina and Jose Maria determined it was best for him to stay in Granada with them until he recovered. "I didn't know him yet, but I cried a lot thinking that he was going to die," remembers Cassandra. "Carmina and Jose Maria acted so fast and took such good care of him that he managed to recover and overcame the illness."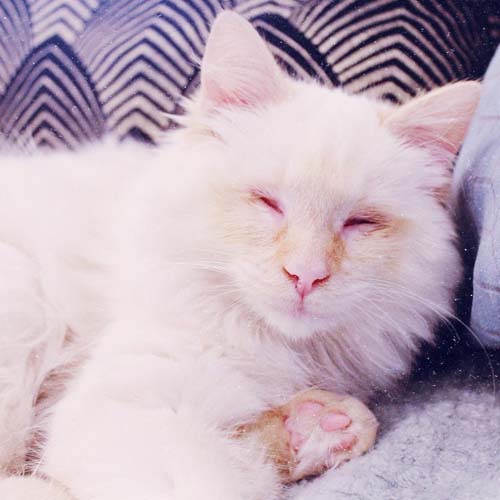 Unfortunately, soon after beating panleukopenia, the little blind kitten began tilting his head, and he was diagnosed with an ear infection. After weeks of treatment, the fluffy feline was finally healthy enough to travel to Cassandra's home in Barcelona on December 9, 2020, but the following day he was unable to move and had developed a runny nose and a high fever. "I rushed to the vet where he was diagnosed with severe cat flu, a severe respiratory tract infection, and mouth sores," says Cassandra.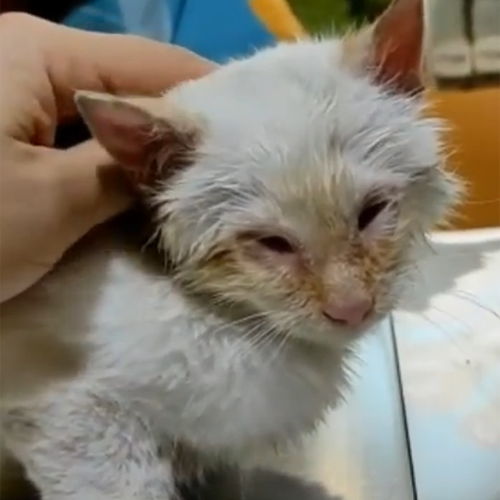 Over the course of the next few days the special needs kitten lost a lot of weight, his breathing became labored, and he ceased being able to use the litter box without his foster mom's assistance. "Once again, I thought he was going to die," says Cassandra. "I put him on my chest all night to keep him warm. On the worst night of his illness, when he could barely move, a friend told me that he looked a lot like the dragon from The NeverEnding Story."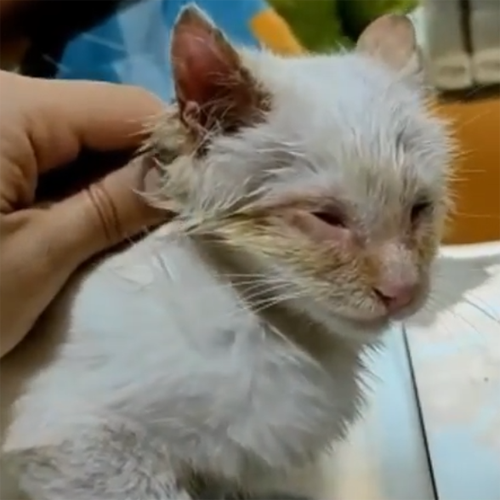 In the 1984 fantasy film, Falkor — a white luckdragon — is very wise, optimistic, and lucky, so Cassandra decided to name the kitten after him, hoping the little cat would be as fortunate as his namesake and able to survive his illnesses. Thankfully, Falkor eventually pulled through, much to Cassandra's relief and delight.
View this post on Instagram
"With a lot of medication, affection, and love, Falkor managed to improve, and little by little he began to show his true personality," remembers Cassandra. "He began to play with my hand little by little, until one day he just jumped out of bed to go to the litter box."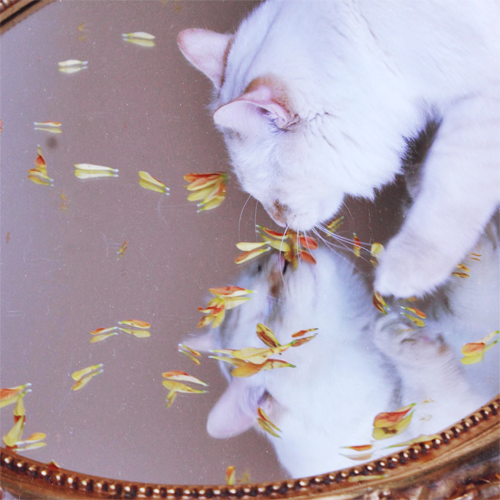 Eventually, Falkor made a full recovery, and after coming so close to losing such a remarkable feline, Cassandra decided to adopt him! A few months later, Falkor was doing extremely well, but he was still struggling with frequent eye infections that caused him to secrete tears, blood, and pus from his eye sockets.
View this post on Instagram
While Cassandra used antibiotics to treat the infections and hot compresses to keep the area around Falkor's eyes clean, she knew the best long term solution was for him to have surgery to remove the remnants of his eyes and to have the openings sewn shut. "We were working on improving his state of health — with a good diet, probiotics, veterinary checks, and tests — for his big day: enucleation," says Cassandra.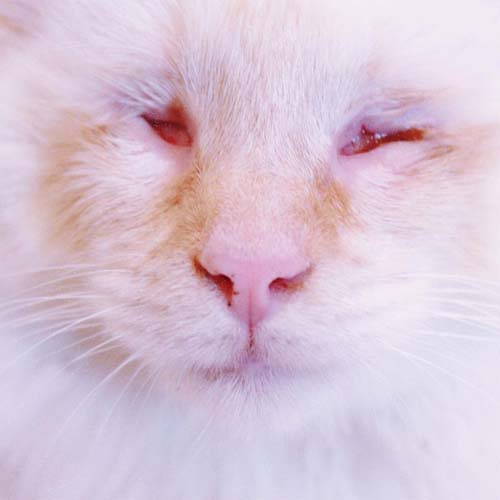 In March 2021, Falkor had surgery to remove one of his eyes, and after making a full recovery, he had the other one removed two months later.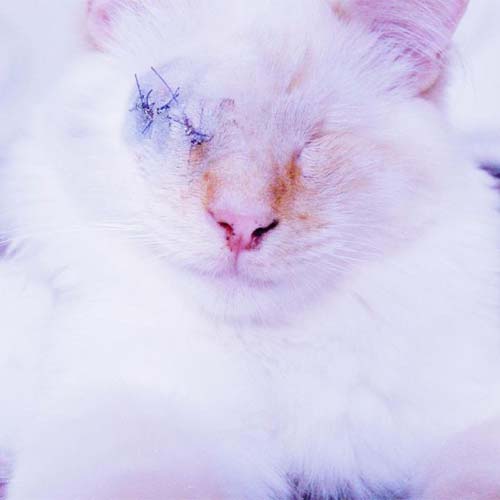 Today, this handsome blind cat — who has probably never been able to see, most likely due to contracting the herpes virus at birth or shortly after he was born — is living his best life. "Blind cats see," explains Cassandra. "They may not have eyes, but they see with their ears, with their whiskers, with their noses. They do a very quick study of the space they have and create a perfect mind map. So, after a couple of days in a new place, they already know how to move without difficulty."
View this post on Instagram
While Cassandra, who has fostered a number of visually impaired felines, knows firsthand that blind cats like Falkor are capable of having very happy and active lives, she still encounters people who feel sorry for them. "They imagine a blind cat as a cat who isn't moving or playing and is totally disorientated," says Cassandra, "but it's not like that."
View this post on Instagram
After all, when he isn't engaging in his favorite activity — eating — Falkor likes to run around Cassandra's house and play with Camilla, his adoptive sister. He also loves to climb and he enjoys jumping on the couch after digging up the dirt in Cassandra's houseplants. "Falkor does not know that he is blind," says Cassandra, and she believes he is one of the bravest cats she's ever met. "If he hears a noise he runs to see what is happening. If I open a door, he runs off, up and down the stairs. He is an off road cat."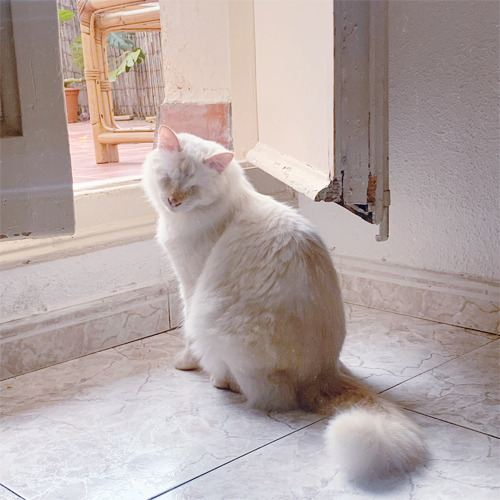 While his life got off to a very difficult start, thanks to Carmina and Jose Maria — who rescued him from the streets, saving the sick and blind kitten from imminent death — multiple dedicated medical professionals, and of course, his mom, Falkor is now thriving! While he's touched many lives over the last year, there's no one he and his indomitable spirit have inspired more than Cassandra.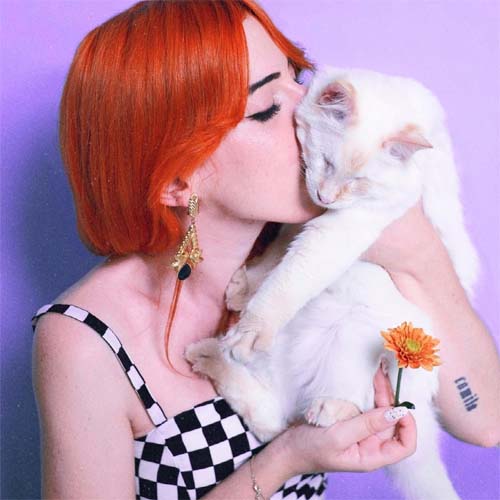 "He is a tender and kind cat, and despite his suffering he is brave and grateful," says Cassandra. "I can affirm that he is the happiest cat in the world. To me, Falkor is a sign of strength and fortitude."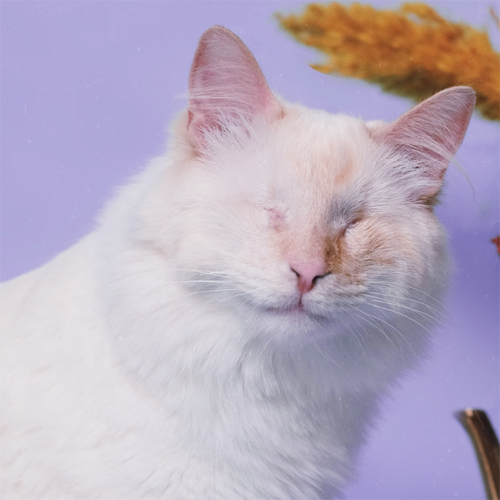 To learn more about this adorable cat, you can follow Falkor on Instagram.