When Jen Mack, the founder of KitKat Playroom, learned about a one-week-old kitten who had been found all by herself on the streets of Philadelphia in mid-August 2018, she knew she had to help the tiny ginger cat. "The person who found her tried to take care of her for one week, but she had a large lump in her head, so they brought her to the city shelter," explains Jen.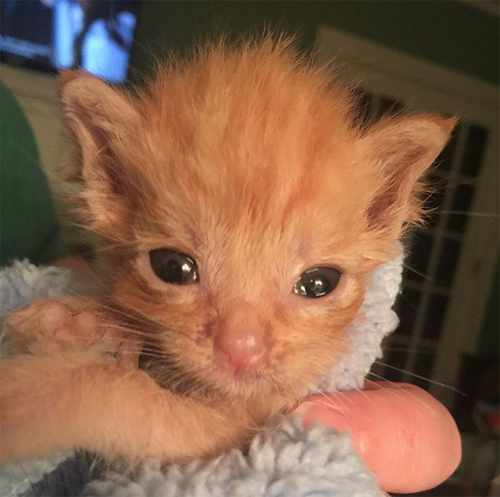 Due to the kitten's young age, she needed to be bottle fed, a task Jen — who specializes in caring for neonatal cats — was equipped to handle. "I contacted the shelter to say that Kitkat Playroom would take her in and raced over to pick her up," explains Jen.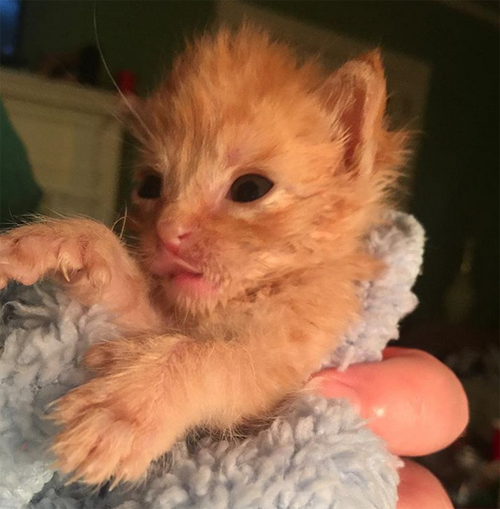 On August 19, 2018, Jen came face to face with the kitten — who just two weeks old — and she was immediately smitten with the adorable ginger cat. "She was a teeny tiny bright-colored orange polydactyl baby," says Jen, and as she drove home from the shelter with her latest charge, she came up with the perfect name for this sunny little cat. "She was this bright orange happy fluff, and I started singing, 'I've got sunshine on a cloudy day.' " In honor of the band The Temptations, who are known for singing the song My Girl, Jen dubbed the little kitten Tate, aka Tater.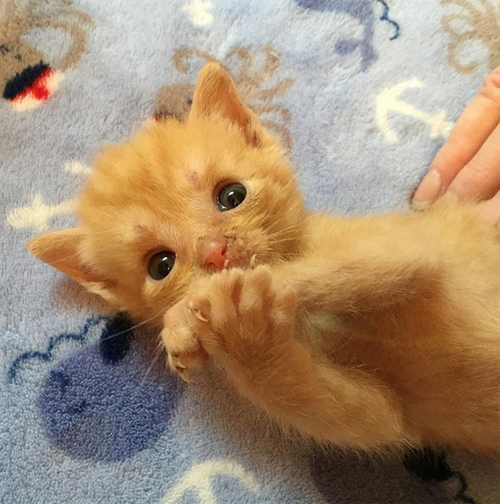 Shortly after rescuing Tater, Jen — who has a lot of experience caring for neonatal kittens — took the young cat to the vet's office where she was diagnosed with hydrocephalus. "Hydrocephalus is a condition where extra cerebral spinal fluid builds up in the brain," explains Jen. "It's commonly called 'water on the brain.' "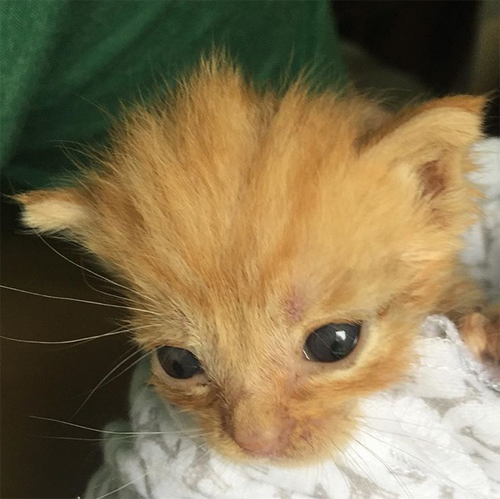 While some people and animals can develop hydrocephalus after experiencing head trauma, a brain tumor, a hemorrhage, or an infection of the central nervous system, the veterinarian determined Tater was born with the condition and prescribed her medication to help her cope with her symptoms.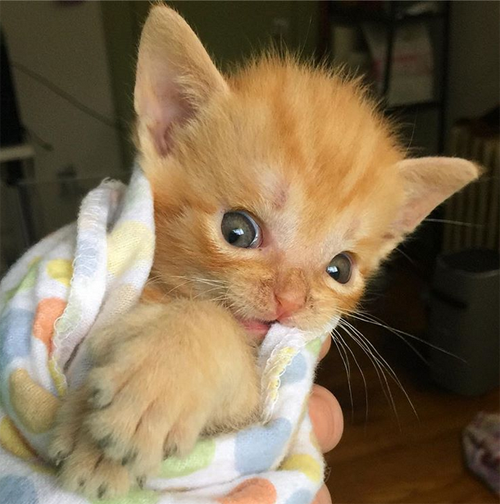 "Medication didn't work for Tate and the next few weeks she was hospitalized twice because extra fluid built up in her brain to a critical level and had to be drained by an invasive procedure," explains Jen. "These procedures are extremely risky and after the second one, her neurosurgeon told us that Tate's only chance at life was to try to place a shunt."
On October 12, 2018, Tater — who weighs less than two pounds — had surgery to place a magnetic shunt in her brain, an operation the neurosurgeon had never been attempted on a cat of her size. Needless to say, it wasn't a decision the neurosurgeon or Jen made lightly.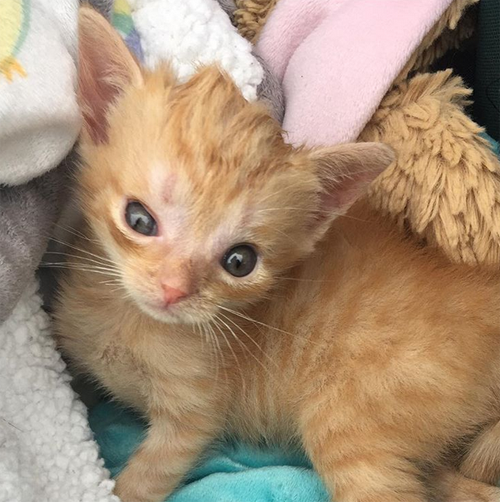 "We were all terrified, but we all knew that Tater loved life and her only chance to be a happy, playful kitten was to take this big risk," says Jen. "The alternative was to subject her to surgery after surgery and keep draining the excess fluid. That wasn't the kitten life we wanted for her." Fortunately, the surgery was a success, and while Tater is still recovering, she's as happy and active as ever.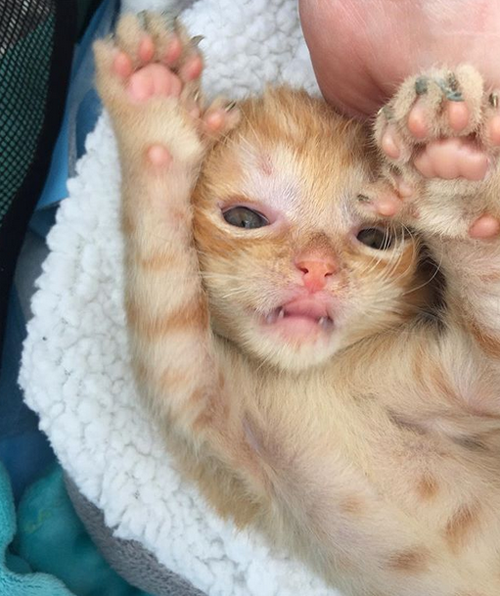 "Hydrocephalus doesn't slow Tater down!" says Jen. "She gets overstimulated by sounds and touch, so sometimes petting her is like winding up a toy race car. She'll burst off, zooming and bouncing around until she wears herself out. I try to keep her environment quiet since she is bothered by loud sounds."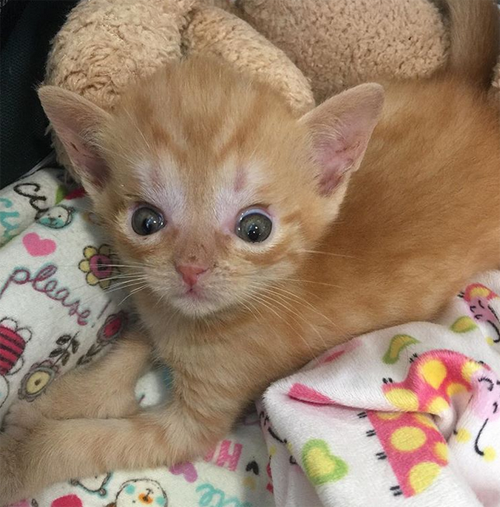 In addition to providing Tater with tranquil surroundings, Jen makes sure this adorable little kitten is as safe as possible, attaching crib bumpers and bubble wrap to the walls and covering the floor with foam padding to make sure she doesn't injure herself.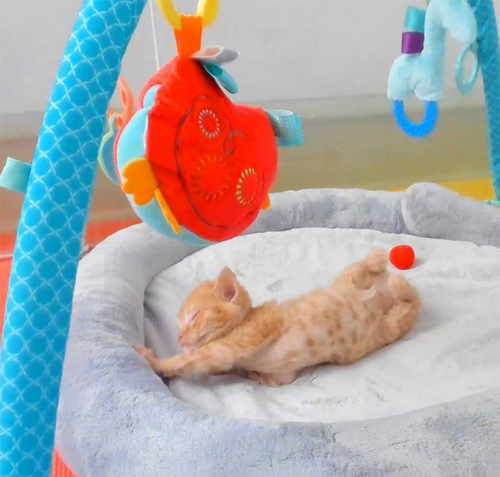 "So far, she's never had any seizures, but if she hit her head on something hard, she could do damage to her brain," says Jen. While Tater requires Jen to make some special accommodations, this little orange kitten with hydrocephalus doesn't seem to realize she's not a typical cat. "Tate doesn't act much differently than any other 9-week-old kitten," says Jen. "She loves to play with all of her toys, pounce, stalk, and crab puff. She trills when she's extra happy!"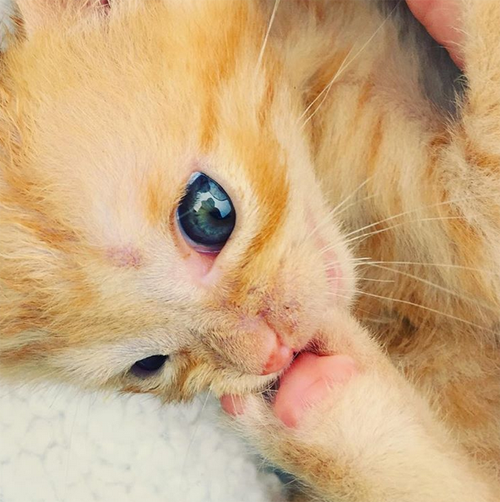 Tater, who was living on the streets by herself when she was a week old, has a lot to be happy about, having gone from a city shelter to KitKat Playroom, the rescue where her health is closely monitored. "It's a roller coaster for those of us who love her. Even tiny changes to her behavior, like a slight head tilt or eating a bit less one day, have alerted me to a major episode that required hospitalization," explains Jen. "So I have to constantly be aware and track how she's doing."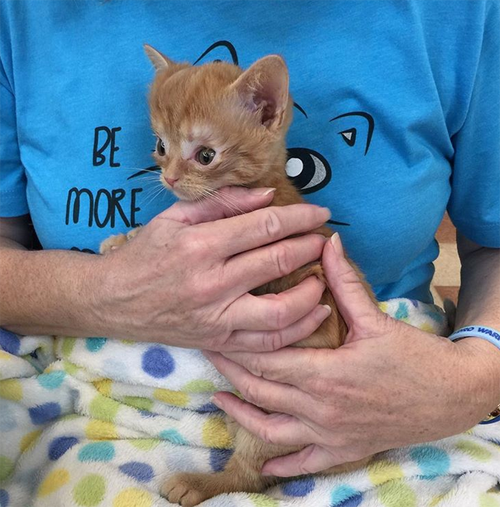 Thanks to a webcam that live streams Tater's movements around the clock, Jen isn't the only person who is keeping a close eye on this tiny kitten's health. "She has hundreds of helicopter moms and dads watching her every move, and you bet if I'm not watching, I'm alerted if something seems off — even if it's only that she burped," says Jen. Fortunately, Tater is doing great, and while there's no cure for hydrocephalus, the condition can be managed with the help of medication and procedures, allowing this special little cat to have a relatively normal life.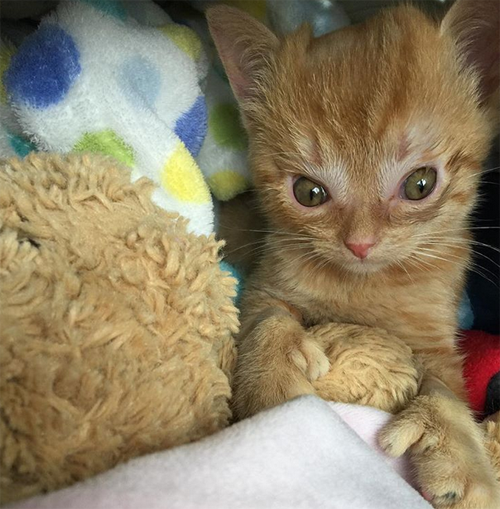 Due to her love of bouncing, Tater earned the nickname Tigger Tot, and when this cute girl isn't hopping around, she's indulging in one of her other favorites activities: eating. "Tater loves food," says Jen. "I mean, she snacks every hour. She gets treats after her medications. Then needs more snacks." While Tater has had a lot of ups and downs in her short life, Jen believes she is proof that cats special needs are capable of having wonderful lives.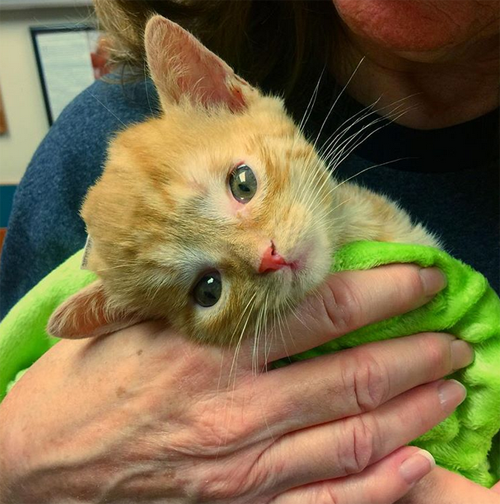 "Tate is an inspiration, not a kitten to pity," says Jen. "She has taught so many people the meaning of happiness, even when life hasn't handed you a full deck of cards." By sharing Tater's story, Jen hopes more people will consider adopting cats with special needs because she's confident they are worth any extra effort they might require.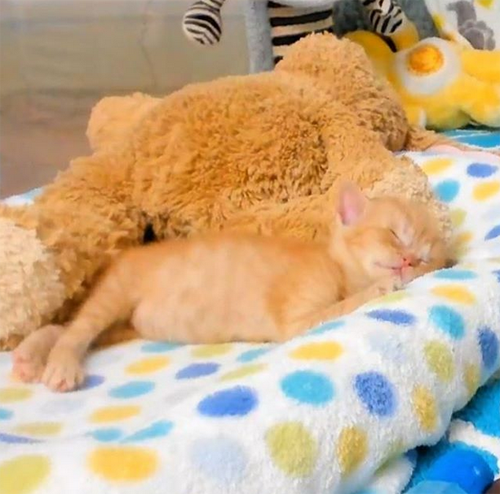 "Special needs cats don't know they are any different," says Jen. "They still want to play, pounce, eat their favorite snacks, snuggle with their favorite humans, wake you up at 4am, and have someone who loves them." While Tater may have fans all over the world, including children with hydrocephalus who have also undergone surgery to place shunts in their brains, this happy-go-lucky kitten will never know how many lives she's touched with her indomitable spirit.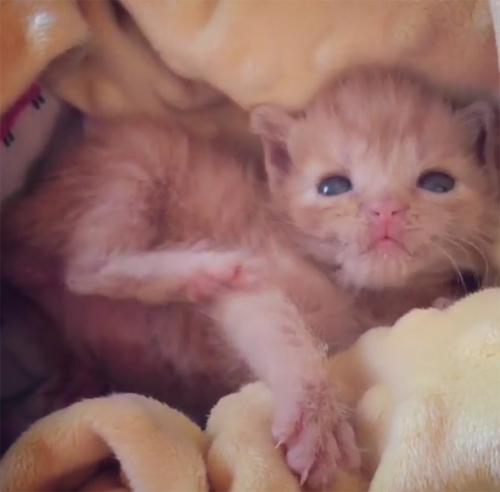 "She has no idea that she's a pioneer for kittens with hydrocephalus; that kids think it's so cool a baby kitten is shunted like they are; that she's survived three lifesaving brain operations," says Jen. "She just thinks she's a normal, nine-week-old kitten and everything is a game!"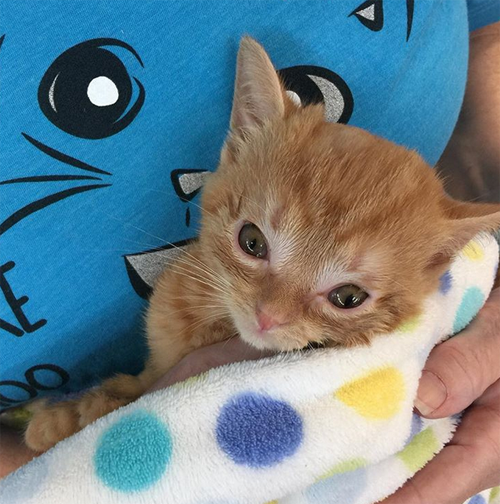 Even though Tater believes she's just like every other cat, it's impossible to deny just how extraordinary she is, especially because she inspires people — including Jen — to have hope and faith that the impossible can become a reality. "She's just a truly amazing kitten who makes me cry from laughter," says Jen. "Her face melts my heart."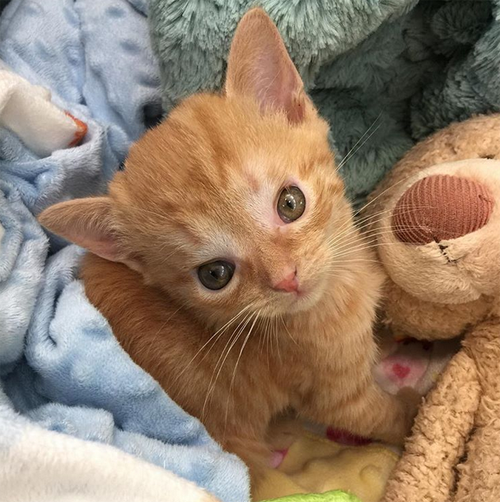 To learn more about this adorable kitten, you can follow Tater on Instagram.