When Kris Kaiser, a fosterer for Kitty Revolution, learned the organization had received an intake request for a grey tabby kitten with cerebellar hypoplasia (CH), she immediately offered to foster him. "I was thinking Arrow would be a good friend for Timmy," says Kris, referring to her foster kitten who also has cerebellar hypoplasia (CH), a non-progressive neurological condition that affects balance and coordination. "Ever since I met the Tippy Tuxies [Kris's three black and white CH cats], I have found wobbly cats very endearing and enjoy fostering them, helping find them the perfect forever homes."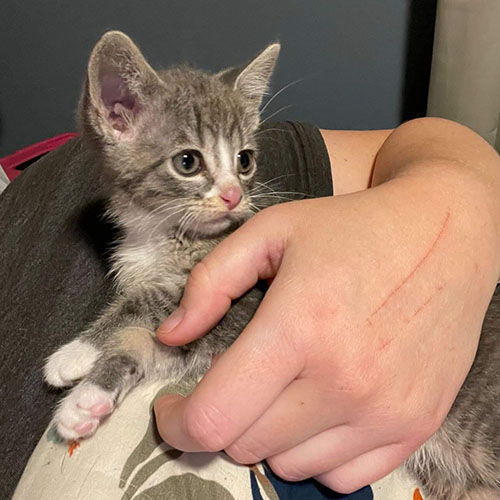 Kris learned Arrow was currently living with the people who literally saved his life, having rescued him from a very dangerous situation when he was just a tiny kitten. "They saved him in September 2021 when he was just four weeks old from a neighbor who was threatening to shoot him," says Kris, but the family — who already had two cats, two dogs, and a house filled with slippery hardwood floors — eventually decided they were unable to give Arrow the life he deserved. "They felt like they didn't have the proper home setup or lifestyle to accommodate him."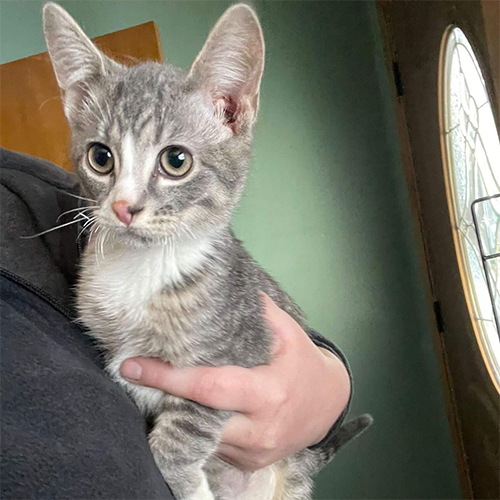 In June 2022, Kris drove an hour and a half to meet Arrow's rescuers at a halfway point, bring the special needs cat back to her home in Minneapolis. Initially, Kris thought he might make the perfect companion for Timmy, her other foster kitten with cerebellar hypoplasia, but it quickly became apparent the two tabby cats had very different temperaments. "Timmy is a little wild for Arrow's gentler spirit," says Kris.
View this post on Instagram

They're also different when it comes to their bathroom habits, with Arrow preferring to use pee pads instead of a litter box, a practice Kris has found surprisingly simple and clean. "I know for some people a cat who is not litter box trained is concerning but the pee pads are in many ways a lot less messy," explains Kris. "There's no litter scatter or tracking at all! He is on a good diet to keep his stools solid and so I simply flush."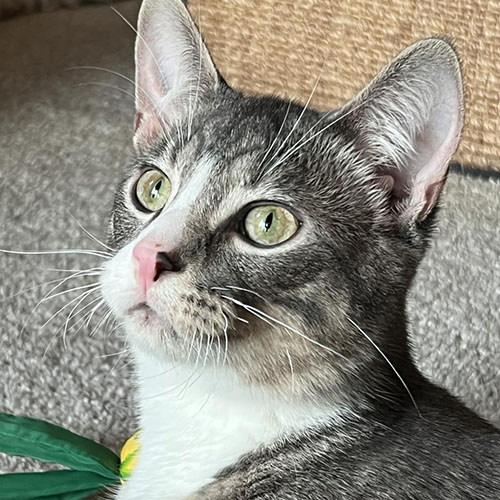 Also, because Arrow has moderate/severe cerebellar hypoplasia, he can only take a few steps before he falls over, but that doesn't prevent him from getting where he wants to go! After all, he got his name due to his tendency to propel himself straight forward, often towards his food bowl. "He does like to pull himself and roll to get around as well and knows how to use walls and furniture to lean on to walk and get around," says Kris.
View this post on Instagram
Plus, while cerebellar hypoplasia is non-progressive, meaning it doesn't get better or worse over time, as cats grow and develop, it often gets easier for them to control their symptoms, which appears to be the case with Arrow. "He has been showing some improvement and I do think with exercise and time that Arrow will be able to walk a bit better," says Kris. "He's so close!"
View this post on Instagram
Even if Arrow never gets the hang of walking, he's a very happy and active boy who loves playing, bird watching, sunbathing, eating, and cuddling. "He is very sweet and so cute!" says Kris. "He also really loves catnip and silvervine toys!"
View this post on Instagram
While Arrow isn't all that different from the average kitten, Kris knows people sometimes feel sorry for him because he doesn't move like a typical cat. However, she believes it's important to remember cerebellar hypoplasia is a congenital condition, so Arrow had never known anything else. "He has learned to adapt very well and is a very sweet and curious boy," says Kris.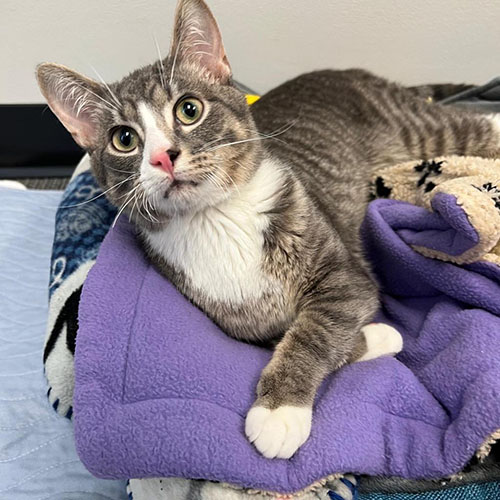 Arrow is also a lot easier to care for than people often assume, and during the entire time Kris has been taking care of him, she hasn't had to bathe him once, not that she would mind. "Any extra effort going into their care is rewarded with so much love!" says Kris. "The bonds created with special needs cats are next to none."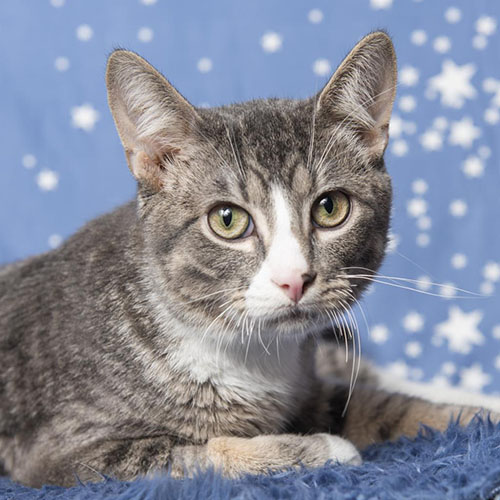 Because this adorable boy is unable to jump and finds it difficult to navigate solid surfaces like hardwood and tile floors, his ideal adopter would have plenty of ramps and rugs to get around. It's also imperative that his forever family is able to adhere to a bathroom routine, but he doesn't necessarily need to have other pets to keep him company. "Arrow would be fine adopted into a home with or without other pets as long as his human can give him plenty of attention and time to adjust!" says Kris.
View this post on Instagram
After all, while Arrow enjoys being around both dogs and cats, there's nothing he enjoys more than human interaction. "Arrow is a very sweet and affectionate cat who likes to be around people and sit in the sun," says Kris.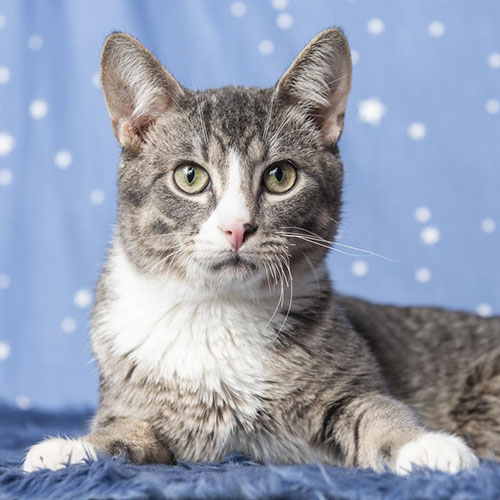 To learn more about this adorable kitten, you can follow Arrow on Instagram.
If you're interested in adopting Arrow, you can submit an application.