When Sue Smith started searching Petfinder for a new feline family member, she knew exactly what type of kitty she had in mind. "I had been looking for a male CH cat for a while," explains Sue. CH, or cerebellar hypoplasia, is a non-progressive neurological condition that affects balance and coordination, and something she and her husband Keith had a lot of prior experience with.
"I already had two CH cats," says Sue. "Don who is mild and Weeble who is moderate." Cerebellar hypoplasia occurs in utero, often when a pregnant cat is exposed to a virus like feline panleukopenia, causing her kittens to be born with underdeveloped cerebellums, the part of the brain responsible for balance and coordination.
View this post on Instagram
This causes affected felines to have various symptoms, including a wobbly gait, intention tremors, and a wide stance, but because cerebellar hypoplasia can range from mild to severe, some cats are profoundly affected while others are just slightly wobbly. "Don's CH mainly is a jiggle in his hind end and Weeble walks like he's drunk," explains Sue. "They both get around quite well and use the litter box perfectly."
In early 2021, Sue was browsing Petfinder when she spotted Geoffrey, a ginger kitten with cerebellar hypoplasia, who was available for adoption through Randall's Rescue, an organization based in Mt. Laurel, New Jersey. Smitten with the young special needs cat, Sue contacted the rescue, and they put her in touch with Geoffrey's foster mom, Liz. "After several interviews I was approved," remembers Sue, but she and Liz agreed it would be best for Geoffrey to stay in his foster home until he was neutered and fully vaccinated.
View this post on Instagram
On April 2, 2021, which happened to be both her and Liz's birthday, Sue made the three hour drive from her home on Long Island to pick up Geoffrey. When Sue saw the five-month-old kitten in person for the first time, she was surprised by the severity of his symptoms. "Even though Liz constantly sent me pictures and videos, I was taken aback at how severe his CH was when I met him," remembers Sue. "He could not walk at all!"
View this post on Instagram

In addition to Don and Weeble, Sue had other special needs cats at home, including Ozzy, who has epilepsy and cerebellar abiotrophy. When she and her husband adopted Ozzy, everyone believed he had cerebellar hypoplasia, but as his symptoms worsened over time, he was eventually diagnosed with cerebellar abiotrophy, a degenerative condition characterized by a loss of balance and coordination. "Even though I didn't want to take on a severe case like Geoffrey because of how much work Ozzy is," says Sue, "I was too embarrassed to tell Liz so I packed him up and left."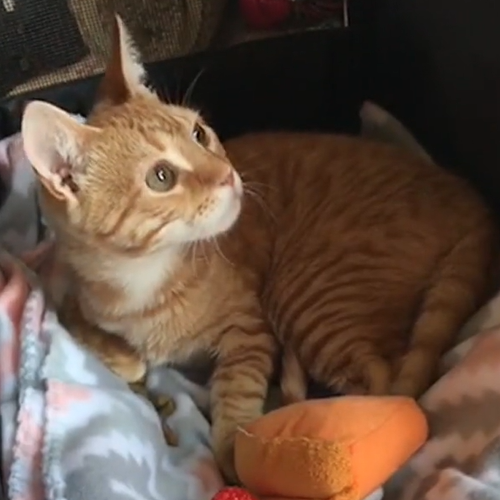 During the drive home, Sue decided she would give Geoffrey the best life possible, but she thought he would probably have to remain in a spare bedroom for his own protection. At the time, Sue assumed the severity of his symptoms would prevent him from being able to independently navigate her home safely, and that she would most likely have to assist him every time he needed to get in and out of the litter box. "I found out rather quickly that boy I was wrong," remembers Sue. "Nothing stops Geoffrey from being a 'regular' cat."
View this post on Instagram
More than a year later, Geoffrey is thriving, and while he may not walk like a typical feline, this energetic and tenacious boy has no trouble getting around. "He is able to propel himself wherever he wants to go," says Sue. "He explores my entire house and even is able to go outside to our screened in catio and come back in. All on his own."
View this post on Instagram
Sue is also happy to report that Geoffrey is able to use the litter box completely unassisted, and while she initially thought he would need an extra low version, he's completely capable of getting in and out of the high-sided style used by his fellow CH cats, Don and Weeble. "The only difference from the other cats is he lays on his side to poop and pee," explains Sue.
View this post on Instagram
Aside from this relatively minor difference, Geoffrey is actually very similar to Sue and and her husband Keith's other cats with cerebellar hypoplasia. "He is extremely playful like my other CH cats," says Sue, "and his favorite toy is a battery operated butterfly which he could chase all day."
View this post on Instagram
Geoffrey also isn't all that different from cats without cerebellar hypoplasia, which is why Sue hopes more people will consider adopting pets with special needs. After all, even Sue — who has multiple special needs cats — was reluctant to take on the challenge of a cat with severe cerebellar hypoplasia, but Geoffrey didn't waste any time putting her concerns to rest. "They adapt to any situation, and they know their limitations," explains Sue. "All I do is make sure my house is as safe as possible, but I never stop them from being a cat."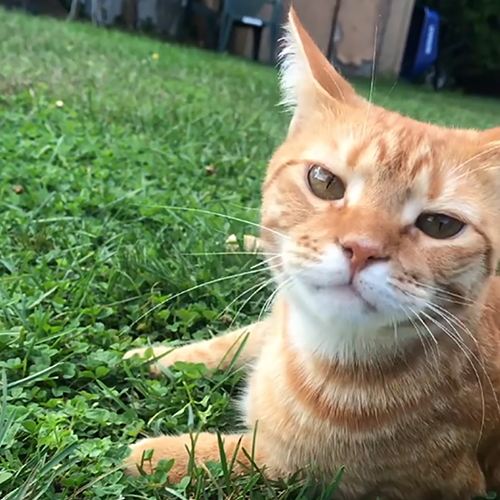 To learn more about this handsome cat, you can follow Geoffrey on Instagram.