When Gemma's friend told her about a pair of special needs kittens who were looking for a forever home after a local veterinarian saved them from being euthanized, she was immediately interested in adopting the young felines. "[They] were brought in to be put to sleep," remembers Gemma, "but the vet wanted to try to rehome them instead."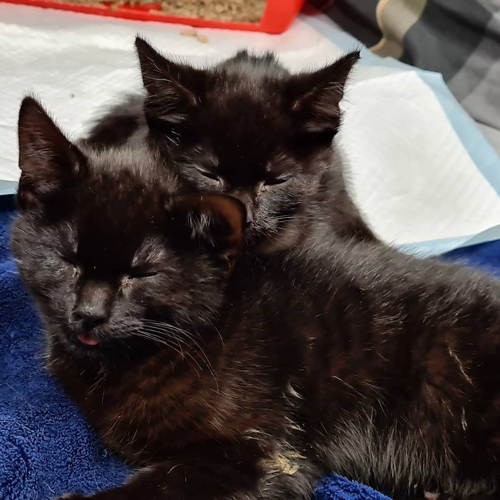 Gemma learned the female kittens were born with cerebellar hypoplasia (CH), a non-progressive neurological condition that affects balance and coordination. "Cerebellar hypoplasia is the underdevelopment of the cerebellum," explains Gemma, and while other people might have been reluctant to adopt one cat with special needs, much less two, she was eager to give the pair of kittens a home. "I am disabled myself with EDS, POTS, and ME. I work for a disability charity and I'm cat crazy, so the idea of adopting disabled kittens did not phase me at all."
Plus, after losing their beloved cat Esme a few years earlier, Gemma and her partner wanted some new friends for Horace, their senior kitty. Even before the couple brought the adorable sisters home, Gemma had already picked out the perfect names — Astrid and Luna — for the incredibly cute siblings. "Because I was adopting two black kittens I wanted something to represent the night," says Gemma.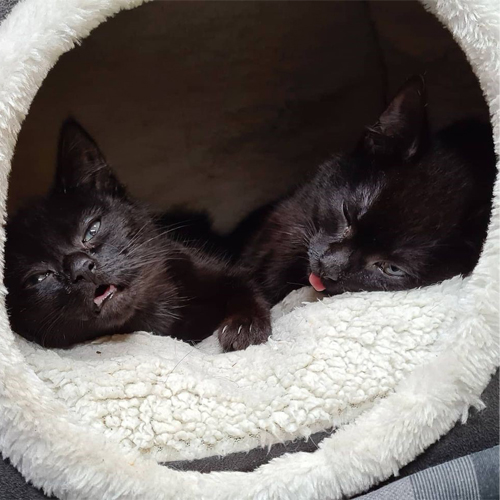 On October 1, 2020, the little black cats — who were born in a barn two months earlier — arrived at Gemma and her partner's home in Norwich, England. "I picked them both up and promised right there and then to give them the best life possible," remembers Gemma.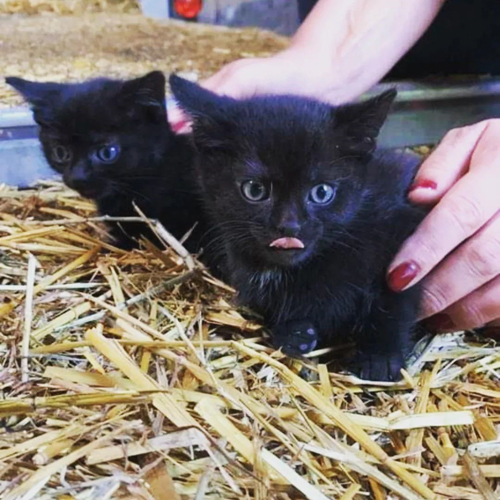 The two-month-old kittens were extremely small for their age, weighing just 100 and 110 grams, and Gemma and her partner immediately realized Astrid and Luna were going to need lots of care and attention. "We bottle fed them extra nutrition alongside kitten food to give them the best chance at survival," explains Gemma.
View this post on Instagram
With Gemma and her partner's help, the sisters thrived, but not long after bringing the pair home, Astrid began having seizures, a symptom that is uncharacteristic of cerebellar hypoplasia. Despite the couple's best efforts, as well as excellent veterinary care, Astrid passed away when she was just seven months old. "We, sadly, lost her to seizures on March 6, 2021," says Gemma.
View this post on Instagram

Following the tragic loss, Gemma and partner remained committed to giving Luna the best quality of life possible. Fortunately, more than a year after Astrid's passing, Luna is doing extremely well, although having cerebellar hypoplasia prevents her from being able to move like a typical cat. "As Luna is at the very end of the severe scale, she can't jump or climb, so has a different type of life," explains Gemma, "but she is the sweetest most loving cat I have ever had."
View this post on Instagram
In addition to being incredibly affectionate, Luna is very easygoing, and she loves nothing more than going for long rides in the car with her parents. "Normally she goes everywhere with us, including a 500 mile trip to visit her catgranny," says Gemma. "She sits on my lap and watches the world go by."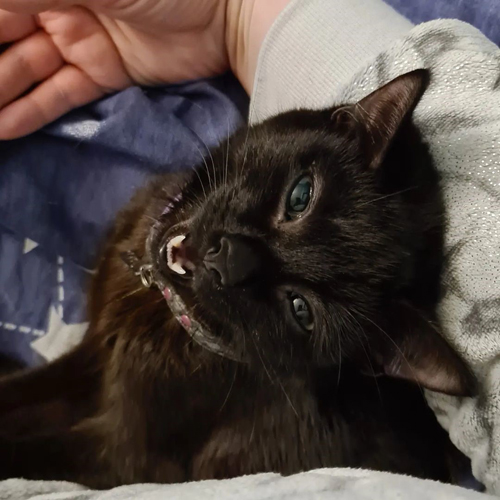 Aside from her love of car rides, Luna is actually a pretty typical cat who enjoys bird watching, whether she's hanging out with her mom in her workshop or going for adventures in her backpack carrier. "She also loves snoozing in sunbeams, eating, cuddles, meeting people, and feather toys," says Gemma.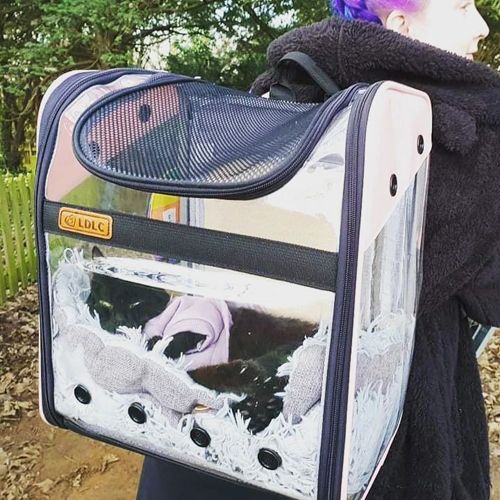 Plus, even though Luna is unable to move like the average feline, she doesn't need help going to the bathroom, although she prefers using washable pee pads instead of a traditional litter box. In addition to having cerebellar hypoplasia, this beautiful girl has hypermobile front legs, which causes her fore limbs to bend more than usual. "At first we were advised to vet tape the joint to give stability," remembers Gemma, "but as she has got heavier she has needed proper splints."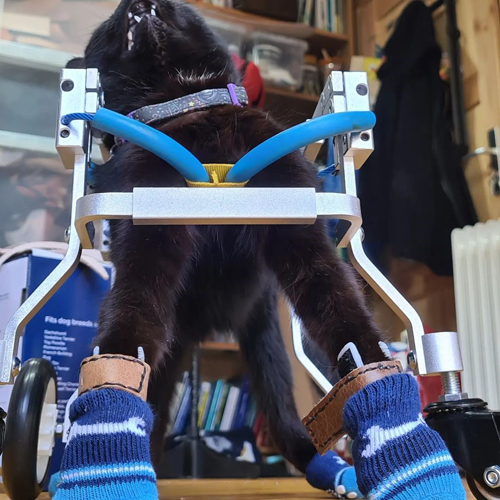 Currently, Gemma is waiting for Luna to receive custom 3D printed splints, but she and her partner were able to get this special girl a wheelchair thanks to crowdfunding. They also do regular physical therapy with Luna at home to help keep her hind limbs as strong as possible, but Gemma is adamant caring for a special needs cat really isn't as challenging as it might seem to some people. "With minimum adaptations to suit their disability it really isn't that difficult," says Gemma.
View this post on Instagram
Other common misconceptions about cerebellar hypoplasia are that it's painful and that having poor balance and coordination must cause affected cats to feel dizzy. Gemma has also had a few people question Luna's quality of life simply please she doesn't move like a typical feline. "I think you can see just by looking at a few of our posts on Instagram that she has a great life," says Gemma.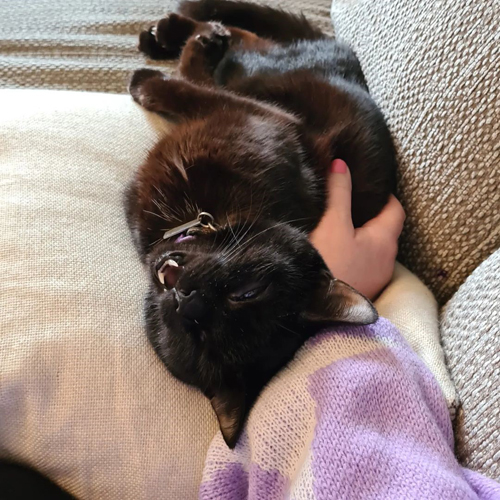 After all, this gorgeous girl — who was nearly euthanized as a tiny kitten — gets to spend her days with the two people she loves most in the world. "She is my shadow and just goes everywhere with me," says Gemma. "Whether we are out in my workshop sewing, off to work at the office or meeting friends for coffee, where I go she comes too."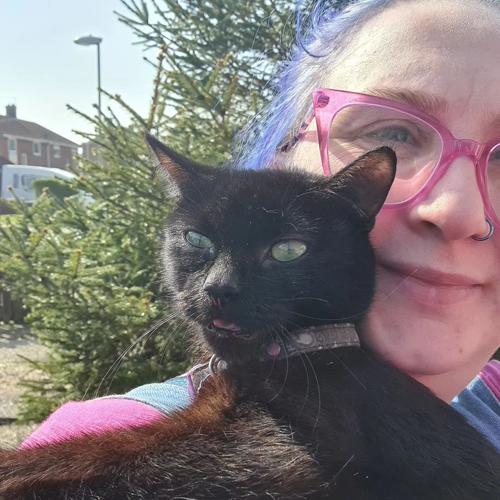 Plus, there's nothing Gemma and her partner wouldn't do for Luna because the bond they share with this remarkable cat is something they both treasure immensely. "I have never felt the love Luna shares with us before," says Gemma.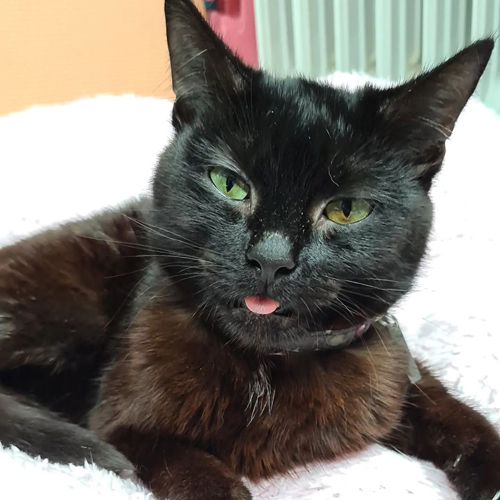 To learn more about this beautiful cat, you can follow Luna on Instagram.